Coupe de grace
This will come as little surprise to the diehard car aficionado out there, but the 2007 BMW M Coupe is an incredible sports car. This largely goes without saying because any car bearing the 'M' badge will, more likely than not, be an absolute thrill to drive.
Of course, this doesn't mean to say that the M cars are faultless. The convertible versions leave a little to be desired in terms of structural rigidity compared to their hardtop counterparts. And the semi-automatic SMG gearbox, as found in the last generation M3, made fast and smooth driving an utter impossibility; it was a matter of pick one or the other.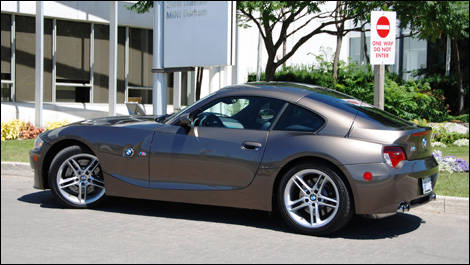 From any angle, the M Coupe has beautiful lines.
But for a pure sports car driving experience, it's tough to beat the combination of a 300+ horsepower engine, a 6-speed manual transmission and a chassis that's clearly been honed on the racetrack. These are the attributes with which the new M Coupe wades into the sports car arena and emerges a serious contender for overall honours.
First impressions: the wow factor
My initial experience with the 2007 BMW M Coupe was a memorable one. The setting: the former Formula One track in Estoril, Portugal. This circuit is massively challenging with many elevation changes, including an uphill chicane that affords a seemingly infinite number of possible racing lines.
After following a pace car to learn the track's lines, we were cut loose to explore the limits of the car. First things first: the M Coupe is a blast to throw into the corners. Once the overly-cautious traction control system is disabled, the beautifully balanced BMW rotates around corners incredibly well. The near-perfect weight distribution - 50.2% front, 49.8% rear - is the key to this characteristic.
Add a fantastic rack-and-pinion steering set-up, toss in a fully independent suspension system (MacPherson struts up front and a central link rear axle), and slap on a huge set of rubber (225s in the front, 255s out back) aboard 18-inch wheels and you have the recipe for success - if grip and grins are your ultimate objectives.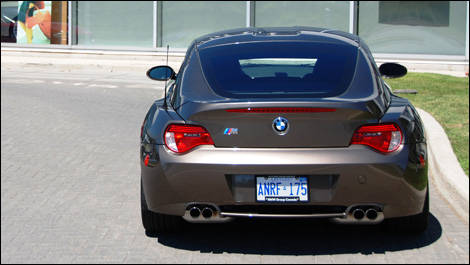 Whatever the colour, the M badge always makes a great effect.