The SUV equivalent of brown bread
Human beings have brains that are separated in two. In theory, everything that is logical, rational and analytic are processed through the left side of our brain, while intuition, emotion and subjectivity are assigned to the right side.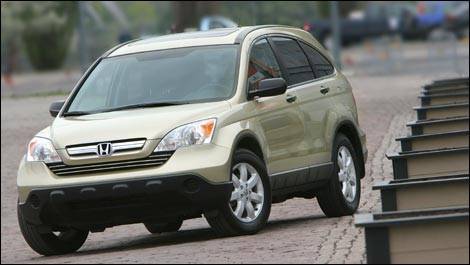 This is the third generation of Honda's successful SUV.
In short, very little information on the new
CR-V
goes through the right side of the brain.
A more modern appearance, but...
The CR-V is now much rounder than the old model, but its overall shape doesn't please me that much. It's just my opinion of course, but the previous CR-V looked tougher, more muscular. Since I hit 30 years old, I've gained a few pounds too many, which is obvious in, well, some precise places. The same seemed to have happened to the CR-V; still a nice guy, but chubbier.
It's not ugly, but it looks like two different designers conceived the front end without consulting each other. It's unique, anyway, but the grille doesn't blend in very well with the headlights and sloping hood.
In addition, the shape of the rear side windows doesn't follow the roofline, which would look nicer. And over the course of the week, I always reached for the latch of the rear hatch under the chrome trim that's located right above the license plate, where my intuition tells me it should be; it's rather located at the bottom of the hatch, and I never got used to it.
Rational mechanicals
I congratulate Honda for resisting the temptation of dropping a V6 in the engine bay of the CR-V. A good 4-cylinder is sufficient for most of us, as it's the case here. The 166 horses generated by the 16-valve 2.4-liter motor are adequate, and allow the CR-V to move around easily. Performance is similar to that of the 4-cylinder Toyota RAV4. I managed a fuel consumption average of 10.9 L/100 km, and driving slowly on the highway will drop the average to about 8.0 L/100 km.
The 5-speed automatic works well, and rows through its gears smoothly. There's no manual mode, which is the trend these days, but I'd logically never use it anyway.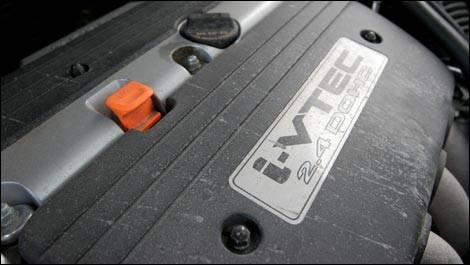 The 2.4-liter 4-cylinder engine is powerful enough and one of the most fuel efficient in the category.