Luxury and capability combine for a classy romp in any weather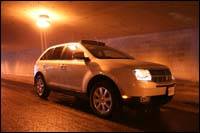 The MKX is a luxurious multitasker.
There was a time in the automotive industry when the phrase "Jack of all trades, master of none" held a lot more relevance than it does today. With crossover vehicles gaining popularity, carmakers are getting rapidly more adept when it comes to making a machine designed to handle a variety of tasks exceptionally well.
Lincoln is one such carmaker- and their crossover is called the MKX. It's a bit special because there's a lot more riding on it than leather seats, wood trim and a great big stereo system.
With Ford's "Way Forward" plan in full swing, many of it's eggs are placed into one basket- namely that of its new platform which houses the MKX and sibling Ford Edge. I spent a few thousand kilometers testing the new MKX AWD in the dead of Northern Ontario's winter, and found it an ideal bad-weather companion.
Packaging and Features
The tester, a loaded AWD model, included an enormous panoramic roof system which gives a near-convertible driving experience when opened all the way. Underneath it are 5 seats, four of which are heated, with the front perches even air conditioned too. There's a navigation system in the centre stack which is generally user friendly, and the THX certified audio system is magnificent.
Speakers are mounted all around, and there's a subwoofer in the trunk. The sound doesn't come at you from any particular source, but rather it seems to fill the entire cabin evenly- and it's very, very powerful.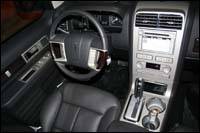 This crossover has a long list of standard features.
Topping off the list of handy features is a keypad system, allowing access to the vehicle via a touchpad on the door, as well as a powered liftgate allowing easy trunk access. Should you need to fold down the rear seats, a simple button-press is all that's needed.
A reversing sensor system is also included, in case you don't know how to operate a mirror.
See and be Seen
Included with the test vehicle was a set of active front headlights which direct their illumination into corners at nighttime in order to light up more of the roadway. Although the lights aren't of the Xenon-fired variety, their steering function affords great visibility on dark and unfamiliar roads.
In the rear is an LED light-bar which runs the width of the vehicle, capped at either end with brake lights. You'd be visible from at least a few hundred yards behind in inclement weather.
I'd be lying if I said I was a huge fan of the MKX's styling. It's not that it looks bad, but in a sea of CRV's, CX7's, FX35's, SRX's and so on, I didn't get the impression that the MKX did quite enough to stand out. It looks gorgeous, though perhaps a little too generic from certain angles.
The Drive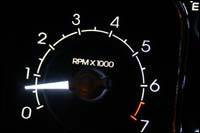 The engine is really silent especially at idle.
The MKX is powered exclusively by a 3.5 litre Duratec engine with 265 horsepower, attached to a six-speed automatic gearbox which propels either the front or all four wheels.
It's efficiency is respectable, especially considering the mill doesn't even require premium gasoline. Not a peep or vibration escapes the engine compartment at idle or low revs, and it boasts true "is it running?!" smoothness. On top of this, it's very powerful and entertaining- especially as the tachometer passes about 5000 revs and the hum escalates into a snarl.