The whole Crossover vehicle idea has become a real recipe for success, and we have seen quite a few manufacturers enter this segment of the market this year alone.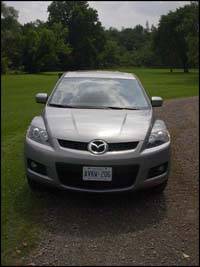 (Photo: Kevin ''Crash'' Corrigan)
Each seems to have differing ideas on what exactly the makeup of a Crossover vehicle should be. Some feel that the size or load carrying capacity is the most important issue. Others strive to make their vehicles drive as car-like as possible. Then there are some who feel that large engines and performance are the key ingredients to it all.
Mazda have never been a company to sit and read other peoples recipe books as they tend to prefer writing them. This can clearly be seen in their new
2007 CX-7
Crossover SUV. I feel that they might just have cooked up a winner with this one, as they've taken a decent load carrying design, added more than a dash of luxury and of course, being Mazda, a big heaping of their own little secret ingredient, Zoom, Zoom!
Looking at the vehicle from the outside, it comes as no surprise to discover that the head chef was the same man who brought us the hugely popular Mazda6. It has the now almost trademark, Mazda front end look. The family resemblance can also be seen in the bold fenders, which many of their current models carry. Its windshield angle of 66 degrees would make many sports cars look downright brick-like, and it certainly adds to the vehicles sleek appearance. Some very nice 18 inch aluminum rims fill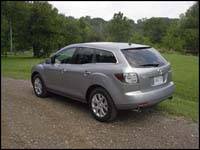 (Photo: Kevin ''Crash'' Corrigan)
those bulbous arches and when combined with the vehicles chrome accents, give an air of up-market luxury. The CX-7 has clearly been designed with aerodynamics in mind. Yet in many ways, it still manages to appear a bold and capable, if not slightly downsized SUV.
As with all Mazda's, the sporty design of the exterior is continued into the vehicles' cabin area with an equally sporty designed dashboard layout. My test unit was fitted with Mazda's luxury package, so on top of all the usual toys, it boasted a premium Bose sound system and a very easy to use touch screen Sat-Nav. This system also incorporates a clever rear back-up camera feature to enable safer reversing maneuvers. The cost of this system ($3150) is a little startling even though it is an exceptionally nice unit. I also had a small issue at first with the forward visibility. There is obviously a certain price to pay for that stylish raked windshield, as the pillars on each side can make you feel as if you're looking through a tunnel. Another issue was the placement of speakers on the top of the super-sized dash board as the reflections from them, particularly the center one, were quite distracting whilst driving. At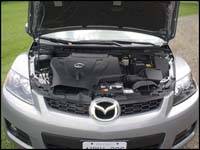 (Photo: Kevin ''Crash'' Corrigan)
first I found this rather off-putting, although I did become accustomed to it, if not accepting of it, by the end of the week. The rest of the interior has been well thought out. The seating positions work well and there is more space than you expect once you're inside.
Now to how it performs, and this is where the Zoom, Zoom people really get to strut their stuff and make everyone aware of exactly what the Z word is all about. No, I'm not going to tell you that it has a whopping great V8 like many of the others do. No, the CX-7 sports a rather nice little 2.3L four cylinder; of course, being Mazda, it just happens to be a 244HP, Turbocharged, intercooled version of the engine which powers their super-quick Speed6. This unit carries Mazda's DISI system (Direct Injection Spark Ignition), which has been designed to deliver high performance at all speeds, along with low exhaust emissions and excellent fuel economy. This is certainly one big plus mark for this vehicle as many potential purchasers of crossover vehicles are possibly downsizing from larger SUV's due to today's high fuel costs.