Honk if these two cars make you horn—I mean get you excited and conjure up scenes from the Safari or Monte Carlo rallies or any great rallying event from the late 90s and early 2000s. Yes, these two cars certainly are war machines from their respective manufacturers and both have created and sustained rival followings for the better part of the last two decades.
I, for one, have been infatuated with these two cars since the mid-nineties and was especially drawn to their prowesses in the days of McRae (Subaru) and Makinen (Mitsubishi). I use to deplore the fact (I still do actually) that we Canadians had to wait until 2002 to get a taste of a turbocharged WRX, worse, 2004 for an STI and, worse still, 2009 to sample an EVO. I might never get to drive an EVO IV or V or a 1997 STI but at least now, I can say that I have beaten—sorry, evaluated both modern versions of these cars.
And this, on many occasions. The WRX and I got very intimate on a local track all those years ago. I was at the North American launch of the EVO and to put the car through its paces at Willow Springs, then at Mont Tremblant. In 2008 and 2010, both the WRX and STI have left rubber on the tarmacs at Calabogie and Mosport for me and most recently, the EVO and STI bled ever so slightly for myself and my good buddy, ex-race car driver, Bertrand Godin at Mecaglisse.
EVO vs STI: the cars
The rivalry is equal to the
Volkswagen GTI
vs
Honda Civic Si
and the Chevrolet Camaro vs the Ford Mustang. It's an epic battle that puts similar approaches but different ways of thinking and pitting them one against the other.
The
2010 EVO
, the "X" for those in the know, is a turbocharged 291-hp, 2.0L 4-cylinder, AWD 4-door saloon with guts, balls and the like. The
2011 STI
is a turbocharged 305-hp, 2.5L flat-4 cylinder, AWD saloon with a bad attitude and an engine growl that will scare the wig off uncle Ralph's head. Yes, these two were made for each other, if only one of them agreed to be the dominated partner.
In a side-by-side looks comparison, I'd have to say that, although I'm happy the "wing" is back, I simply cannot wrap my brain around the stylistically-challenged Impreza sedan. The EVO has it on cleaner lines, a more aggressive front fascia and an overall better balance in the overhang department. Had we compared an STI hatchback to the EVO, I would certainly have been kinder to the Subaru.
On board these two cars, it is evident that one maker has made more of an effort to impress the average buyer. I'm not the average buyer. I'm talking about the STI's dashboard that, although sports a more modern presentation, looks and feels what it is: a cheap, poorly thought-out attempt. In the EVO, Mitsubishi did nothing: the cabin is cheap and no one tried to make it look any different. I'm giving Mitsubishi an "A" for no effort.
All that really matters in these cars are pedal and driving positions, shifter feel and seats. On that last point, the EVO wins again. This car has better-bolstered and contouring seats that will hold the driver and navigator in place. They're Recaros for Pete's sakes! The STI's leather-covered perches (cloth are much the same) lack body-contour depth; they are nowhere near as serious as the EVO's.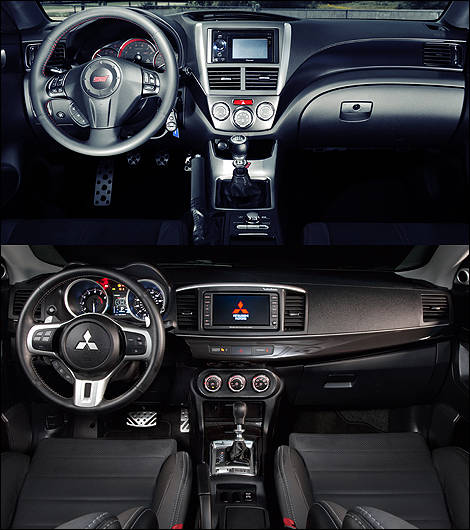 On board these two cars, it is evident that one maker has made more of an effort to impress the average buyer. (Photo: Matthieu Lambert/Auto123.com, Mitsubishi)