It's the little things that count, right? Well, we set out to discover those little differences amongst some of the heaviest hitters in a segment that's taken the automotive market by storm: compact crossovers. This year has seen some redesigns and updates that we just couldn't ignore. So, we took the players we think are the most relevant, at the moment, and the ones we feel buyers will be most likely to look at when in the market for a compact crossover.
Who are said players? Well, we gathered the
2014 Mazda CX-5
,
2013 Volkswagen Tiguan
,
2014 Subaru Forester
and
2013 Toyota RAV4
.
This list was put together following
last year's compact comparo test
as three of the four here were missing at the time. The Subaru was omitted because a full revamp was imminent. The Volkswagen was absent because we drew the line at six participants for sanity's sake. The Mazda and Toyota are the only returns and for different yet related reasons. The RAV4 is all new while the CX-5, a big winner in our hearts, was recently on the receiving end of a life altering transplant.
With miles of open country roads, a bit of off-roading, and four drivers well placed to judge the practicality, drivability, and durability of these compact crossovers, we hit the road.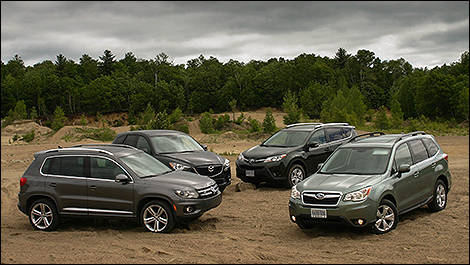 Photo: OIivier Delorme