Usually, I come to a conclusion about a car fairly quickly. I like to rely on first impressions, first drives and overall "how do I feel right away" emotions. Of course, those can all evolve over the course of a week behind the wheel, but generally the initial reaction is the right one.
So, when I first got behind the wheel of the 2013 Suzuki Kizashi and was met with a flood of contradictory reactions and emotions, I was unsure of how to proceed.
All I could think to do was drive the car and hope for the best. And so I did.
Perhaps they should have called it something else
Kizashi is the Japanese word for "something great is coming." Just saying.
We all know the trouble Suzuki has been having as of late: no longer available in the US, dwindling sales and a disappearing presence on the market. It's not that Suzuki make horrible cars out of cardboard, just that they've not made one worth any sort of mass recognition in the recent past.
First introduced in 2010 in Canada as a 2011 model year, the Suzuki Kizashi made a small splash because of its innovative looks and available AWD platform. Now just a few short years later it's basically fallen off the radar completely.
Striking looks
The Suzuki Kizashi is not a car you see often on the road -- at least, I don't. It's a bit of a rare beast, and that's a bit of a shame because it does look rather good. From the front it looks like a more mature, grown-up SX4 with a beefier chin.
But it's round the back of the 2013 Suzuki Kizashi that I really start to like this thing. Maybe it's the oversized, geometrical, chrome-tipped exhaust covers integrated into the rear bumper, or the upturned tail with a subtle decklid spoiler that gets me, but the sporty nature of the Kizashi's rear is quite appealing.
In all other respects, the exterior design is quite plain. In fact, there's nothing outwardly recognizable about it. When I was faced with finding the Kizashi in a crowded parking lot, I actually looked at it a few times then looked away thinking, "Nah, that's not a Suzuki." It was a mix of: On the one hand it looks too cool to be a Suzuki (sitting on 18" wheels, sporty side skirts, accentuated bumper); and on the other, it's too plain and can't possibly be the car I'm driving. Contradictory emotions.
Comfortable cabin
Inside, the oxymoronic experience continues. On the one hand, it's quite a sophisticated cabin: the 2013 Suzuki Kizashi Sport iAWD features a 6.1" colour touchscreen with Garmin nav and voice-activated commands. HVAC knobs have a solid feel to them when turned and the steering-wheel buttons are both practical and well-placed. And I quite like the futuristic sweep of chrome accent across the dash.
Seats up front and in the back are comfortable and supportive. And even the doors feature plushy, soft-touch inserts.
Everything is befitting a car far above its class status, far above what you'd expect from a Suzuki. Just a few weeks ago, I spent some time in a 2013 Suzuki SX4. I was not surprised by what I found there. Same goes for the 2013 Grand Vitara. However, in the 2013 Suzuki Kizashi, I had to take a moment, stare at the logo on the steering wheel for a moment and shake my head. Really?
Installing a baby seat was a breeze, and while the front passenger seat was within kicking range of my little rug-rat when I drove with someone, there was still plenty of room back there. The trunk is also quite sizable offering up 378 litres.
Driven in different directions
Driving the 2013 Suzuki Kizashi was just as polarizing. Outfitted with a 2.4L 4-cylinder engine good for 180 hp and 170 lb-ft of torque, there's just enough oomph to get you going when need be. Paddle shifters ensure the CVT is tolerable and, dare I say, enjoyable to drive.
Add to that the fact that this sedan offers AWD (which features a lock mode, by the way), and it's a pretty decent vehicle to pilot. I didn't get the chance to drive it in snowy conditions, but in normal conditions it felt satisfactory, even excitable at times.
The thorn in the Kizashi's side
Alright, so up to this point it all sounds rather good: decent looking, nice interior, pleasant to drive, AWD. So, what's wrong with it?
Well, this Suzuki (and I want you to repeat that, this
Suzuki
) hits the mid-$30k price point. And don't get me wrong, it's not that I don't think it's worth it. I do. With the amenities, the AWD, the materials used; I get it. However, for that price, I'm going to look to 5-door the Subaru WRX or even a
MINI Cooper S Countryman ALL4
instead of getting a Suzuki.
Its thorn is its namesake, and that's a real shame as well as being a sad truth.
Road Tests and Reviews

Consumers
2013 Suzuki Kizashi Sport iAWD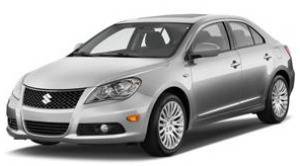 2013 Suzuki Kizashi Sport iAWD