After a week driving
Volkswagen's new Jetta Hybrid
in late February, I'd virtually tied the mileage I achieved a few months earlier while driving their
Jetta TDI
. After highway-intensive tests of both, I logged 6.7 and 6.9L/100km, respectively.
For accuracy, these real-life figures are measured by hand, not taken from the driver computer. The hybrid was at a relative disadvantage being tested in the cold and on winter tires. The TDI was on all-seasons in late spring.
At the end of the day, the difference in mileage between the two testers was negligible for where and how I drive.
Why a hybrid?
Why offer a Jetta Hybrid when you've been selling Canadians a diesel-powered Jetta TDI for decades?
Choices. Shoppers willing to pay a premium for a fuel-saving powertrain love them. So, as a business decision, the 2013 VW Jetta Hybrid makes sense to tap into a new market segment.
A seamless powertrain
The 2013 Volkswagen Jetta Hybrid has a turbocharged engine and an electric motor that makes heaps of torque when fed electrons by the trunk-mounted battery. Coast or brake, and roles reverse as the battery is fed electrons by the motor, which acts as a generator when it's not driving the wheels.
Request acceleration, and stored electricity helps drive the car, lightening the load on the gas engine. At lower speeds, the 2013 Jetta Hybrid can run solely on electricity. This is all invisible to the driver, albeit for some readouts that visualize what the systems are up to, and an occasional squirm in the power delivery or an audible clicking of a relay.
Other than a missing chunk of trunk space to facilitate the battery, the 2013 Volkswagen Jetta Hybrid literally operates, drives, and functions like any other car. You could lend it to you mother without explaining a thing, save for how the gas engine shuts off at traffic lights and hasn't stalled.
Learning curve?
If this is your first hybrid car, there's nothing much to get used to other than the brakes. Like most hybrids, the Volkswagen Jetta's pedal isn't attached directly to the brake system, since a blend of traditional hydraulic brakes and electric-motor resistance are summoned by the pedal to slow the car.
The brakes are powerful when jammed hard and stop the 2013 Jetta Hybrid in a jiffy. Less pressure and it feels like the pedal is attached to a glob of Cheez-Whiz -- they feel squishy, inconsistent, difficult to modulate, and often cause lurching while stopping as your foot subconsciously re-learns the brake pedal every time.
Steering, additionally, is vague and light. The 2013 Volkswagen Jetta Hybrid isn't opposed to spirited corner carving, though driving enthusiasts gravitating towards the Jetta's sporty reputation may be a little disappointed.
Surprising performance, ready to save
The 2013 Jetta Hybrid puts 170 combined horsepower and even more torque under its driver's right foot, alongside lightning fast gearshifts from the 7-speed Direct Shift Gearbox (DSG) automatic transmission. Hammer down to get by slower traffic, and the Jetta Hybrid goes like all electric-assisted heck.
Screens display the hybrid system's current state, and the tachometer is replaced by a metre that shows whether the powertrain is in "charge," "eco," "power" or "boost" state. The latter was my favourite, and it announces that the turbocharger and electrons are all fired up for fun.
On the other side of the equation, you can drive with a light foot by using the gas-saving "E-Mode" which optimizes the powertrain for low-speed, electric-only driving. This means more sitting back and smiling smugly because, at times, you're rolling along sans fuel.
Other notes
I enjoyed the potent Fender stereo, comfortable leather seats, and especially the powerful adaptive xenon lights which drench the road ahead with clean, white light. This made confident work of tackling a 600-kilometre, after-dark road trip. A premium-feeling cabin with all the toys helped create an upscale atmosphere to take on the drive.
Even with winter tires mounted, the 2013 Volkswagen Jetta Hybrid's ride was relatively quiet at speed. The suspension felt firmly sporty, robust and tough, adding to an overall feel of quality. It's ultimately a nice, relaxing and particularly premium-feeling car to drive. The 2013 Volkswagen Jetta Hybrid feels every bit a Jetta where ride quality is concerned, and that's a good thing.
Choices
Volkswagen is giving shoppers choices when it comes to reducing fuel costs and going further on every tank of fuel.
My choice? The TDI. I like hybrids. But I like the massive torque of the TDI's diesel engine better. I also like that you can get a Jetta TDI with a manual gearbox. The Hybrid only comes with an automatic.
I'd strongly suggest test driving both models if you're considering either one.
Road Tests and Reviews

Consumers
2013 Volkswagen jetta Highline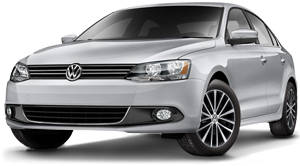 2013 Volkswagen jetta Highline