Santa Fe, New Mexico
- The fifth type of engine available for the popular-selling VW Jetta is no disappointment.
The Jetta sedan to VW is like sauerkraut to Germans: It's a staple and it's a hit with the masses.
Since the four-door sedan's renaissance in 2010 (for the 2011 model year), these cars have been selling faster than beer at Oktoberfest. Furthermore, it remains the core vehicle in the manufacturer's lineup in North America, with the Passat coming in at a close second.
So where does VW go from here? After all, they already offer four already great engine variants including the base 2.0L engine, the 2.5L, the GLI, with a 2.0L TSI turbocharged, and the diesel TDI. Well, the 2013 model year welcomes the Jetta Hybrid, making it the fifth member of the fabulous family.
Why a hybrid?
Those familiar with diesel vehicles know that VW is one of the go-to brands for this type of engine this side of the Atlantic. Not only do you get an exorbitant range from a tank, but they also burn cleaner than they have in years past. So, if you can get almost -- or sometimes even more than -- 1,000 km from a tank, why opt for a hybrid? Well, not everyone is on the diesel bandwagon, or at least they're not ready to take the plunge.
To answer a need for amazing fuel economy with the option of zero-emission driving, the
2013 Jetta Hybrid
was born.
Power, and then some
With the ability to reach 100km/h from a standstill in 8.6 seconds, there is definitely some pep to this fuel-sipping 2013 Volkswagen Jetta Hybrid. Creating that pep is a 1.4L, turbocharged (TSI), 4-cylinder engine combined with an electric motor. The two of them work together to create 170 horsepower and 184 lb-ft of torque. And that torque is accessible as low as 1,600 rpm.
Some fun facts about the powertrain featured in the 2013 Volkswagen Jetta Hybrid: This is VW's first product with a 7-speed DSG transmission in Canada, and the world's first hybrid to use a 7-speed DSG. If you were crossing your fingers for a CVT transmission, sorry to disappoint!
It's a great transmission to work with, whether you let the car shift the gears for you, shift them manually, or pop it into sport mode. It's a win/win/win whichever way you swing.
While fuel results have yet to be released, they are expected to be pretty darn good.
Don't mind if I blue
Aside from the powertrain, the 2013 Volkswagen Jetta Hybrid has some distinguishing exterior features to let you know that it's a green -- or in this case, a blue vehicle. The hybrid badging on both the front grille and bumper indicate its fuel-sipping nature. Furthermore, the VW emblem on both the front and rear have blue accents.
The wheel deal
Driving the 2013 Volkswagen Jetta Hybrid can be likened to playing a video game: the goal being to save fuel and remain in all-electric mode for as long as you can. After all, you can drive it without tapping into the gasoline engine at speeds up to 70 km/h from start up for a distance of 2 kilometres. However, unlike a video game the fuel savings are real.
How do you know how well you're doing in the 2013 Volkswagen Jetta Hybrid? Simply change the multifunction touchscreen to monitor your driving. One chart option displays what percentage of zero-emissions driving you've done over the course of 30 minutes. Another shows what systems are working to drive the vehicle. The other is a calculation of your average fuel economy. At one point, my driving partner and I -- even after accelerating promptly, on purpose -- were averaging 42.5 MPG. That's a rough translation of 5.5L/100km.
You should also take into consideration that we were at an altitude of around 7,000 ft., so we weren't doing too badly.
Managing your power
In order to gauge how efficiently you're driving, there are specially designed gauges housed in the instrument cluster to show you. The 2013 Volkswagen Jetta Hybrid's "Power Meter" replaces the traditional tachometer, and through this you can see if you're recharging the battery, using the EV mode or getting a little boost.
Drive time
With a quiet cabin, comfortable ride quality and room for five, the 2013 Volkswagen Jetta Hybrid covers the basics and then some. Furthermore, with a cargo capacity of 320 litres, there's still a decent amount of trunk space despite the lithium ion battery packs in the back.
Price tag
There are three trims offered for the 2013 Jetta Hybrid. First, there's the base Trendline, priced at $27,875. After that comes the Comfortline at $30,175. Lastly, the Highline has an MSRP of $34,025.
The 2013 VW Jetta Hybrid is scheduled to arrive in Canadian showrooms in January of 2013.
Road Tests and Reviews

Consumers
2013 Volkswagen jetta Hybrid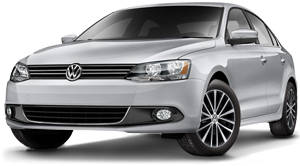 2013 Volkswagen jetta Hybrid