There are a few cars out there that continually fly under the radar. Whether it be through consistent performance or just a lack of flare to catch attention, they're always around but never really stir up a fuss. The Ford Fusion is just such a car. While it's been around for the better part of a decade, it's done so in a quiet, understated kind of way.
Admittedly, I didn't like the Fusion much when it was first introduced in Canada. Sure, it offered AWD, plenty of space, and Ford sensibility, but I wasn't a fan of the design or the drive.
Great look
Well, this second generation Fusion has definitely stepped it up. The smooth, sleek design that replaced the outgoing boxy and way-too-manly look is much more appealing and elevates the Fusion to another level, in my opinion. Sure, there are those who "complain" it looks too similar to an Aston up front, causing confusion on the road. I think that's just a huge compliment to Ford, no?
Inside, that sleek sophisticated look continues. The 2015 Ford Fusion is comfortable to the max. The seats are large, plushy and easily adjustable. Finding a comfortable driving position is a breeze. I could easily see myself taking numerous road trips with the Fusion and being uber comfortable the entire time, no matter how long the trip.
Now, of course, the 2015 Ford Fusion is equipped with Ford's SYNC system. I'm not a fan at all, never have been, but if you own a Ford product and live with it daily, I suppose it's tolerable. Another huge pet peeve? All the touch-sensitive "buttons" instead of actual buttons and knobs. So. Very. Obnoxious. Seriously, is it too much to ask for a knob for volume and track changes? Thankfully, the Fusion features actual buttons on the steering wheel to use for such things.
SYNC aside, the 2015 Ford Fusion also offers a ridiculous amount of space. I felt a bit like I was sitting in a crossover most of the time, and my son felt miles away in his child seat in the rear. It was great for him, with lots of room to stretch out his legs even if there was a front-seat passenger. Also, that meant two adults plus the baby seat fit on the rear bench as well. Oh, and there's 453L of cargo space in the trunk. I know, right? Oodles of room and space for everything and anything life throws your way.
Doesn't drive big
Now, despite all that interior space, the 2015 Ford Fusion thankfully doesn't drive big. In fact, it feels quite light and nimble on its wheels. And, of course, the massive trunk and comfy seats are not the vehicle's main selling point. What is, in fact, is its 2.0L EcoBoost engine that produces 231 horsepower (or 240 ponies if you choose to use premium fuel) and 270 lb-ft of torque. A 6-speed SelectShift automatic transmission handles the power, and in my Titanium version power was sent to all four wheels thanks to AWD.
Now, the engine/transmission combo is perhaps my favourite thing on the Fusion. They work so well together. The engine is flexible and the 6-speed responds effortlessly and smoothly. The swell of power is pleasing when the throttle is pushed, and I never once felt I needed to row my own gears with the SelectShift option, it handled them so well on its own.
I also really enjoyed the fact that the engine is quite audible and it has a pleasant rumble to it. Of course, the turbo's not audible, but that's a given since the segment the Ford Fusion plays in isn't really performance-oriented. Which is also why I like the fact that you can hear the engine so much. For a car that's not necessarily branded as sporty, the engine play gives it that performance "edge."
The drive is great, too. The AWD ensures the Fusion stays planted regardless of conditions, and it handles quite well too. The front end is a little large, but it's easy to get used to, and the steering is precise and connected enough that maneuverability is a breeze.

Under the radar
So, while there's nothing glaringly unique or incredible about the 2015 Ford Fusion Titanium, as whole it's a great vehicle. It drives so well, looks great, and offers gobs of interior space and comfort, all huge pluses in my books. Also, with a starting price in the $30k region (for the Titanium model) that means you get AWD and a host of interior features and amenities, the Fusion really is a winner.
Of course, stiff competition from the likes of the Subaru Legacy (for AWD), Honda Accord, and new Toyota Camry remain, but Ford's got a stellar product here that really stands up to the JDM riff-raff.
Road Tests and Reviews

Experts

Consumers
2016 Ford Fusion Titanium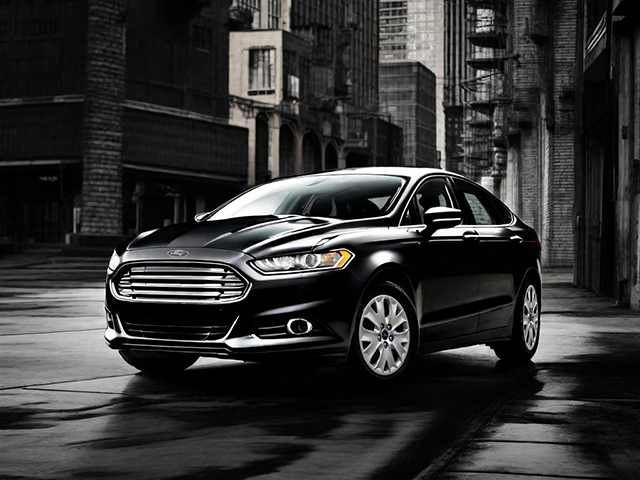 2016 Ford Fusion Titanium