New York, NY -- Hang on to your privates! Pin the new Range Rover Sport SVR's throttle from a dig, and the supercharged V8 engine fires the aluminum, leather, and carbon fibre rocket-hauler out of the gates, right now, on a tidal wave of torque. In the process, there's the simultaneous sensation that you've been a) rear-ended by a dump truck and b) suddenly transported into the middle of the climactic action scene in a Michael Bay movie, complete with automatic gunfire sounds from the tailpipes.
The kickass, specially tuned exhaust that signals this machine's intent was developed with input from the lead engineer's 5-year-old son, and you can literally hear it a mile away. It sounds nasty, in the best way possible.
The sound underlies the significantly elevated performance promised by the newly available SVR version of the Range Rover Sport. This is the hot one -- the debut model from the brand's newly formed in-house "Special Vehicle Operations" team gets a power boost to 550 horses with more air entering the intercooler and exiting the supercharger, a set of Brembo brakes with massive cooling ducts, sportier tires, and a healthy smattering of cosmetic upgrade bits that'll make gearheads drool. These include enlarged side air vents, additional body sculpting, bucket seats like you'd find in a Romulan spaceship, and a set of tailpipes that look like they could launch a volley of scud missiles.
The SVR is one of those hopped-up rocket-utes marketed with track readiness and lap-times to flex its performance muscle on the mental radar of shoppers.
Thing about track-ready sports utes is the compromise: In the same way that a houseboat makes a pretty lousy house and a pretty lousy boat, a track-going sports ute often does OK as a performer, and OK as an off-roader, without being particularly awesome at either.
The SVO engineers sought to minimize that inherent compromise. They gush excitedly about the challenges of creating a machine capable in two opposite arenas, and even more excitedly about tackling those challenges through new adaptations and spins on existing technologies.
Nothing is lost in the mud
Unlike numerous similar models, past and present, the mighty Rang Rover SVR doesn't toss its off-road hardware out the window. Heck, you can even order it with an accessory snorkel kit for water-fording. Low-range gearing is still on offer with four-high-on-the-fly to engage high-range without pulling over. The off-road traction management systems are all present, as is the big weapon: the air suspension.
Just a few button presses see the SVR engage a high-ride, low-range setting ideal for crawling, slogging and climbing through light to moderately challenging trails with ease. A few more clicks, and you've got low ride, high-gear, and stiffened shocks working with recalibration of all affected systems in dynamic mode to engage maximum go-fast factor.
You probably won't take your 2015 Range Rover Sport SVR on a track, but if you wanted to, it's all there. Making a powerful statement on the SVR's recent launch, media first drove the model through a rough, sloppy and moderately serious off-road course, before literally driving the model through an undercarriage wash-off station, having a technician check for off-road tire damage, and then heading out onto the Monticello circuit mere moments later.
Two button clicks (literally) switch the SVR from off-road ready and racetrack ready.
SVO engineers say the SVR's lighter-than-it-looks weight (thank the aluminum platform) and constant, real-time working of the air suspension and active sway bars (which constantly adjust their tension on pavement or off) help this one turn in, steer, slip, slide, and bite with remarkable high-speed stability as the driver's reward for smooth inputs.
Boyhood fantasies a reality
It's all delivered with that 5-year-old approved exhaust note slathering the cabin, and with the elevated air flow to the Brembo brakes keeping brake fade minimal through numerous laps. Notably, by staying relatively flat and using real-time suspension optimization to reduce the tendency to toss its weight around, the 2015 Range Rover Sport SVR inspires confidence when pushed hard. Most of the time, it feels like a really hot sports sedan.
It's not all firepower and snort-y sound effects, either. The constant fine-tuning of the suspension in the SVR helps turn in good ride quality even rolling on 21" wheels and sporty tires. The exhaust can be silenced at a button press, and the mountain of on-demand torque means the SVR can ooze through slow traffic without breaking 1,500 revs when a relaxing drive is in order. Plus, the added durability and efficiency in the cooling and braking systems can benefit drivers planning on frequent towing, too.
It might have seats like you'd see in a sci-fi movie, an apocalyptic exhaust note, and more power than a driveway full of Honda Civics, but you could take the SVR down a challenging trail for a family hike, then head to a lapping day, then pick your grandmother up for Sunday church, and lose nothing in between.
Land Rover's X5-M-seeking missile is available now with pricing from $125,000.
Road Tests and Reviews

Experts

Consumers
2015 Land Rover Range Rover Sport
2015 Land Rover Range Rover Sport SVR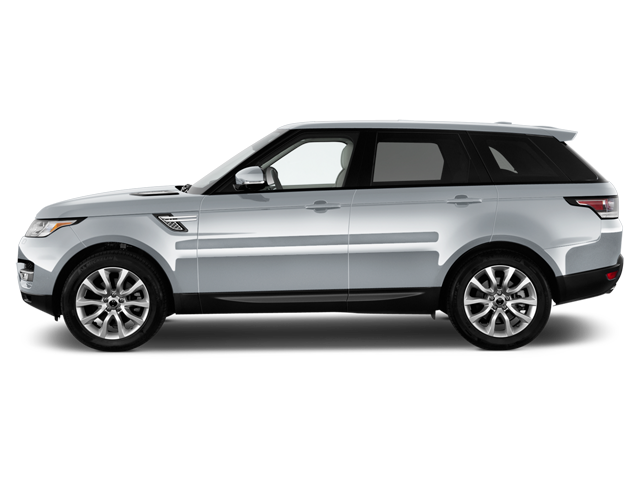 2015 Land Rover Range Rover Sport SVR