We've all got one. That trusted pen at the bottom of our bag, the one we know is always there. It's not fancy, it's not even really very comfortable to use. It's simple, like a BIC. It writes, nothing more. No fancy colours, no ergonomically shaped grip. It doesn't even click. But it's always there. And, no matter what, it always works. There always seems to be ink in it.
That BIC pen is the Toyota Corolla.
That doesn't mean it's bad. In fact, quite the opposite. The BIC Corolla is the go-to vehicle. It is the one you know will always get the job done. It'll always get from point A to point B without fuss, without trouble (signature written from beginning to end without a scratch or ink running out).
There's something to be said for the simplistic things in our lives, like BIC pens, flat-head screwdrivers, flannel PJs, red roses, and cheese pizza. The things we turn to the most because we know they work. Our parents did it, and their parents before them, and so we do the same.
Being that go-to car
Might seem like a lot to live up to, being that car that everyone seems to fall back on (did you know that over 40 million Corollas have been sold over its 11 generations?), but it seems like Toyota's got it in the bag -- especially with so many on the road.
It's the Toyota's simplicity that makes it such a success, in my mind. That's not to say the Corolla doesn't come with the latest technological gadgetry, because it does. Back-up camera, satellite radio, touchscreen entertainment, heated seats, and even an ECO version (which I was driving). No, it's that it combines all those elements in a highly familiar, easy-to-use-and-live-with package.
I can see now the attraction of the Toyota Corolla. Sure, we harp on about it endlessly (#corollattack FTW), but it actually is a good car. More than 40 million on the road is no fluke or joke.
Just don't be a driver
That's the thing; like the BIC pen, it'll always work and get the job done, floating around in the bottom of your bag, but you're going to get bored after extended periods of time. Sure, those flannel PJs are comforting and warm, but they are really not exciting when you bring someone home for the first time. Cheese pizza? Love it! But every single day? Meh. And red roses, well those must always be the answer, right?! Wrong.
However, if you don't care about any of that excitement mumbo-jumbo, and you just want things to work (sans surprises) and work the way you've known them to always work: enter the Toyota Corolla.
Equipped with a 1.8L 4-cylinder VALVEMATIC (with a LEV3 Low Emissions Vehicle rating), the 2015 Toyota Corolla LE ECO is actually the most "powerful" with 140 horsepower (8 more than the non-ECO engine produces), and a few less torques with 126 lb-ft. However, powerful isn't exactly how I'd describe the drive.
Fitted with a CVT, the Toyota Corolla LE ECO gets where you want it to go, but without much gusto or pizzazz. Acceleration is gradual, even in Sport mode there's not much difference in throttle response. However, pop it into Eco Mode and suddenly you're driving through tar.
Power is sent to the front wheels, and with a few inches of fresh snow over already icy roads, the Toyota Corolla struggled to find its footing on multiple occasions. However, I will give a huge thumbs-up for an actual handbrake…
And as for interior space and comfort, the 2015 Toyota Corolla LE ECO's got that covered, too. The seats up front are comfy and roomy, and the back seat is functional for a baby seat and one adult. I was pleased with the Toyota's trunk space (approximately 368L), and could see how this would be a very easy vehicle to live with.
Because it makes sense
The Toyota Corolla is a logical decision. It's affordable to purchase (starts in the $15k range and even at the top of the line, like my LE ECO, it's still just a smidge over $20k to start). And I have to admit that after a week behind the wheel, putting well over 500km on it in wintery, snowy conditions with winter tires and a penchant to #neverlift, I still averaged 8.7L/100km and managed to only have to fill the tank once, which also cost me well under $50.
Right there is why you buy a Toyota Corolla LE ECO/BIC pen/cheese pizza/flannel PJs… you get the idea.
Road Tests and Reviews

Consumers
2015 Toyota Corolla LE ECO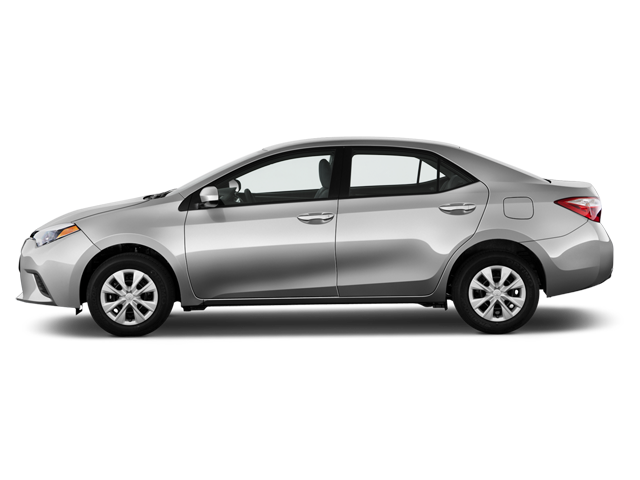 2015 Toyota Corolla LE ECO