Disco is back. No, not the music, although Justin Timberlake's Can't Stop the Feeling and last year's number one Uptown Funk by Bruno Mars and Mark Ronson might have us thinking otherwise. I'm talking about the Land Rover Discovery.
Fans and owners of the now classic 1989 through 1998 Discovery gave it the catchy "Disco" nickname back in the day ― a moniker also ascribed to the Discovery II, 3 and 4 sold in Europe and other markets from 1998 through to the present, otherwise known as the LR3 and LR4 on our continent. In this review, I'm not referring to these big, brawny midsize models, mind you, but rather the new 2016 Land Rover Discovery Sport, a smaller luxury SUV that can also do it like they do on the Discovery Channel, which would be foraging through the wilderness, not what Bloodhound Gang was inferring in their 1999 hit The Bad Touch, although there's room enough in the back for that, too.
Believe it or not, this compact SUV can be optioned out for seven occupants with ample space for adults in all three rows, or at least there was more than enough room for my 5'8" medium-build body in the rearmost seats when the first two rows were also positioned for a comfortable fit. I can't say I'd want to spend a lot of time back there, but the rear quarter windows provide outward visibility, a panoramic glass roof adds an open airiness, and real air can be directed to third-row passengers via separate vents and a fan speed controller.
The Discovery Sport's roominess is just one reason why it only took eight months of 2015 to find 51.3% more buyers than its LR2 predecessor was able to attract in its final full year of 2014. What's more, the new Disco's sales are up 373.9% over the first five months of 2016 compared to the same period of LR2 sales in 2014.
Performance on and off the road
As is always the case with products wearing the green oval badge, the new 2016 Land Rover Discovery Sport is fully capable off-road, although I must confess I didn't have time or opportunity to remove it from pavement during my test. I'm going to guess the larger LR4 is the one to choose for a trek across the Serengeti or a deep dive into the Amazon rain forest ― based on a previous adventure at the Land Rover Experience Driving School in Montebello, Quebec that made its capability abundantly clear ― but possibly only because it'll carry more water and fuel.
The nimbler "Sport" moniker was chosen to suggest the new model's smaller, more agile dimensions and lighter weight, which is true with respect to the Land Rover brand, although don't make the mistake of thinking it'll keep up with a Range Rover Evoque or midsize Range Rover Sport on a serpentine two-laner. It's a bit like sprinting the 100-metre dash in a wool sweater, cargo pants, and hiking boots instead of spandex shorts, a breathable sport top, and Saucony Cohesions.
OK, I exaggerated for a bit of fun, but the new Land Rover Discovery Sport feels more traditional SUV than anything it competes with, and by that I don't mean chunky and truck-like. Even the LR4, which is one of the most traditional SUVs available, feels comfortable and even agile on pavement and off. The Discovery Sport takes the sport side of the equation up a notch, while in similarity to the larger ute you sit upright with excellent comfort and superb visibility all around. Land Rover somehow managed to give the smaller Disco a big SUV feel without sacrificing overall drivability, while the ride is comfortable and compliant over bumpy surfaces.
If you've driven an Evoque you'll be familiar with the engine, namely a direct-injected and turbocharged 2.0L 4-cylinder sourced from Ford, tuned to 240 horsepower and 250 lb-ft of torque, and mated to a state-of-the-art 9-speed automatic transmission controlled by an even more advanced rotating gear selector with steering wheel paddles. Let's not forget 4-wheel drive with Land Rover's very skilled Terrain Response system as standard equipment. LR claims 8.2 seconds from 0-100 km/h and a top speed of 200 km/h. That makes for spirited if not particularly exhilarating straight-line performance, while fuel economy is great at 11.9L/100km city and 9.0L/100km highway.
Interior design
The Discovery Sport's cabin is nicely finished with a soft synthetic dash top that even includes a stitched leather dash pad on either side of the primary instrument cluster and ahead of the front passenger, plus soft-touch door uppers and yet more pliable synthetic surfaces elsewhere. The leather used for the seat upholstery even smells rich, all helping the compact SUV live up to its premium brand status. Of course, the roof pillars are treated to high-end fabric, plenty of stylish satin-silver accents can be found throughout, and the entire switchgear is superbly crafted (the buttons on the leather-wrapped steering wheel are especially impressive). However, it's the quality and capability of its electronic interfaces that first caught my attention.
A high-resolution 5" colour multi-information display sits within the primary gauges and a large 8" colour infotainment touchscreen dominates the centre stack. The latter is a graphical delight similar in look and feel to a Windows Surface tablet with a quadrant layout featuring outdoor backgrounds on three of its four digital panels ― climate control gets a beautiful sunset, connectivity functions are highlighted by a classic red British phone booth sitting next to open pastures, navigation and mapping features are depicted by an unnamed roadway curving off into the distance, and audio graphics merely get stylized blue radio bands crossed by a red line for supposed selection. Believe me, you won't be disappointed with stereo performance, whereas the rest of the infotainment system lives up to what's expected in the class.
In addition, the beautifully detailed HVAC interface includes three circular dials trimmed in aluminum and rimmed with rubber, their centres filled with digital readouts for temperature control, fan speed, etc. Above it all is a simple overhead console featuring LED map lights, a switch for the fixed panoramic sunroof's powered blind, and an always welcome padded sunglasses holder.
Trims and equipment
Without running down the entire list of standard and optional features, suffice to say the $41,790 base SE model is well appointed. Highlights include all the mechanical components noted earlier plus auto on/off headlights, rain-sensing wipers, an electromechanical parking brake, push-button ignition, dual-zone automatic climate control, 8-way power adjustable front seats, partial leather upholstery, 190W 10-speaker audio, Bluetooth with media streaming, multiple USB ports with charging capability, trailer stability assist, all the expected active and passive safety features, and much more.
At $46,790, the 2016 Land Rover Discovery Sport HSE I tested was upgraded with HID headlamps, LED daytime running lamps and fog lamps, a heated steering wheel, 10-way power front seats with memory, grained leather upholstery, front and rear parking sensors, a rearview camera, a panoramic sunroof, and more. The 19" alloy wheels were blackened out, while the roof was also painted black for an additional $500, and its gorgeous Firenze Red Metallic body added another $1,200. Navigation carried an extra $850, while the third row of seats came as part of a $1,900 5+2 Seating package.
The upgrade to a third row doesn't seem to take away from cargo capacity. The 50/50-split rearmost seatbacks stow easily via pull tabs on their backsides that automatically drop the headrests before laying flat and exposing 926 litres of available space. Folding the second row completely provides 1,894 litres of total cargo volume, yet its 40/20/40 configuration allows skis and other long items to be stored down the middle with rear passengers seated comfortably next to the windows to enjoy heated cushions if so upgraded.
By the way, some advanced active safety features such as lane departure intervention, driver attention monitoring, and automated speed limiting are not yet available. They will be on the menu for the upcoming 2017 refresh, however, as will likely be a top safety rating from the IIHS. My only other option request doesn't appear to be coming next year, that being the same ultra-efficient 180-horsepower 2.0L turbo-diesel with 318 lb-ft of torque that's standard in the new Jaguar F-PACE.
Verdict
When all is said and done, the 2016 Land Rover Discovery Sport's highly functional yet decidedly upscale interior, impressive digital interfaces, excellent on-road dynamics, promised off-road capability, good overall efficiency, and superb styling make me a believer. This might just be the most useful compact luxury SUV available.
Road Tests and Reviews

Experts

Consumers
2016 Land Rover Discovery Sport
2016 Land Rover Discovery Sport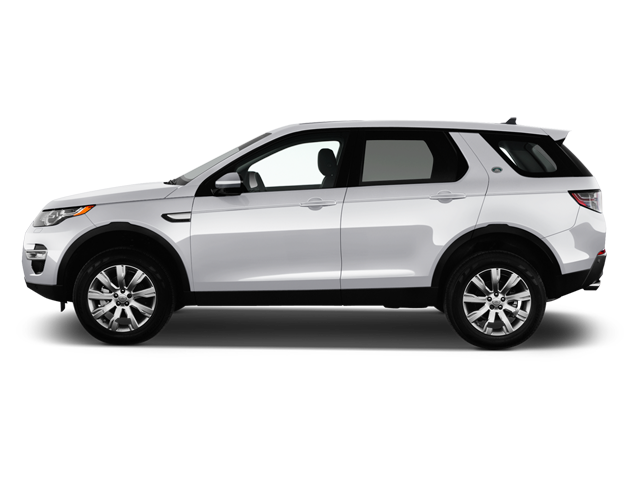 2016 Land Rover Discovery Sport