Since it was first unleashed on the market way back in 1966, The Dodge Charger has become a reference in the field of American performance cars. For the 2019 model-year, the muscle car is back with intentions of solidifying its place in a segment that's gotten smaller in recent years. Six versions are available in all, starting with the value-oriented SXT and leading up to the monstrous SRT Hellcat, 707 hp of fury and priced to match.
Distinction and modernity
The way we see it, the Charger is one of the most attractive sedans to be found on the market. Our tester was the Charger SXT AWD, on which it's possible to add the Blacktop package we're already familiar with and have seen evolve over the years.
You can pick from several different colour schemes for your new Charger as well, some of them more in-your-face than others. We drove one of those, painted in an attention-grabbing blue pearl finish – though we have to admit our favourite is the F8 Green Metallic colour, which really suits the car well.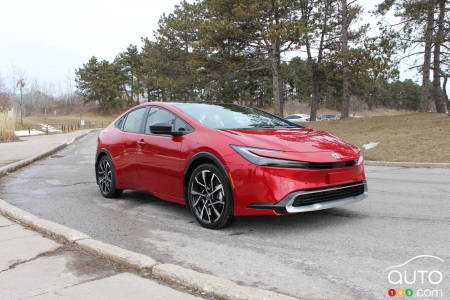 The Charger STX AWD is not quite the aggressive-looking machine that the more-performance-focused Chargers are, but stick the Blacktop package on it and it certainly takes on a more menacing appearance. That package includes a glossy black rear spoiler, special black emblem, side-view mirrors, accents and insignias, as well as 20-inch wheels.
The interior
Inside there's space to spare, in fact you can feel that roominess was one of the bigger priorities for the designers. The seats and large and comfortable for making longer road trips more enjoyable, plus there's good lumbar support.
Trunk space is also very generous, so you can pile in hockey bags or golf clubs or any number of other large objects.
The steering wheel and front seats are heated by default with the highest-end model, but you can also get those features in lower models by taking the Cold Weather Package or the Plus Group. The latter also brings with it Nappa leather for the seats and a different dashboard trimmed with special stitching.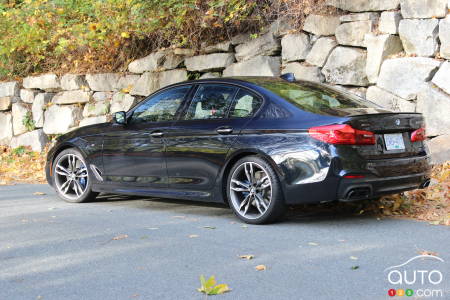 You could argue the quality of materials found in the base version of the Charger is a little on the cheap side, but once you go for models higher up the ladder the interior is quite solid.
The SXT version comes with a 6-speaker audio system and a 7-inch infotainment screen on which you access the Uconnect multimedia system. You'll find there SiriusXM and both Apple CarPlay and Android Auto compatibility as standard features. We've said it before, but Uconnect is one of the best multimedia systems on the market, an example in fact for other manufacturers to follow. It's intuitive, quick and, above all, simple to use.
You'll have to step up to the GT version if you want the larger 8.4-inch touchscreen as well as connectivity with WiFi 4G access points (both options).
In terms of safety, the SXT version of the 2019 Charger comes standard with the ParkSense and ParkView backup assist systems, which it's possible to supplement with available forward collision alert with active braking and adaptive cruise control as options.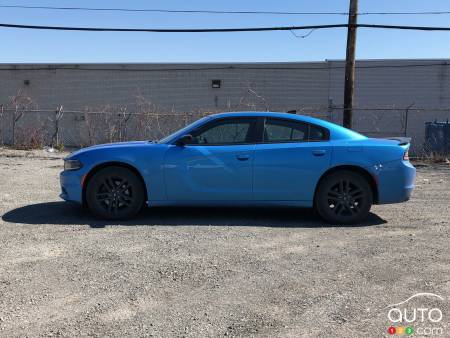 The powertrain
The 2019 Dodge Charger SXT AWD we drove runs on a 3.6L Pentastar V6 engine making 300 hp and 264 lb-ft of torque, wedded to an 8-speed automatic transmission and an all-wheel-drive system (it's possible to go with a FWD configuration, but given our Canadian climate we suspect that won't be a popular choice among buyers).
The GT comes fitted with that same Pentastar V6, the difference coming mainly in the form of visual add-ons to create a distinction.
As for the other models, which take you up into higher stratospheres of performance, there's the R/T version running on a 5.7L V8 with 8-speed automatic transmission (370 hp, 395 lb-ft of torque), followed by the Scat Pack 392 and its 6.4L V8 (485 hp and 475 lb-ft of torque). Outdoing them all on the brute power front in 2019 is the SRT Hellcat, which calls on a 6.2L V8 to deliver an eye-popping 707-hp and a ridiculous 650 lb-ft of torque.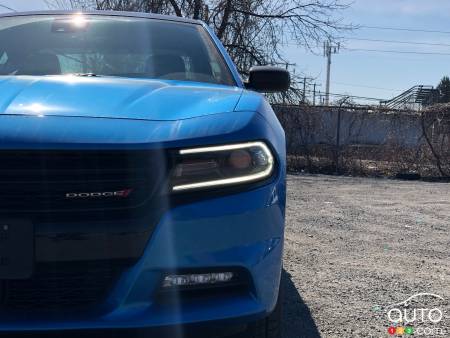 On the road
We were a little skeptical about this 6-cylinder-engine Charger, but we figured it wiser to drive it first before declaring the output of this mill insufficient for the purposes of a muscle car. A week in it confirmed that in fact there's enough under the hood to give the model decent punch. And while we're fairly certain the exhilaration level would have been higher with a V8 doing the work.
The Charger SXT indicates the power it's using in real time on a digital screen in the middle of the instrument cluster. In the city, it required all of 50 hp, and it wasn't much more on the highway. The only time we tapped all of the 300 hp was in hard accelerations, and we can confirm that in those moments the Charger was vigorous.

Overall, we found the Charger SXT AWD to be well-calibrated, with a suspension that was smoother than some high-end sedans we've driven; it was very capable at ironing out the road's imperfections.
This is a car that's well-adapted to longer road trips and is surprisingly nimble, even if you do feel its significant weight on the road.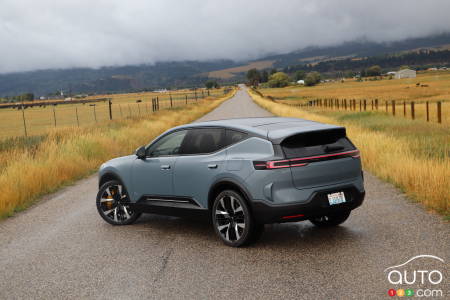 One small irritant was the hyper-sensitivity of the lane departure warning function. The beeps it emits at the slightest movement it deems wayward are truly annoying, and loud enough to darken your mood after just a few occurrences. Maybe actual owners will simply get used to it after a while…
Care about fuel consumption with a performance car like this? The SXT is satisfactory though not exceptional, coming in officially at 7.8L/100 km (highway) and 12.4L/100 km. About 80% of our week was spent driving in mainly urban settings, and our average at the end of it was 13.2L/100 km – clearly nothing to write home about. Though if that matters much to you, you probably weren't looking at buying a Charger to begin with.
The pricing
The entry-level Charger SXT starts at $37,095, and to that you can add a luxury interior package for $2,495, or go for the Blacktop package which runs $595. The GT version starts at $40,195, while the R/T costs at least $43,095. The base price for the Scat Pack 392 sits north of 50 grand, at $51,695 to be exact. And for that crazy SRT Hellcat and its 707 horses? You'll have to fork over a whopping $79,245.
Dodge's product offering for 2019 includes six different configurations with a wide range of pricing and power. The SXT proved powerful enough to meet expectations, and on the performance front you can't say it disappoints. That said, if you want a maximum of thrilling accelerations you'll have to fork over the much bigger bucks for the Charger Hellcat. But that iteration is so far on another level price-wise that it's unlikely too many buyers will vacillate between one or the other.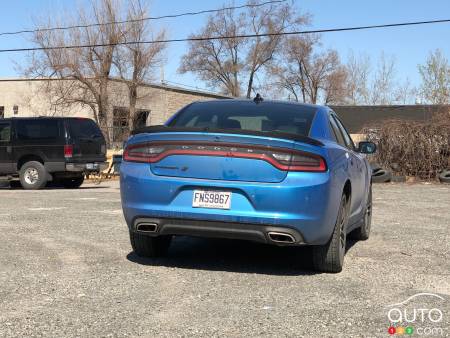 We like
Its aggressive and distinct look
The roomy interior
The power offered by both the V6 and V8 engines
The Uconnect multimedia system, as impressive as always
We like less
The quality of some of the interior materials
That over-excited lane departure warning system
Fuel economy is not great