I'm not sure I can recall a manufacturer turning their model lineup around as quickly and effectively as Volvo has. Just five years ago if you walked into a Volvo dealership, you'd have likely seen some very dated-looking vehicles. The XC90, in particular, was over a decade old and the S80 was also on its last legs.
Thanks to a new owner and new leadership at the highest levels after parent company Ford sold the Swedish manufacturer to Chinese firm Geely, plans were already well underway in the mid-2010s for a slate of new models. The lynchpin would be a new platform called the Scalable Product Architecture (SPA). SPA allows the company to use the same platform across multiple vehicles and scale it to different sizes depending on the vehicle needs, thereby providing savings for both cost and weight while also increasing strength.
The first release of a new vehicle using this platform was the 2015 Volvo XC90. The XC90 mid-sized SUV was received to great fanfare, thanks in part to stunning new design language and advanced technology underpinning the vehicle. Next up was the S90 and V90 mid-size sedan and wagon combo, which adapted that same language into their respective forms. After that came a new XC60 and all-new sub compact crossover called the XC40.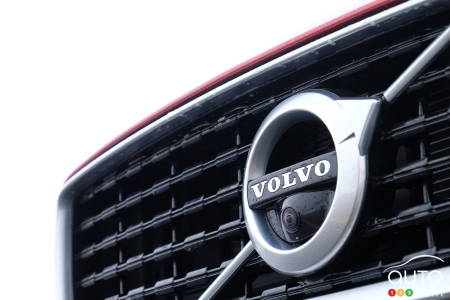 This brings us to the here and now, and the new S60 compact sedan and V60 wagon. The S60 was unveiled last June while the V60 was unveiled in December 2018. Like with the bigger S90 and V90, the vehicles take Volvo's new design language and adapt it to sedan and wagon form.
If Looks Could Kill
Volvo's new design language is simply stunning and unlike anything else on the market. Its shark-like persona exudes both luxury and sport simultaneously. When you compare this with the downright milquetoast styling offered by competitors such as Mercedes-Benz and Audi, Volvo immediately stands out. The most recognizable feature is the T-shaped "Thor's hammer" LED daytime running lights. There are only so many shapes for automakers can use when trying to create a distinctive look with their lights but Volvo hit the nail on the head (pun intended) with this look.
The body creates a smooth and classy silhouette accentuated by the optional 5-triple spoke matte black diamond-cut alloy wheels and R-Design package special grille, bumpers and dual exhaust tips. The taillight design initially took some getting used to but the square bracket-shaped lamps round out the rear fascia with elegance and poise.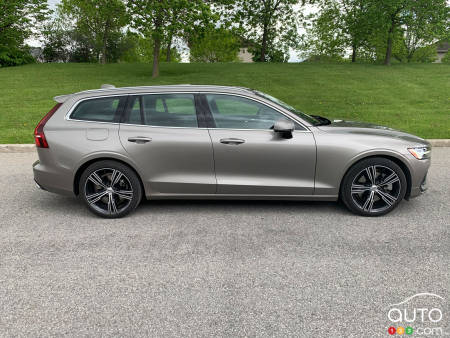 As Comfortable As Your Living Room
Moving on the interior we find a fantastically modern and contemporary ambiance. Before you even enter the vehicle, you'll notice just how inviting these R-Design Nappa leather sport seats look. They don't disappoint and sitting in them will give you levels of comfort approaching your living room sofa but also hold you in place quite firmly.
The materials Volvo has chosen for the dash and panels give a very high end look for an all-around upscale cabin feel. All buttons, switches and levers are very firm to the touch and the infotainment screen is within reach without having to lean forward. All in all, this is a spectacular cabin that rivals or exceeds any of the other luxury brands.
Volvo has thankfully not chosen to move to electronic gear selectors, which is nice for old-school people like me. A physical handle to shift gears is oddly reassuring and gives the driver a greater connection with the vehicle. I realize it's not the most efficient use of space but I don't care. I can deal with the electronic parking brake but leave the shifters alone!
Instead of a push-button start, you need to turn a little knob in front of the shifter, which is fine. There's also a small wheel you need to press and then click if you'd like to select a different drive mode.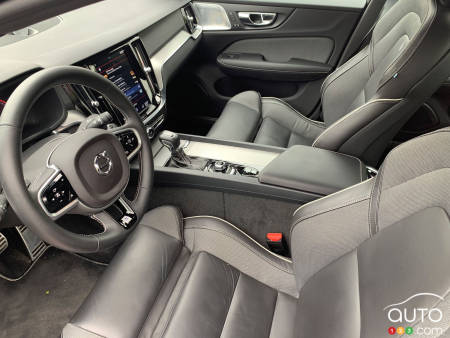 We Need To Talk About Buttons
Volvo has chosen a minimalist approach to dashboard design, opting to have as many functions as possible controlled via the tablet-like touchscreen interface. It's not Tesla-level minimalist (thank goodness) but problems can arise when too many functions are left to the screen.
In winter or summer months when the climate control needs to be adjusted more frequently, the current design makes it very time consuming to do basic things like adjust fan speed. Volvo wants you to use the automatic climate as much as possible, where you set it and leave it be, but for people bringing kids to school and back in arctic temperatures, we need to blast the heat for a bit then turn it down. Adjusting the fan speed or temperate takes 2-3 taps on the screen, which is unacceptable. Fan speed and temperate need to be controlled via dial or button on the dash plain and simple.
Compounding the problem, on very cold days, the screen has been known to be slow to respond at first, often taking several seconds to register a touch.
Aside from that one drawback, the setup is pretty good. The new infotainment system (called Sensus Connect) is modeled after a smartphone with a home button and menus which can be accessed by swiping left or right. Volvo offers a course on how to operate it because it takes quite a bit of getting used to. Now that I'm at ease with it after having tested many Volvos, I find it quite functional and easy to use. I absolutely love how all the satellite radio stations are listed with the current song playing on each station so I can see what it is before choosing.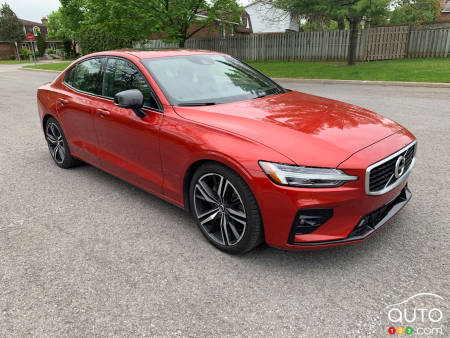 Serious Tech Under The Hood
Volvo invested $11 billion USD in technology over the past several years and it's really paying off. The new Drive-E powertrain is impressive because it allows Volvo to use different versions of the same 2.0L 4-cylinder engine for its entire lineup. The baseline T5 engines are simply turbocharged but for more power, the T6 adds a supercharger on top of the turbo for added performance while maintaining impressive fuel consumption. T8 models of the powertrain are plugin-hybrids and every Volvo will offer them starting later this year.
As of now you can get the S60 and V60 with the T5 making 240 hp and 258 lb-ft of torque or the T6 with 316 hp and 295 lb-ft of torque. Our tester had the more potent T6, which is able to propel the car from 0-100 km/h in a quick 5.8 seconds. The larger wheels help the Volvo stick to the road well and steering feel is decent if not overly engaging. I liked the response that the T6 provides and it's able to move the car quickly, but if you crave engaging and thrilling performance it may let you down compared to other European brands.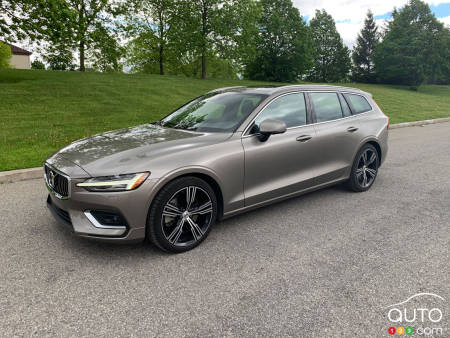 The V60
Volvo has made the wagon cool again with the V90 and now this smaller V60. At a time when the competition struggles to get people to buy wagons, Volvo has singlehandedly brought the segment back to life in a big way. An all-wheel-drive wagon is a great alternative to the crossover craze, allowing for a sporty drive but with added cargo capacity in the rear.
Specifications of the 2019 Volvo V60
The offering
The S60 has a starting price of $42,400 for the base Momentum trim, which is much less expensive than a base BMW 330i at $49,000. The price of our tester, a T6 R-Design with the Climate, Vision and Convenience Packages along with the 19-inch wheels, Fusion Red metallic paint, head-up display and a Bowers & Wilkins sound system lists for $63,250.
The V60 has a starting price of $43,900. The T6 Inscription trim we drove is the higher-end model and features its own unique front fascia, LED headlights and luxury interior appointments. With the same extra packages and options as the S60, it has a price of $65,600.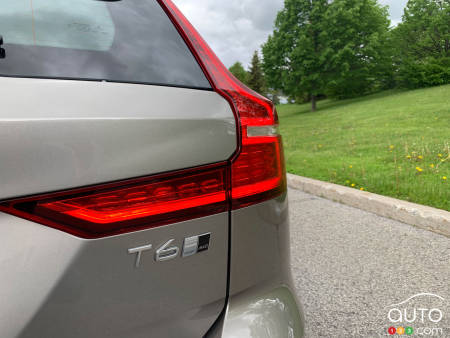 We like
Beautiful exterior design
Long live the wagon!
Good fuel economy
Modern interior
We like less
Too many functionalities go through the touchscreen (more buttons please!)
Longer-term reliability remains an issue