Jordan Station, ON - At first glance, the heavily-refreshed Genesis G90 is all about the wheels. Those gorgeous, wiry, silvery 19-inch numbers that when I first saw them, I thought they were concept fare. They're not, though. To quote a very famous line from a very famous show: they're real, and they're spectacular.
However, the G90 is about much more than just the wheels.
For starters, not only is it Genesis' flagship, but according to the Genesis people at the launch event just off of the lush Niagara Escarpment in southern Ontario, it's a source of national pride for its home country of South Korea, the president of which drives one. Sales on Korea increased 113% year-over-year between July 2018 and 2019. In fact, the dedication to detail and work that Koreans are known for is channeled directly to the G90 and its G80 and G70 stablemates and surely to the upcoming GV70 SUV as well.
It starts with the styling, which has been completely overhauled for 2020. The front and rear overhangs are shorter, making for a roomier interior and better turning radius. The hoodline has been dropped down for a slicker look overall (so much so that the hood had to be redesigned in order to lessen pedestrian impact), and of course you've got the new grille (designed so that light reflects off it the way light would reflect off a diamond, apparently), new quad-lamp headlights and new taillights designed to recall the Genesis wing logo.
And those great wheels, of course, which are standard in Canada, and serve to move the G90 into a stylistic realm that improves on the last edition by a country mile. They may just be the nicest wheels available on a production sedan today, and possibly the nicest available on anything this side of a Rolls Royce or supercar. Their "G-Matrix" thatched look, meanwhile, is in keeping with the grille look as well as other detailing throughout the car.
The interior
It's also a look that's mimicked by the stitching on the seats, which is a great segue as the interior is probably where you'll see all that dedication to craftsmanship become manifest. Put simply, it's gorgeous inside.
The leather is available in just three colours – brown, beige and black – but it's sourced from Italy and the tints are matched to perfection by the various plastic switchgear. That may not sound like much, but when's the last time you saw a caramel brown-coloured window switch? And if it's not coloured to match – the door locks, for example – it's finished in a pleasing aluminum look.
The centre console has been redesigned in keeping with the rest of the cockpit, so dust-magnet piano black surfaces are out, replaced by proper leather, and you've got open-pore wood inserts whose lacquer finish has been reduced because Genesis has loyal customers, and those loyal customers wanted a more matted look. Good call; I could run my hands across this stuff all day.
Tech-wise, the 12.3-inch infotainment screen is your hotspot for most in-cabin commands, and it can be operated either via touch (the system's sensitivity has been boosted this year) or via a console-mounted control knob. It's nice to have both options, and I actually switched between them regularly.
The screen graphics themselves aren't that different from what you'll find in other Hyundai products, though, which I guess you could say is a bit of a disappointment. It would have been nice to see a re-skinned display, as that would just add a little more uniqueness to the proceedings. There is Apple CarPlay and Android Auto, of course, so if you're going to use that, the native interface matters less.
There are some cool Easter Eggs, too; one of my favourites is how in the native GPS system, not only are gas stations marked on the map – that's not exactly new – but so are their prices. That's a handy tool, to be sure.
That's just the front seat stuff. We'll get to the drive in a minute, but the back seat experience is of utmost importance for this vehicle, and they've gone almost all the way. Almost.
Interior room doesn't change from last year, but with 3,205 litres of passenger room and 444 litres of trunk space, that's not much of an issue as it's roomy enough. The most obvious addition is the rear centre console, which has all sorts of controls on it: seat, climate, infotainment.
The right rear seat is adjustable 14 ways, while the left rear is adjustable 12 ways. You can also move the front seat forward from the back seat with easily reachable switches mounted on the left side of the front seatback. There are vanity mirrors above each seat, window shades on all back windows and if you want it, a $2,500 rear seat entertainment system.
It's fully-featured back here for sure, with the exception of two things: there is no seat massage system, and no full-length panoramic moonroof. The moonroof has been held back because Genesis says that too much noise would get in, and the seat massage system, it seems, is more of a cost-saving measure. The Genesis starts at below 90 grand, and obviously, certain sacrifices had to be made in order to get it there. Better they focused on heated and cooled front/rear seats that recline, that gorgeous leather and the fact that the G90 rides on a bespoke platform not shared with anything in the Hyundai or Kia lineup.
The powertrain
That exclusivity also applies to the engine – you won't find a V8 anywhere else in the conglomerate's entire North American portfolio, but the G90 gets one as standard. It's good for 420 hp and 383 lb-ft of torque, and while those figures echo last year's model exactly, that doesn't change the fact that it's an incredibly smooth powerplant.
What you will find elsewhere in the Hyundai/Genesis/Kia world is a 3.3L twin-turbo V6 – which can also be had here but only by special factory order for a $3,000 savings. Genesis believes that very few people will make this selection, which is why they don't plan on making it readily available.
Back to the V8. In addition to that smoothness, it can be made louder this year if the driver so chooses, though you do have to navigate through a few menus to do it. When you do, though, the big Korean cruiser becomes surprisingly vocal, emitting a sound that reminded me – if you can believe it – of the soundtrack from Steve McQueen's Le Mans racing epic. Don't ask me to explain that.
Of course, being a big luxury cruiser, it's not really the G90's job to be super vocal; most drivers and their passengers want a quiet, comfortable ride and the G90 achieves this in spades through smart sound deadening within the body and double-paned glass all around. Plus, gaps in the suspension bushings have been reduced in an effort to further reduce road noise. Indeed, if you're going to be driving presidents around, you'd better have the power and the panache. As much as I like a good growl, there's something to be said for making rapid progress and not having to hear too much about it from inside the cabin. It's almost surreal.
Handling-wise, the G90 gets adaptive dampers to ensure it stays flat through bends, as well as three drive modes that change your steering response, throttle response and even what the AWD is doing; when in ECO mode, for example, the AWD system comes in to play by fully decoupling the front axle and sending 100% of the power to the rear in an effort to save fuel. There's also an intelligent coast mode that decouples the entire 8-speed transmission from the wheels so that they're literally freewheeling while cruising and using less fuel as a result.
The engine, the chassis, the interior – all that's wonderful. It really is. One thing that really sets the G90 apart, however, is the price. It starts at $89,750 with most of the bells and whistles, undercutting competition from Mercedes, BMW Audi and so on by 10 grand or more, which is startling considering just how much the G90 packs into its elegantly-shaped body. Of course, Genesis still has some work to do to earn the kind of brand equity those manufacturers have, but then that may not actually be the right tack.
Those are storied brands and cracking that loyal customer base is challenging. Better you do what I think Genesis is doing, and focusing on pricing the vehicle right so folks whose eyes water when they see six-figure price tags can be given an option. Do that, and Genesis could very well be a force to be reckoned with.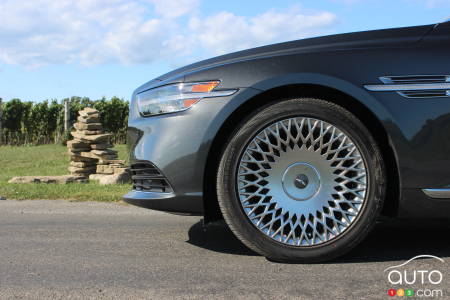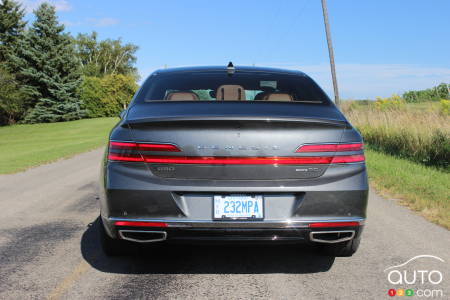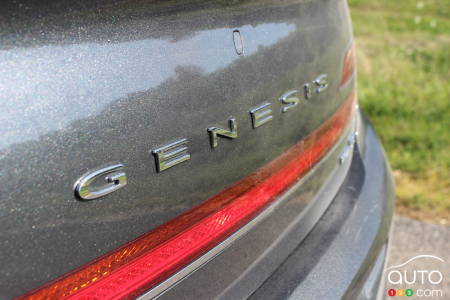 Road Tests and Reviews

Experts

Consumers
2020 Genesis G90