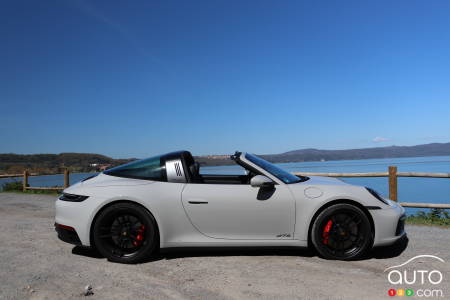 Yesterday we shared with you our review of the2022 Porsche 911 Carrera 4 GTS Cabriolet. Today Auto123 gets in a first drive of the 2022 Porsche 911 GTS Targa 4.
Rome, Italy - Here's an interesting piece of trivia for you. With the release of the Porsche Taycan GTS, the entire Porsche lineup gets a GTS trim. What was one of the first models in Porsche's current lineup to get the classification?
Was it the Boxster? It was not. The Panamera? Guess again. How about the 911? It has to be the 911, right? It was not. It was actually the Cayenne SUV that first got the distinction, beating the 911 to the punch by three years.
In any event, to be precise, the 911 I drove during my jaunt to Italy is the Targa 4 GTS and since "GTS" stands for "Grand Turismo Sport" in the Porsche world, the Targa version of the 911 is probably the perfect fit.
Browse cars for sale available near you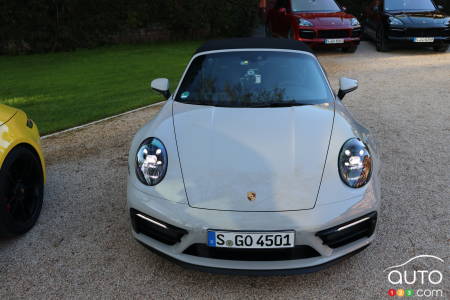 For one thing, in Targa form, the centre section of the roof can stow, providing open air motoring without quite the same buffeting level you get from a proper cabriolet. Then, when it's time to close things up, you get a spitting image of the 911 coupe. To top it all off, you don't get such an unsightly hump required to house a full-length roof. So, when it's time to take a nice road trip – grand touring style -- you have the luxury suited to fit that, top up or down.
Then, when it comes time for a shorter, more spirited drive on a nice day with the top down – proper Porsche sports car stuff -- you can do that, too.
In addition to the basic Porsche 911 profile we've all come to know and love, the move to GTS spec adds stylistic touches like smoked headlamps, standard black centre lock wheels, black badging, front splitter elements and crucially for the Targa, a blacking-out of the "Targa bar" between the rear window and roof. It all looks great to me save for that last element; in my view, a silver Targa bar is the classic choice. Luckily, you can spec your Targa GTS with a silver/aluminum option.
What you can't do is spec rear-wheel-drive, as the Targa is available only in AWD "4" form, even at the GTS level. The coupe and the cabrio, though, are both available with either rear- or all-wheel-drive. Go figure. So while the GTS is one part grand tourer and one part GT3-lite – more on this in a minute – it doesn't fully get there. In my humble opinion, the extra weight added by the AWD system – even if it does add all sorts of traction for the hole shot and through turns – prevents it from tapping fully into one's performance driving nerve.
You may not be able to get two-wheel drive, but you can get a 7-speed manual transmission and as luck would have it, Porsche was kind enough to bring one of these along to the full-line GTS drive event held in and around Rome, Italy. Naturally, I made a beeline for the MT-equipped Targa, ready to feel the thrill of what I've learned to be one of the best manual transmissions you can get on the market today.
As keen as I was to set off on the sun-baked Italian roads, however, I did take a moment to take in my surroundings once I took my place in the low-slung and ultra-ensconcing Sports Seats Plus, which are standard fitment on the GTS but can be upgraded to carbon-backed bucket. I'd stick with the former; I've sampled those carbon seats before and they are pretty hardcore. Either way, you're getting a perfect driver's seating position.