• Auto123 reviews the 2023 Genesis GV80.
Seems like it was only yesterday that Genesis became its own brand (it was actually 2015 – but who's counting). But the roots have gradually taken hold, to the point where you're hard-pressed to go for a drive in most Canadian urban centres without seeing one.
A lot of those are the GV70 compact SUV, but a good share consists of the GV80. Genesis' big, bad (OK maybe not that bad) and definitely stylish mid-size SUV (just look at that paint!) is a serious player in the competitive luxury SUV segment.
Specifications sheet of the 2023 Genesis GV80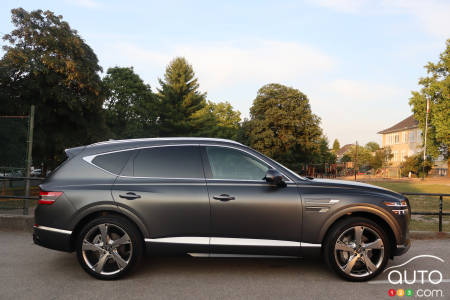 Design of the 2023 Genesis GV80 – 8/10
Typically when a vehicle comes finished in a shade like my tester's Melbourne Grey Matte finish, there isn't much that's going to draw your eyes away from it. However, this is Genesis, and its vehicles are also recognized by their very unique fascia. All their vehicles get some variation of the "G-Matrix" five-point grille. But while the GV80's may not be the biggest – the G90 sedan may have something to say about that – it does looks big, sitting high and finished in an aluminum billet.
I'm not generally a fan of matte paint jobs – there are few ways to make one's vehicle look cheaper than a scraggly matte finish. Here, though, there's a depth and feeling of quality such that it looks poured onto the roof like melted platinum and allowed to flow richly over the rest of the car. It's a fantastic application of the form.
As for that front grille, it is a bit divisive, mainly due to its size. My issue is not that, rather it's the narrow headlight lenses either side of it. The way they're mounted and the look of the bulbs gives the GV80 a slightly dopey look.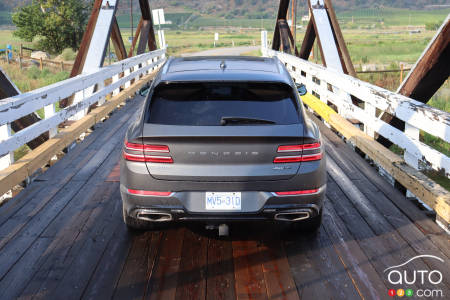 The taillamps are aligned to match the headlights but some nice creases across the tailgate help produce a better look. I also appreciate the "Genesis" scripting across the back and the way the twin exhaust outlets are shaped to match the grille. The wheels could be more eye-catching, but there are other choices if you want. Otherwise, the proportions and stance are right on and the detailing hits the mark, providing a distinctive look.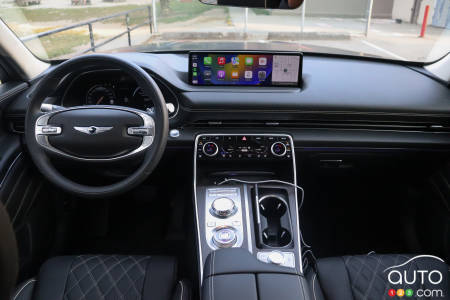 Interior of the 2023 Genesis GV80 – 8.5/10
High marks here, especially for the materials used, the lighting and the space (the GV80 is available in both two- and three-row configurations; we tested the former). It all contributes to a feeling of airiness even when finished in the charcoal seen here. The contrast-colour diamond-cut stitching is a great touch, while the dial-style gear selector finished in real glass and matching infotainment dial make for a low-clutter environment. Throughout my test, however, I did have a hard time not reaching for the infotainment control when I meant to go for the gear select dial.
Pressing a single dial is all that's required to toggle between your AWD and drive modes; no need for separate buttons or control. The toggle switches finished in tactile metal are also well implemented. There is a large infotainment display, but they kept some hard buttons and dials for climate, infotainment and navigation controls.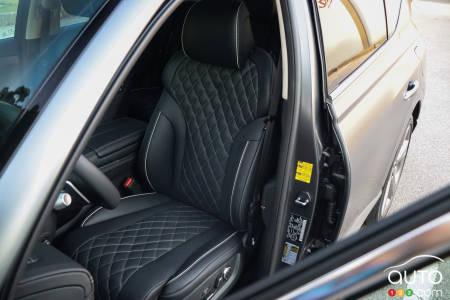 While interior space is good both front, back and in terms of storage, the GV80 does lose some marks in terms of front-seat comfort. The seat padding is good enough, but the bottom cushions could be wider, and while Genesis' system takes into account the occupant's height and weight and adjusts the seats accordingly, I never got it to work.
At least, I thought I hadn't. Turns out I was doing everything right but the system was developed for South Korea. And apparently, the driving position preferred by most motorists there doesn't work as well in North America. I was always feeling like I was too laid back and far from the wheel when using the system.
The rear seats don't offer that feature, but they do get flip-down vanity mirrors. Heated front and rear seats, a heated steering wheel and ventilated front seats are all standard.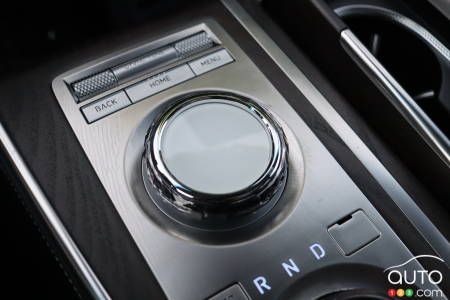 Technology in the 2023 Genesis GV80 – 8.5/10
Here, all revolves around the ultrawide 14.5-inch display. No surprise, everything app-wise takes place here, including Apple CarPlay and Android Auto which you can have occupy two-thirds of the display, leaving the final third as a porthole to other parts of the native system.
The lack of wireless support for those apps does taint the low-clutter vibe. It's a strange omission, especially considering there are Hyundai products that offer that feature.
The other main issue here is that the display is so wide, reaching the menu items on its far side will be a strain for smaller drivers and passengers.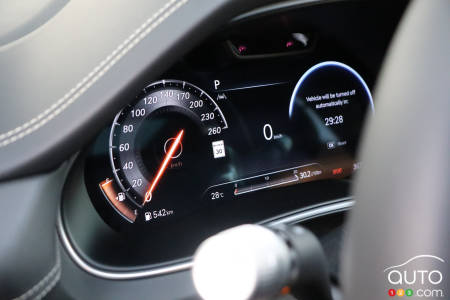 The digital gauge cluster is smaller, but its display is nice and sharp and it can take on various styles depending on drive mode. It's actually made up of two displays layered atop each other for a 3D look. It is a bit like a magic eye game in that you have to know what to look for, but once you figure it all out and the information contained in the secondary display becomes clearer, you see that it's functional and more than a fancy parlour trick.
There's more there as well. In addition to being the vessels for the tach and speedometer, the gauge faces also become blind-spot cameras when you activate your turn signals. It's a clever system that, while not replacing a good ol' fashioned shoulder check, greatly compliments it.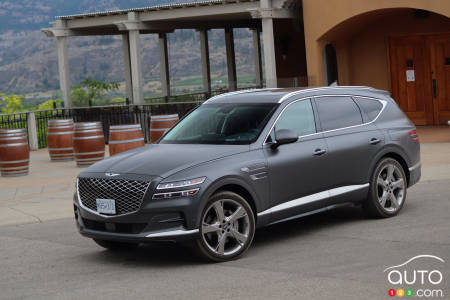 Driving the 2023 Genesis GV80 – 8.5/10
Power is the word when it comes to the GV80, which gets a fantastic, throaty and deep-chested twin turbo V6 delivering 375 hp and 391 lb-ft of torque. Power is carried to all four wheels via an 8-speed automatic complimented by paddle shifters. It's good, but there is no electrified option to speak of – not even a 48V mild hybrid – when most of the competition offers something in that vein.
Having said that, this is a powertrain that actually encourages the occasional performance drive, such is the smooth intensity of the powertrain. Acceleration from stop is remarkable from a vehicle that you wouldn't classify as a performance SUV – we'll see more precisely why in a minute, but where the powertrain really shines is when it comes to in-gear acceleration at speed. There's very little delay in power delivery, as the transmission proves keen to drop a cog or two on tip-in, making for confidence-inspiring progress. Put simply, it feels (and sounds!) very, very fast – perhaps even more so than the power figures suggest.
Just as the powertrain is fit for fast long-distance travel, so is the ride. The SUV doesn't get air ride suspension or adaptive dampers but the ride is smooth and without drama, even with big 20-inch wheels. Plus the self-levelling rear air suspension system adds stability and comfort. Even more aggressive in-town divots and railway crossings are metered out in a manner befitting a luxury cruiser like this. The steering is also direct without being nervous at higher speeds.
The experience dulls a little as you start to take the turns, however. You start to feel the GV80's 2,308-kg curb weight as there is body roll and it's just a little reluctant through repeated turns. It tracks true, to be sure, but other vehicles in the segment such as the Acura MDX and BMW X5 are superior through curvier situations.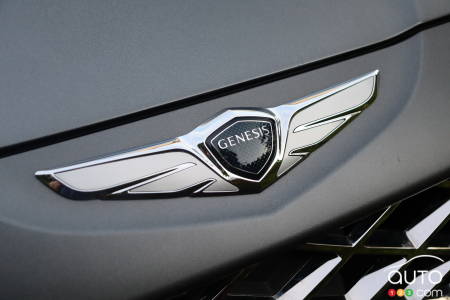 Some of your questions about the 2023 Genesis GV80
What's it like to tow and haul in the 2023 GV80?
The GV80 is able to tow up to 6,000 lb, and there are between 988 and 2,379 litres of cargo space inside.
Are there any other engine choices?
Yes – the GV80's standard engine choice is a 2.5L 4-cylinder turbo good for 300 hp and 311 lb-ft of torque.
Is there are hybrid or electric version of the GV80?
For now, the compact GV70 is the only Genesis SUV available with an EV powertrain, although the all-electric GV60 crossover is technically an SUV.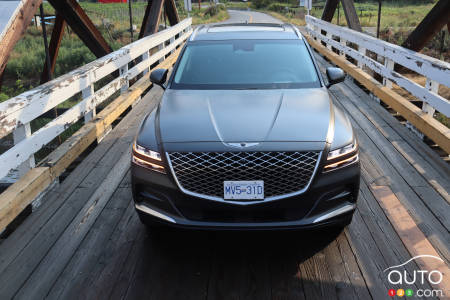 The final word
It's easy to see why the GV80 is as popular as it is. The styling may be divisive, but the powertrain is perfectly suited for a vehicle of this type. Plus the interior is absolutely fitting of something residing in the luxury category, and while the handling package may not be involving enough for a seat at the luxury SUV table, the ride it does provide will suit most buyers in this segment.
I haven't mentioned the ultra-competitive pricing – it starts at $76,000, with 3.5T models adding an additional $7,000 to that - or the strong after sales support Genesis provides. Those are two important factors that make of the GV80 a really enticing proposition.
Strong points
Sumptuous and spacious interior
Cool tech features
Great engine
Weak points
Front fascia not for everyone
No wireless CarPlay or Android Auto
No electrified powertrain option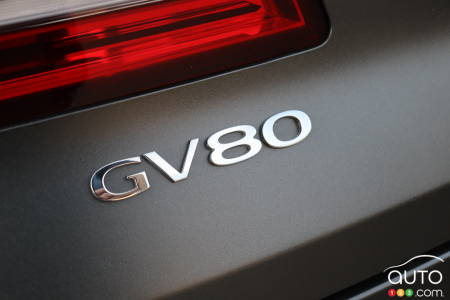 Competitors of the 2023 Genesis GV80
Audi Q7
BMW X5
Porsche Cayenne
Road Tests and Reviews

Experts

Consumers