• Auto123 gets in a first drive of the 2023 Lexus RZ450e.
• There are many elements of Toyota's bZ4X in this luxury model.
• This first all-electric Lexus model will have to deliver what buyers in the segment expect.
Aix en Provence, France - After Toyota, it's the turn of its luxury division to enter the world of electric vehicles. For its RZ crossover, Lexus is using the same e-TNGA platform found in Toyota's bZ4X and Subaru's Solterra. The borrowing doesn't end there: Lexus is also using the 71.4-kWh (65.6 usable) battery from the bZ4X.
The Lexus powertrain, however, is a more powerful dual-motor configuration that produces 313 hp. The luxury brand calls this powertrain Direct4, which offers standard all-wheel drive.
On the outside, the RZ isn't devoid of character with its rear spoiler, aggressively styled headlights and colours that also give it personality. The 20-inch wheels also boost the look in comparison with the base-model 18-inch tires.
Three versions and a pretty steep price
The entry-level model is the Signature that starts at $64,950, a shade under the $65,000 mark that makes it eligible for government rebates. There is also a mid-range Luxury version and the Executive model at $80,950.
The RZ Signature rides on 18-inch Dark Gray Metallic aluminum wheels, the Luxury version gets 20-inch wheels with a machined finish and black trim, and the Executive model comes with 20-inch wheels in a bronze finish.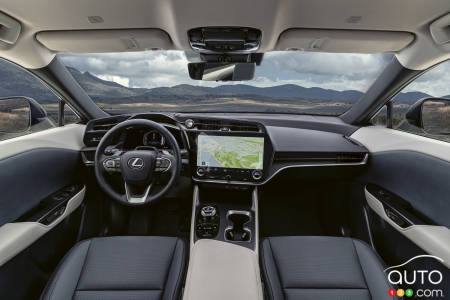 A minimalist approach to the interior
Lexus is following the market trend by offering an interior focused on deliberate simplicity. Mind you, that doesn't mean cheap, but rather uncluttered. When it comes to ergonomics, for example, it seems the Japanese automaker has taken a page out of Volvo's book. Most of the buttons and switches have disappeared in favour of a 14-inch touch screen that encompasses most of the information. That might not be to everyone's liking, but it does make the interior space roomier.
Most of the surfaces are covered with imitation leather or synthetic leather. A digital meter display and head-up display are also included. Apple CarPlay and Android Auto, both with wireless connectivity capabilities, are standard.
Soundproofing is excellent, and overall it's clear Lexus has conveyed the serenity its gas-powered models are known for delivering. This is luxury that isn't ostentatious.
The RZ offers three interior colours: Storm, Palomino and Dapple Gray/Black. Audiophiles will appreciate the optional Mark Levinson system with 13 speakers and the Lexus Safety System + 3.0, which includes most of the standard driver aids.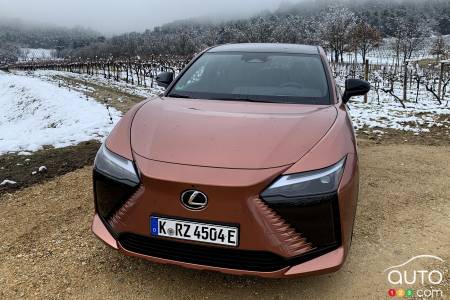 Honest, but not earth-shattering, performance
Just as the cabin has retained the Lexus DNA, so too has the driving experience. In theory, the 313 hp it an impressive figure in terms of output, but in practice you're not ever going to be thrown back into your seat. There's that restraint in the momentum that gives a little bit of good-natured nobility to the ride. Lexus DNS, remember…
We should mention that Lexus also offers an optional half steering wheel, video game or F1 style. This steering wheel is connected to the front wheels electrically without any mechanical link. By which I mean, the steering wheel is connected to an electric block, which is connected to another motor that transmits the steering motion. You then have an artificial feedback that is generated in the steering wheel as the steering continually adjusts to the speed.
We had a mixed experience with this steering wheel. At low speeds, the feeling is very strange, as the wheel only turns 150 degrees and multiplies the angle of the vehicle's wheels. You have to avoid excessive steering to avoid hitting a curb (which we did). At higher RPMs, driving is easier. For sure, it takes some getting used to and we'd personally opt for the regular steering wheel.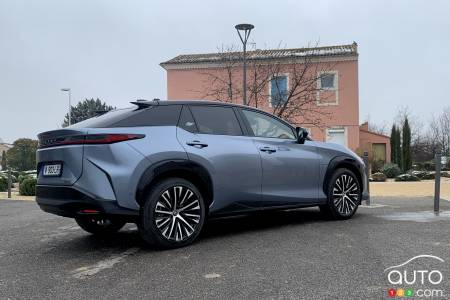 Disappointing range
Assuming that the majority of new EVs hitting the road right now deliver close to or over 400 km of range, the 354 km figure announced for the entry-level RZ with the 18-inch tires is a bit disappointing. If you go for the two top-of-the-line models with 20-inch tires, you'll get an even-more-disappointing 315 km.
We were in Aix en Provence under the snow (not a joke), and in the morning at the start of our test day (at -2 degrees C), our fully loaded EV indicated 266 km of charge. That's not much. Consider as well that the 6.6-kW on-board charger is weaker than many competitors' 11-kW chargers, and that the RZ's DC fast charging capabilities are limited to 150-kW connections. For a brand-new vehicle, Lexus hasn't put much effort into this.
Good handling
The RZ 450e uses the DIRECT4 all-wheel-drive system using two eAxle units that each drive a set of wheels, one in the front (150 kW) and one in the rear (80 kW). Three-point eAxle motor mounts, each using an aluminum bracket, are placed symmetrically on each side to counterbalance the torque from the eAxle. The DIRECT4 system's front to rear torque split has a maximum range of 100:0 to 0:100, depending on the driving situation.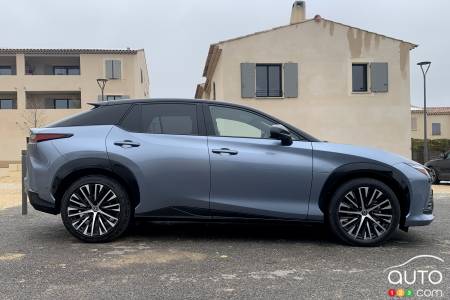 The final word
The 2023 Lexus RX 450e is coming to dealerships soon, though there's an asterisk to that: Quebec and British Columbia will be the only two provinces to receive a shipment of models from Japan. Lexus has promised that it will be able to meet demand, and according to Toyota Canada, there are already 115 buyers who have come forward.
The model is interesting and fun to drive, but we're disappointed with its poor range and pedestrian maximum charging speed. If you're going to be late to a segment, you need to arrive with something that will stand out, and Lexus has missed a great opportunity.
Strong points
A serene ride
A well-appointed cabin
A generous technology suite
Weak points
High starting price
The low range
The 6.6-kW on-board charger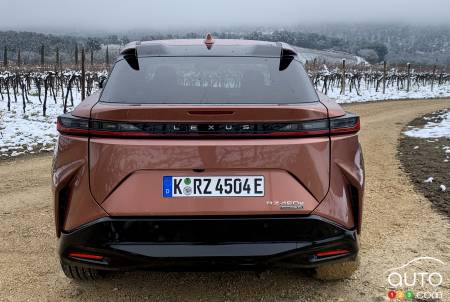 The competition
Audi Q4 e-tron
BMW iX
Cadillac Lyriq (coming soon)
Genesis Electrified GV70 (coming soon)
Jaguar I-Pace
Polestar 2
Tesla Model Y