• Auto123 reviews the 2023 Subaru Forester Sport.
In the quickly evolving landscape of SUVs, Subaru's Forester is not a relic, exactly, but it also does not exhibit the flash, pizzazz, luxury ambitions and/or raw power of many newer contenders. Subaru buyers know what they're getting, and for sure they know what they're getting from the Forester SUV.
The model did get some notable tweaks in 2022, including styling updates and enhanced driver-assist technologies, whilst retaining its all-wheel-drive prowess and its reputation for dependability and all-wheel-drive prowess. But it looks fairly the same as last year, when it looked more or less like it did five years prior.
The Forester sits comfortably in a fairly wide space in the Subaru lineup, between the much smaller Crosstrek and the larger Ascent. The idea is to offer Subaru lovers a balance of size, practicality and capability. If that fits what you want, and unless you prefer the more wagon-like (and more expensive) Outback, this is the choice for you.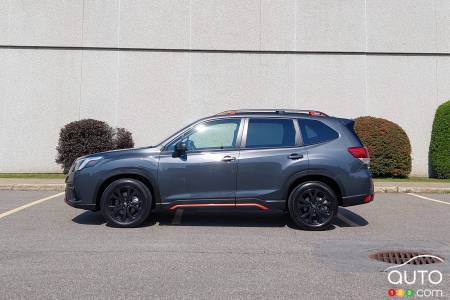 2023 Subaru Forester: Pricing
The Forester Sport is one of six trim levels, each offering unique features and capabilities. The lineup starts with the base Forester, priced at $32,970 CAD. Moving up the trim ladder, you encounter the Touring ($35,895) followed by the Sport ($39,270). Beyond these, there's new, off-road-focused Wilderness ($39,995), followed by the Limited ($40,295) and the range-topping Premier ($41,595).
The Sport trim we drove builds on the Touring model, adding cosmetic enhancements such as black cladding, distinctive orange accents, LED fog lights, 18-inch wheels and integrated turn signals in the mirrors. You also find here two additional selectable drive modes.
If features like auto-dimming mirrors, power passenger seat, heated rear seats and leather upholstery are important to you, head on up the trim ladder.
Safety Features
One area the 2023 Subaru Forester doesn't chintz is in terms of safety, as per Subaru tradition. The Forester itself earned a Top Safety Pick rating from the Insurance Institute for Highway Safety (IIHS), with an Acceptable rating in the latest, more demanding side-impact test, and a Marginal result for the new front overlap collision test, but otherwise it got nothing but Good scores.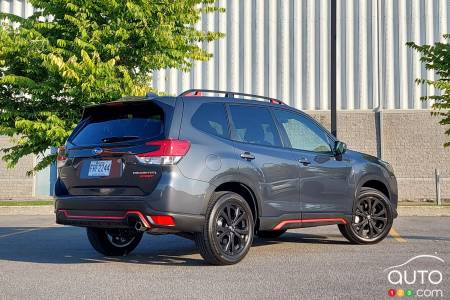 Design of the 2023 Subaru Forester Sport
The Forester is easy enough to spot on the road, and for that alone it deserves credit. The exterior is distinctive and rugged-looking, and clearly alludes to its off-road capabilities. The use of unpainted plastic adds to its pseudo-rugged aesthetic but also is of actual practical benefit to those who will take their Forester off-road. The front end features a tough snout with a sizable grille surrounded by edgy headlights with LED inserts. The Sport trim introduces bright orange exterior accents.
Exterior styling is (almost) always subjective, so some might bemoan the lack of sleek lines here. But the Forester's tall windows provide excellent visibility, and the wide, low tailgate opening is very practical for loading items into the cargo space.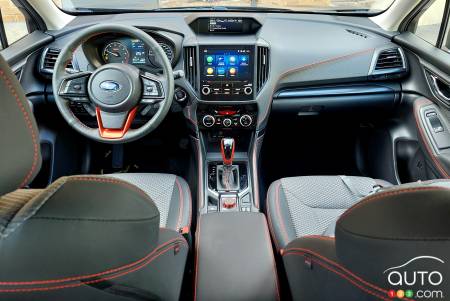 Interior of the 2023 Subaru Forester Sport
This interior nicely balances functionality with aesthetics. Just don't expect things like the latest, largest, curviest screen, say. Some may find the environment slightly dated, in other words. But the emphasis on practicality and the layout of buttons and dials makes this a likeable interior. The Sport's orange accents made their way inside as well, adding a welcome splash of colour.
In terms of space Subaru has maximized it for humans, pets and gear. The symmetrical dash might be busting out with buttons, knobs and screens, but it's well-ordered and will only bother those who would rather a seriously minimalist approach.
The front seats offer good support, though note that models lower on the Forester range don't have power-adjustable seats. That feature starts at the Touring trim.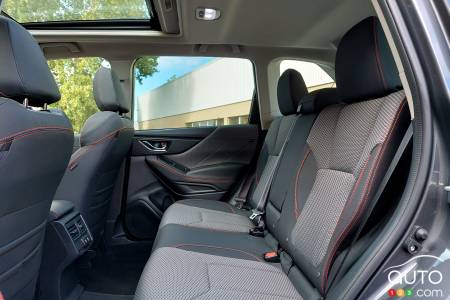 Back-seat occupants get very generous legroom to play with, perhaps unexpectedly given the SUV's exterior dimensions. The seats are relatively comfortable and headroom is also plentiful. Really, this is a roomy space that can take in three average-sized adults. The rear seats also offer the flexibility to fold down, making for a substantial cargo space in the process.
Speaking of which, with seats up, the Forester offers 762 litres of cargo space, which is actually less than some rivals like the Toyota RAV4, Hyundai Tucson and Ford's Escape manage. That extra legroom in the second row had to come from somewhere. In return, the Forester offers up a gaping wide opening accessed, on most models, via a power tailgate. Not only is the opening wide, it's low, making loading and unloading stuff that much easier. A greatly appreciated design feature, that.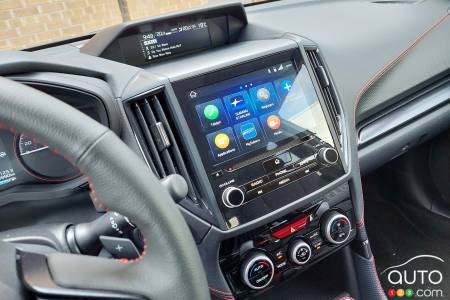 Technology in the 2023 Subaru Forester
Again, the Forester is not engaged fully in the arms race now raging in the SUV segments. But it's not ignoring it completely either. The model has a range of standard technological features including automatic climate control, automatic exterior lighting, 17-inch wheels, roof rails, heated front seats and Apple CarPlay and Android Auto connectivity. True, the base screen is a modest 6.5 inches diagonally across, which is small by today's standards; for more, you have to go to…
The Touring and Sport trims, which get an 8-inch touchscreen, as well as a power tailgate, cargo cover, dual-zone automatic climate control, power-adjustable driver's seat, push-button start, heated steering wheel, sunroof and wiper de-icer.
All trims come with camera-based driver-assist safety technologies collectively referred to as EyeSight. These include adaptive cruise control, emergency front braking, lane-keeping and centering assistance, adaptive headlights and automatic high-beam control.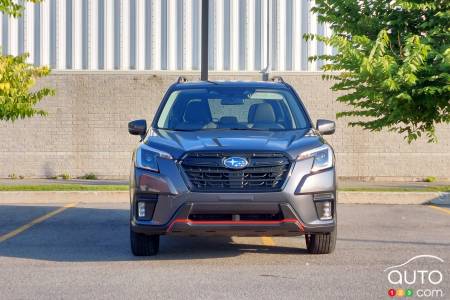 Powertrain of the 2023 Subaru Forester
All Forester trims share the same powertrain, a 2.5L 4-cylinder engine producing 182 hp and 176 lb-ft of torque. This engine is mated to a continuously variable transmission (CVT). While it may exhibit some gruffness when idling, it smoothens out during acceleration, offering sufficient power for highway passing. Paddle shifters on the steering wheel let you shift sequentially through seven simulated gears if you feel like it.
Off-road capabilities
Across all trims, the 2023 Subaru Forester is a decently rugged SUV, thanks first of all to the automaker's ever-present, well-regarded symmetrical AWD system. Specifically, the Forester Wilderness models gain additional height and more suspension travel, along with a full-size spare tire and an aluminum skid plate up front. Off-road traction control modes are available on all trims except the base Forester.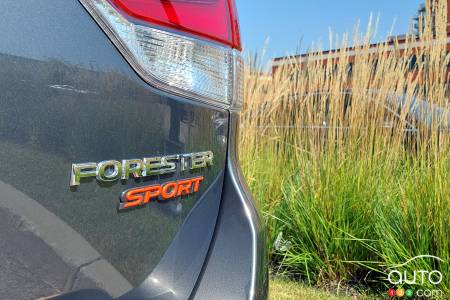 Driving the 2023 Subaru Forester
For all that, it's still true that most Forester owners will spend most of their time behind the wheel on paved roads, in the city or the suburbs or on highways in between. In that regard, its name notwithstanding, the Forester Sport doesn't prioritize sportiness over comfort. The driving dynamics are unexciting but well-balanced driving, delivering good balance around curves but with some roll if you push things. The steering is light and accurate but not overly responsive, while the braking is reassuring, keeping you from feeling the full brunt of the vehicle's weight.
The console-mounted drive-mode dial mounted on the lower console is for toggling between modes. In so doing you'll modify the engine output, the transmission's settings and the AWD system for the surface you're driving on. As mentioned, the Sport has additional settings for deep snow or mud.
In terms of fuel efficiency, the 2023 Subaru Forester does quite well, especially for an all-wheel-drive crossover. Official ratings in Canada are 9.0L/100 km city, 7.2L/100 km highway and 8.2L/100 km combined. The Wilderness version will not do quite as well given its higher stance. We have to say that in our week in the Sport we never really got close to the official combined average, registering 10.6L/100 km at the moment of handing back the fob. Our driving ratio was more skewed to the urban environment, however, so that figure comes with a grain of salt.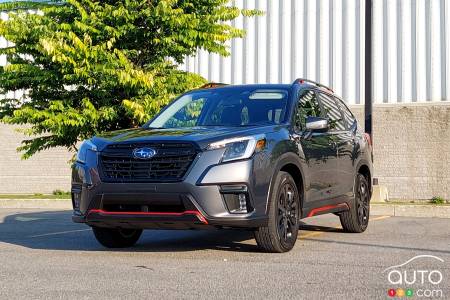 The final word
There's stiff competition for this SUV in its class; there are sexier options out there with more advanced tech and beefier powertrains and sleeker looks.
But the 2023 Subaru Forester, particularly in Sport trim, is a well-rounded choice. You won't find in it all the jazzy tech featured in some competitors, but that's not likely to bother the average Subaru buyer too much. What's more important is that delivers a comfortable, user-friendly driving experience without costing an outrageous fortune.
And anyways, when the first big snowstorm hits and you rumble past the cars stuck in their snowbanks, that's kind of sexy in its own right isn't it?
Competitors of the 2023 Subaru Forester
Chevrolet Equinox
Ford Bronco Sport
Ford Escape
GMC Terrain
Honda CR-V
Hyundai Tucson
Jeep Cherokee
Kia Sportage
Mazda CX-50
Mitsubishi Outlander
Nissan Rogue
Toyota RAV4
Volkswagen Tiguan