Auto123 presents three Top 10 lists of SUVs available in 2022-2023. Today, our Top 10 mid-size SUVs in Canada - with one extra as a bonus!
See also: Top 10 Subcompact SUVs in Canada for 2023: Our Top Small Crossover Picks
See also: Top 10 Compact SUVs in Canada for 2023: Our Top Compact Crossover Picks
Whether it's for cause of growing family, to fill other people-moving needs or simply because some folks just want to drive something big, spacious and imposing on the road, the roomier three-row SUV category – that of mid-size crossovers if you like – is hugely popular in Canada.
These larger SUVs are the heirs of the minivan, which, even if that category still exists in 2023. That segment may be hanging on, but a majority of its former consumers have moved on in favour of the new crop of savantly designed SUVs and crossovers. Here are our top picks for the 2023 model-year.
Browse cars for sale available near you
Hyundai Palisade and Kia Telluride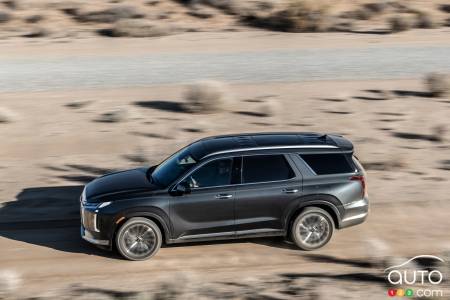 Last year, these two relatively new Korean behemoths were already lodged near the top of the segment, but now 2023 brings a mid-cycle redesign for both models that should boost their fortunes even more.
The Palisade is the one that gets the more substantial tweaks, with a much bigger front end and a more rectangular grille, while build quality is a facet that both players have mastered quite well, especially in the plusher trims. Frankly, Hyundai and Kia really no longer have any complexes about flirting with premium-car buyers.
While we can criticize the fuel efficiency of these two V6-powered SUVs, let's not forget the electric Kia EV9 is already on its way down the pipeline to our market, while the equally electric Hyundai SEVEN concept showed what to expect from Hyundai as it charges towards electrification of its lineup.
The two-row seating option: Hyundai Santa Fe
See also: New York 2022: The 2023 Hyundai Palisade Beefs Up
See also: 2023 Hyundai Palisade pictures
See also: 2023 Kia Telluride: Canadian Pricing, Model Changes Announced
See also: New York 2022: Kia Rolls Out a Revised 2023 Telluride
See also: 2023 Kia Telluride pictures