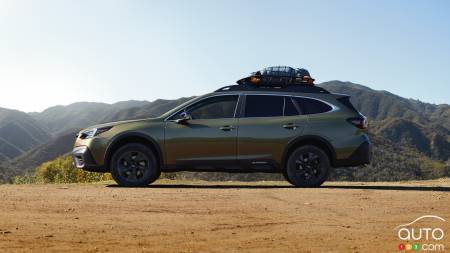 • Auto123 puts the 2023 Subaru Outback, in its new Onyx trim, to the test.
• The new Onyx version tries to add a little character to a model that is, let's be honest, a little short of that.
• The Onyx version is generously equipped and represents a good choice in a lineup that has experienced rising prices.
Historically, the Subaru Outback has never been a particularly player on the market. First introduced in in 1994 (for 1995) as a wagon version of the Legacy sedan has nonetheless done well for itself without the benefit of much flash or bling.
It's done this by impressing owners and meeting their needs. Because of its practical size and its competent all-wheel drive system, it has maintained a high retention rate when it comes time for owners to buy a new vehicle.
Compared to 25 years ago, the Outback has of course grown, in fact it's now called an SUV - even though it's still effectively a large wagon, and still based on the Legacy.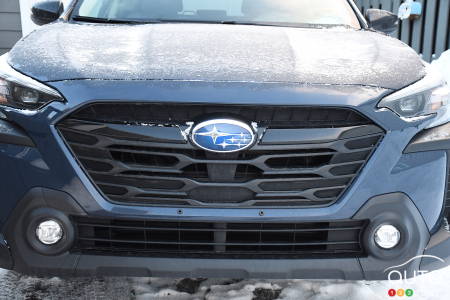 Out of the shadows
The Outback is now a known entity. Because it has only gotten better over the decades, more and more buyers have turned to it. It still offers practicality and the AWD is still among the best around, and a big selling point.
Here in Canada, sales have been steady while since 2016, at a little more than 10,000 units per year. The pandemic slowed the pace a bit, but only temporarily.
This enduring popularity has caused the lineup to expand. There are now more versions of the Outback – seven - than ever.
The 2023 offering thus includes our tester, the new Onyx, which sits third from bottom in the lineup. Behind it are the Convenience and Touring trims, while ahead of sit, in ascending order, the Limited, Wilderness, Limited XT and Premier XT.
The looks
The variant doesn't really add anything unique to the range. It does get darker accents that give the vehicle a more sombre look.
Although not THAT sombre - we're talking about an Outback here after all. The dark accents are apparent, but not overbearing. Not surprisingly, they're found on the rims, the grille and the bumper. Also, all the exterior logos are coloured in a shade close to black (Subaru calls it Gunmetal Gray). On our version, they were almost invisible because of the vehicle exterior colour.
It's a matter of taste, of course.
Note that this Onyx version also benefits from a hands-free power liftgate, LED headlights, lights and fog lights.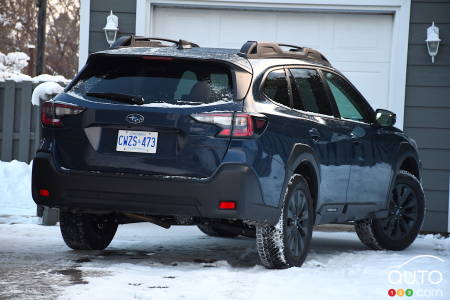 The base engine
Like most models in the Outback lineup, the Onyx is powered by the Outback's "base" engine, a 2.5L 4-cylinder that offers 182 hp and 176 lb-ft of torque. In all honesty, that's just fine with this vehicle that isn't trying to push any harder than it has to. Add to that the fact that it works with a continuously variable transmission (CVT), that links the mechanicals to the wheels and you'll understand that word "sporty" is no way to describe the Outback driving experience.
Don't take this as a criticism. We really enjoyed our time behind the wheel of this vehicle, which offers a lot of comfort and a reassuring ride. As for the CVT, it's competent enough that you can almost forget what type of transmission you're dealing with. Again, the way most people drive an Outback, it's not an issue.
Fuel consumption is announced at 9.2L/100 km in the city, 7.3L on the highway and 8.3L combined. During our test week, with temperatures generally slightly below freezing, I registered a rating of 9.3L. Ironically, last summer I drove a Wilderness edition with the 2.4L turbocharged 4-cylinder engine (260 hp and 277 lb-ft of torque) and got the same result. Subaru's figures seem to be right on target.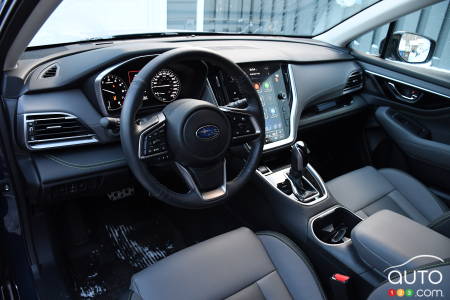 On board
For a model that's closer to a base model and than a premium trim, there's a generous level of included equipment. You get heated front and rear seats, heated steering wheel, wireless access to Apple CarPlay and Android Auto, inductive charging for cellular devices and dual-zone automatic climate control. What more could you ask for?
Well, you can ask for comfort – and you get that too, both in the front and in the second row. Better yet, behind the second row, there are 920 litres of cargo space. This increases to 2144 litres with the back seats folded down.
Overall, then, the on-board experience is pleasant. However, there are a few irritating things that are worth noting.
First, the bottom of the 11.6-inch screen of the multimedia system harbours climate controls. And frankly, adjusting the temperature and the intensity of the ventilation via touch buttons instead of physical ones is neither as easy nor as safe.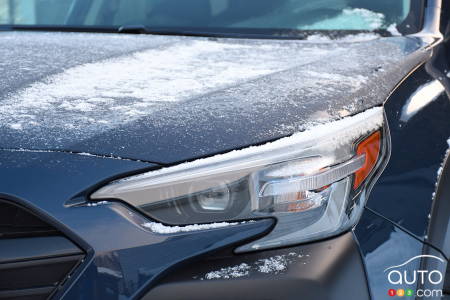 Secondly, while all Outbacks get the Eyesight security suite, which includes a host of features designed to keep us alive, the system's functions are intrusive. The function that warns drivers when drifting off their lane, and then intervenes, is too sensitive and gets very annoying. And a feature that gets on nerves tends to get deactivated, defeating its purpose.
Some functions of the Eyesight system should be recalibrated, let's put it that way.
Then there's the audible warning that aggressively and relentlessly kicks in when you unbuckle your seatbelt. You can't reverse in peace, not even while sitting in the vehicle without being buckled up.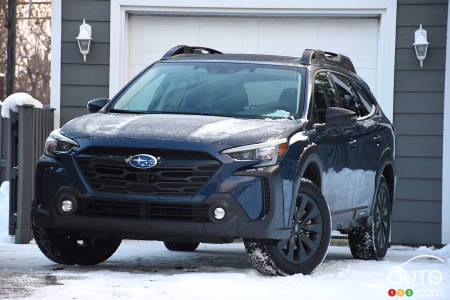 The final word
The Outback is still a good choice overall. Subaru's prices have jumped lately, and the entire current lineup is, well, expensive. To be fair, this is an industry-wide trend.
Considering that, it's not a bad idea to look at what the used market is offering.
We like
Perfect size
All-wheel drive as reassuring as ever
An increasingly stable and solid resale value
We like less
Intrusive safety features
Price range that is becoming very expensive
Too many touch-sensitive buttons (including for the air conditioning)
The competition
Chevrolet Blazer
Ford Edge
GMC Acadia
Honda Passport
Hyundai Santa Fe
Jeep Grand Cherokee
Kia Sorento
Nissan Murano
Toyota Venza
Volkswagen Atlas Cross Sport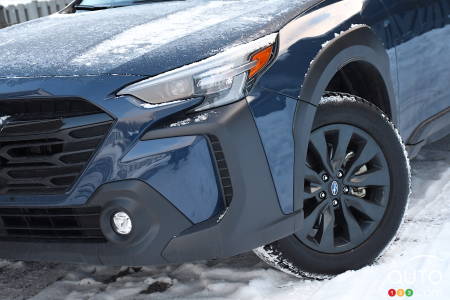 Some of your questions about the 2023 Subaru Outback Onyx:
Why do they say Subaru's all-wheel drive is superior?
Because it was developed in rally competition and because it is constant grip, meaning it is always active rather than reactive.
How much does the Onyx version of the Subaru Outback cost?
The MSRP for this vehicle is $38,695
What are the advantages and disadvantages of the EyeSight security system?
The system is effective and the cameras are installed inside the vehicle, which allows it to work even in bad weather. On the other hand, it is far too intrusive, forcing us to disable certain functions.
Road Tests and Reviews

Experts

Consumers