• Auto123 reviews the 2023 Volkswagen ID.4.
The transition to electric vehicles is in full swing, and the Volkswagen ID.4 is unquestionably a model mean to be accessible. For 2023, the ID.4 returns mildly updated, featuring discreet but notable improvements over the 2022 version.
Specifications sheet of 2023 Volkswagen ID.4 2023 Pro AWD w/SK On Battery
Specifications sheet of 2023 Volkswagen ID.4 Pro RWD w/LG Battery
Specifications sheet of 2023 Volkswagen ID.4 2023 Pro RWD w/LG Battery
Specifications sheet of 2023 Volkswagen ID.4 2023 Pro RWD w/SK On Battery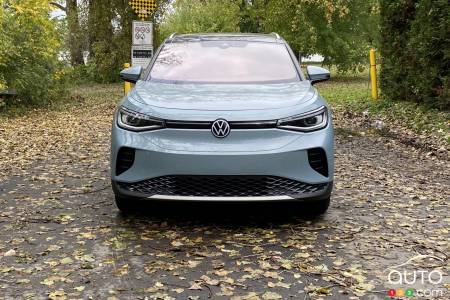 2023 Volkswagen ID.4 - what's new
Firstly, production of the electric crossover has been moved to Volkswagen's plant in Chattanooga, Tennessee, which could have an impact on availability and delivery times.
Notable additions for 2023 include the arrival of the Standard model, offering a smaller 62-kWh battery and a more attractive price. We've seen this strategy elsewhere, with manufacturers obviously having concluded that offering the more expensive top-of-the-range models first - to the most enthusiastic customers - maximizes revenues.
That said. It should be noted that, at the time of writing, neither the Standard nor the rear-wheel drive ID.4 Pro models are available to order on the VW Canada website. "Out of stock for 2023", we're told. You are also invited to add your name to the queue, presumably for 2024, or even 2025. Alrighty then.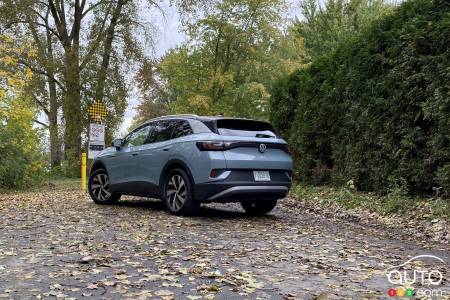 Design of the 2023 Volkswagen ID.4
The exterior design has also been slightly revised. The 2023 version incorporates gloss-black elements and updated wheel designs. Top-end models receive optional illuminated Volkswagen logos at the front and rear, adding a touch of luxury.
2023 Volkswagen ID.4 pricing in Canada
The Canadian market benefits - in principle (see above) - from an expanded range for the ID.4 in 2023:
ID.4 2023 Standard: MSRP $46,495
ID.4 2023 Pro (RWD): MSRP $50,495
ID.4 2023 Pro AWD: MSRP $55,495
Preparation and delivery costs are added to these prices and amount to about $2,050.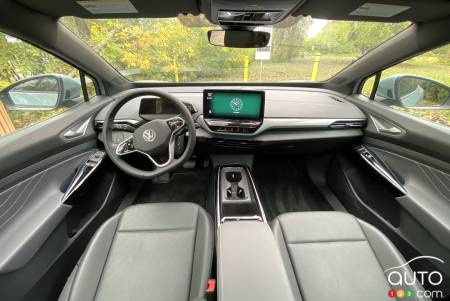 Interior of the 2023 Volkswagen ID.4
The ID.4 continues to shine in this area with a spacious, well-conceived interior. The 12.0-inch touchscreen for the infotainment system is now standard on all models. Although it has failing in terms of usability, the EV does have features such as navigation and wireless integration of Apple CarPlay and Android Auto as standard.
Comfort and space
The VW ID.4 offers generous leg- and headroom both front and rear. Heated front seats are standard on all models. Top-of-the-range models offer 12-way power-adjustable front seats with memory function. Unfortunately, ventilated seats are not available.
The interior uses quality materials, with options such as synthetic leather seats in higher-end models.
Trunk capacity of the 2023 Volkswagen ID.4 is 543 litres. This can be increased to 1,575 litres when the rear seats are folded down.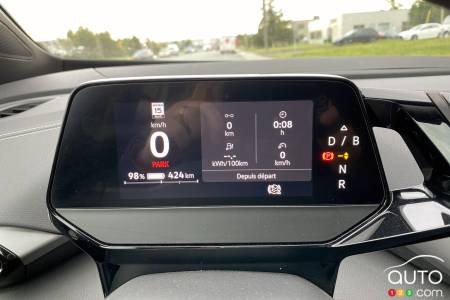 Technologies in the 2023 Volkswagen ID.4
The three-zone automatic climate control system is available in the more luxurious versions, offering personalized comfort for front and rear passengers. The touch-sensitive buttons, however, spoil the experience and will lead some users to engage it as little as possible. We can't even imagine driving in the middle of winter with gloves on... Fortunately, like most electric vehicles, the ID.4 heats up very quickly.
All ID.4s also feature a 5.3-inch digital display behind the steering wheel, called the ID.Cockpit, which shows key information (speed, range, navigation data).
The vehicle is equipped with several USB-C ports, front and rear, for passenger convenience. Wireless charging for smartphones is also available. Voice recognition is included as standard, enabling easier control of many of the vehicle's systems.
With the Intuitive Start function, the act of pressing a button to start your car becomes obsolete. Your vehicle recognizes your presence and automatically "wakes up" like Sleeping Beauty kissed by her true love once you touch the handle - provided you have your key fob with you.
It's worth noting that although the system is bursting with functions, it can be more laborious to access even basic ones. Especially basic ones, which shouldn't be. Adjusting the temperature, activating the seat heating seat or even just changing the radio station can be complicated and will certainly require taking your eyes off the road.
That aside, the Volkswagen ID.4 does offer plenty of on-board comfort and technology, making it an attractive choice for those shoppers with those at the top of their priority list.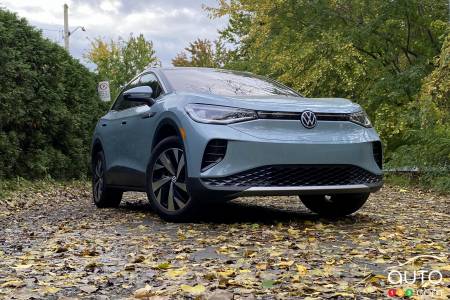 2023 Volkswagen ID.4 powertrains
The 2023 range includes three distinct configurations. The Standard model features a single motor producing 201 hp from a 62-kWh battery. It's an ideal option for urban journeys and shorter distances, and even longer road trips are well within this model's capabilities, EV-charging infrastructure permitting.
For those looking for more power and range, the Pro and Pro AWD models offer 201 and 295 hp respectively, thanks to a larger 82-kWh battery.
Driving the 2023 Volkswagen ID.4
The ID.4 2023's acceleration is average for its class. The AWD Pro model does best with a 0 to 100 km/h time of around 6 seconds. Although the ID.4 can't compete with electric sports cars, it offers a stable, comfortable and safe ride.
Fuel consumption and range
The Volkswagen ID.4 stands out for its energy efficiency. Depending on the model, range varies: the Standard model offers around 336 km, while Pro models can reach up to 442 km.
With its 62-kWh battery, the standard ID.4 consumes an average of 16-18 kWh/100 km, while Pro models, equipped with the 82-kWh battery, maintain a similar consumption of 19 to 21 kWh/100 km thanks to optimized battery and aerodynamic management.
Range, which is affected by climate, driving style and the use of accessories, can be improved by activating the "Eco" mode, which adjusts various parameters to maximize energy efficiency.
Charging
DC fast charging is available on all models, with capacities of 140 kW for the Standard model and 170 kW for the Pro models. This kind of kick enables the vehicle to be recharged from 10 to 80 percent in around 30 minutes, which will seem like an eternity in 10 years or so but for now makes the ID.4 feasible for long journeys. A 10-minute charge can add up to a 100 km range at a fast-charging station.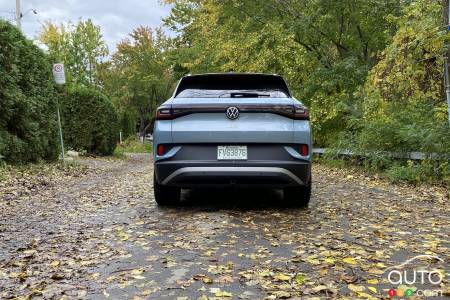 The final word
The 2023 Volkswagen ID.4 is a welcome improvement on its 2022 predecessor. It combines a comfortable interior, a selection of powertrain options and a respectable range at a competitive price. The addition of the Standard model brings a more affordable option, particularly relevant to the Canadian market where government incentives for electric vehicles are in place, provided you can get your hands on an entry-level model.
It should be noted that the ID.4 is not the sportiest or most exciting electric vehicle to drive. Instead, it focuses on comfort and efficiency, making it an excellent option.
2023 Volkswagen ID.4 competitors
Chevrolet Bolt EUV
Ford Mustang Mach-E
Road Tests and Reviews

Experts

Consumers