• Auto123 gets in a first drive of the 2024 Porsche Cayenne S E-Hybrid.
Barcelona, Spain - Porsche is adding a third plug-in hybrid variant to the Cayenne range for 2024. The S E-Hybrid slots into the lineup between the E-Hybrid and the Turbo E-Hybrid.
We headed to sunny Spain to test both it and the Turbo E-Hybrid variant, which sits at the top of the model range. We had occasion to test the vehicles in the heart of Barcelona, but also on the winding back roads outside the city, as well as on the Parcmotor Castelloli track.
In short, plenty of time behind the wheel to see how the new Cayenne variant performs in all circumstances.
A compromise that isn't one
Quite often, when a manufacturer adds a version that slips in between a base variant and a fully-decked-out one, it's offering a compromise. You get a more expensive model that's better equipped and more powerful than the entry-level version, but it might not be as powerful or – in this case – efficient than the true range-topper.
But that's not the case here, as you never get the impression you're leaving anything on the table.
No compromise, then. Which is good because compromise is probably not the intention of your average Porsche buyer. They want options, and that's exactly what the company offers.
Specifications sheet of the 2024 Porsche Cayenne E-Hybrid
Specifications sheet of the 2024 Porsche Cayenne Coupe E-Hybrid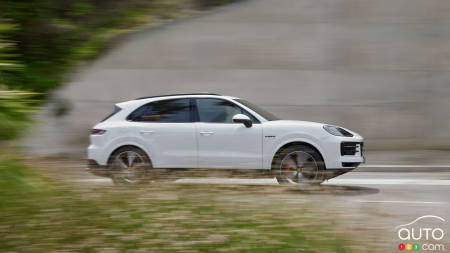 Physical differences
To tell one Cayenne from another, you have to be eagle-eyed, especially at first glance. To distinguish an S E-Hybrid model, you need to look at the 20-inch wheels offered as standard, the same as on Cayenne S (gas-only) versions.
At the rear, the exhaust system features four brushed stainless-steel exhaust tubes, grouped in pairs.
Two body styles are available: traditional and coupe. There are two ways to recognize the latter. Firstly, you need only look at the size of the rear window on the flanks; it's much smaller on the coupe, due to the receding roof. The other giveaway is the black appearance package that comes standard with the coupe, whereas the regular model gets a silver package.
Note that the vehicles feature matrix LED headlights, but that high-definition ones offering improved nighttime visibility of these are available.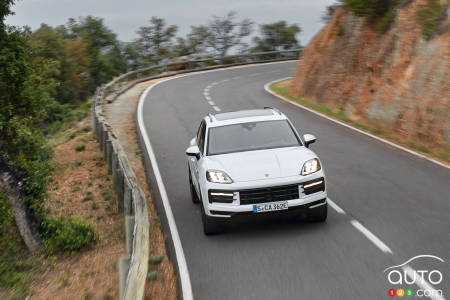 Equipment - the essentials
Porsche products are highly customizable. There are numerous options, allowing buyers to choose the features that interest them. But that means that to start, models don't necessarily overflow with standard features. The idea being to free buyers to personalize their purchase to their liking.
Still, this Cayenne S E-Hybrid serves up the essentials, such as with 8-way power-adjust front seats, the Sport Chrono package, steering wheel paddles, steering wheel-mounted dial for selecting driving modes and new functions for Apple CarPlay users. A screen in front of the passenger seat is also available. The vehicle also features a new particulate filtration system.
In terms of interior presentation, the variants we tested obviously benefit from the changes made with this major update, which was carried out for the 2024 model year. We're still entitled to the third-generation model, introduced for 2018, although it has evolved considerably since then.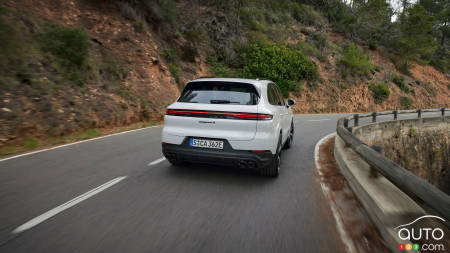 Powertrain of the 2024 Porsche Cayenne S E-Hybrid
And what does this new S E-Hybrid version have in store in terms of performance? The powertrain features a 3.0L turbocharged V6 that alone offers 348 hp. Add the 174 hp from the electric motor, and you get a total output of 512 hp. Torque is rated at 533 lb-ft, which translates, as you can imagine, into more than adequate performance. The 0-100 km/h sprint takes 4.7 seconds, while top speed is set at 263 km/h.
What will most attract buyers to this variant, however, is its all-electric range. It's estimated at 90 km on the European WLTP cycle, but not yet determined for North America. Considering that we lose around 22 percent on average with North American figures, we can expect something like 70 km. During our two-day test drive, both the S E-Hybrid and Turbo E-Hybrid indicated 68 km when recharged.
The system can also recover energy while you're driving, so the more distance you cover using the gas engine, the more you accumulate the all-electric range at your disposal. This varies, of course, according to the type of roads taken, gradients, etc.
This generation of plug-in hybrids benefits features a bigger battery, with capacity jumping from 8 kWh before to 25.9 kWh. There's also an on-board charger with a power rating of 11 kWh, which allows for rapid recharging in two and a half hours at home, at a Level 2 terminal.
Driving the 2024 Porsche Cayenne S E-Hybrid
How does all this translate onto the road? First of all, the obvious: there's plenty of power in this variant. Acceleration is violent and thrust intoxicating. Comfort levels are extraordinary, the road surface seeming to level out before us. This is helped by the air suspension that comes standard with the S E-Hybrid variant. Its new design features two separate chambers and two separate valves, for even greater stiffness in Sport mode and greater smoothness in Comfort mode. The result is impressive.
The soundproofing is also noteworthy, which is doubly pleasing in all-electric driving. Steering precision is exemplary, without ever being too light or too heavy. This Cayenne is easy to drive, let's say. You also have drive modes that offer a host of options, from a Hybrid setting to Sport, Sport Plus, Off-Road, E-Power and Auto-Hybrid, where it's possible to retain the electric range displayed (for use in town, for example) or go for a recharge mode while driving.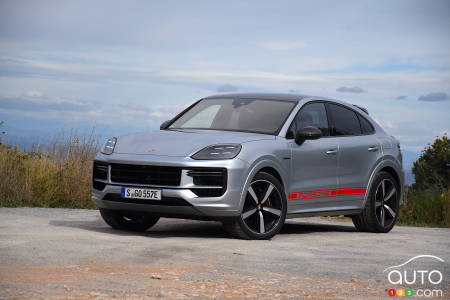 The turbo model
A few words about the Turbo E-Hybrid version. It boasts a slightly different front end, with more space at the front to allow the 4.0L V8 turbo engine under the hood to breathe. The latter offers a combined output of 729 hp and 700 lb-ft of torque, shaving a full second off the 0-100 km/h time, which is annihilated in 3.7 seconds at the wheel of this model. Top speed: 295 km/h.
Interior equipment is a little richer at base (seats, audio system), but you enjoy essentially the same treats. The front end is heavier, but that's to be expected. Chassis settings remain the same, with air suspension of course. The PTV Plus (Porsche Torque Vectoring Plus) torque management system comes standard with this variant, while directional rear wheels are offered as an option.
On the track, it's simple: you hold the reigns of a beast. While its weight is hard to hide, the new Cayenne E-Hybrid is still agile as it swallows corners with confidence and aplomb. Braking with the carbon-ceramic brakes is amazing, weight be damned, and power is of course always present. However, you need to opt for Sport Plus mode for full responsiveness - in normal configuration, we detected a certain laziness when re-accelerating after slowing sharply.
The vehicle's balance remains impressive, and it has capabilities that can be exploited fully in Germany on the Autobahn, but never here at home, unless you subscribe to a racetrack.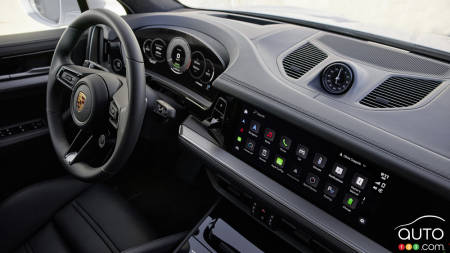 The final word
By increasing its Cayenne plug-in hybrid lineup to three, Porsche is simply giving its customers one more option, while at the same time increasing the presence (and sales) of electrified solutions within the brand lineup.
All this is in the run-up to the complete electrification of the model, which should begin as early as 2025 in Europe with the first all-electric Cayenne. At least, that's what we hear through the grapevine. Going by Porsche's usual scheduling, that would mean 2026 is when North America will see the all-electric Cayenne. And at that point, expect to see gasoline-powered versions offered alongside all-electric ones for a few more years.
In the meantime, the 2024 Cayenne S E-Hybrid and Turbo E-Hybrid can be ordered now from your Porsche dealer. First deliveries are scheduled for summer 2024.
Prices for the 2024 Porsche Cayenne S E-Hybrid and Turbo E-Hybrid
Cayenne S E-Hybrid: $113,700
Cayenne S E-Hybrid coupe version: $119,800
Cayenne Turbo E-Hybrid: $171,200
Cayenne Turbo E-Hybrid coupe version: $176,300