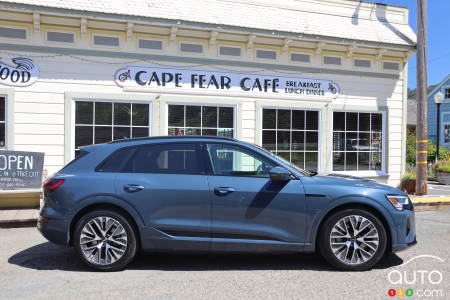 • Auto123 gets in a first drive of the 2024 Audi Q8 e-tron and Q8 Sportback e-tron.
• Auto123 traveled to Sonoma, California to put Audi's latest EV SUVs through their paces.
• The e-tron gains Q8 moniker and styling that is a sign of things to come for the brand.
For 2024, the Audi e-tron battery-electric (BEV) SUV has added "Q8" to its name and with it, a new era at the German luxury brand is being ushered in. By 2026, no all-new Audi model will have an internal combustion engine; by 2033, no Audi sold will have a combustion engine; and the brand expects to be net carbon neutral by 2050.
There are big changes coming at Audi and as one of the pioneers of this change, the Q8 e-tron – available in both SUV (MSRP: $95,985 CAD) and Sportback ($99,285) configurations – has been given a comprehensive update for 2024.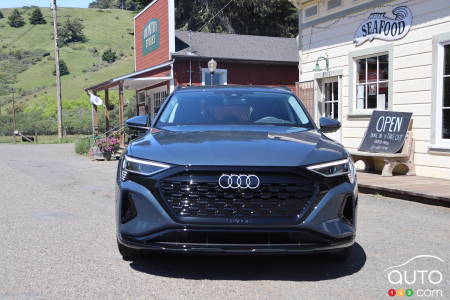 The exterior
While there's no mistaking the Q8 e-tron's front fascia for anything but an Audi's, the new vehicle gets a number of tweaks to help modernize it, but still keep it recognizable. Extending the lower splitter to each corner of the bumpers gives a wider look without actually widening the car. The grille shape and colour have also been tweaked.
Opting for the S-Line model – all Sportbacks come standard with S-Line, but you can't get it in SUV form – provides a darker grille and anthracite Audi four-ring logo. It also includes another first for Audi: swapping the former S-Line badge for a simple red flag, like we've recently seen only on RS and S models. Going forward, every Audi with an S-Line package gets the new branding.
Speaking of that logo, it's now a 2D item. Audi says this new design provides a cleaner and more streamlined look. That's fine, but you have to think that there will be those that will miss Audi's proper 3D emblem. The laser-etched badging on the b-pillars is another signature we'll see on more Audis going forward.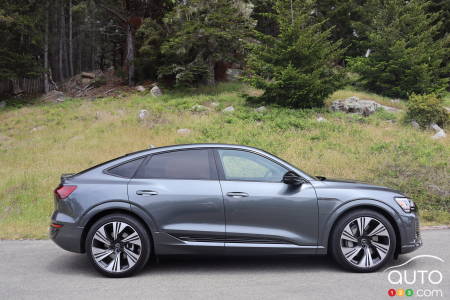 The Sportback model is the same as the SUV from the B pillars forward, but after that the roofline aggressively swoops down to meet the steeply raked rear deck. It looks good and provides a profile that has been popularized throughout the crossover and SUV world lately.
But the really impressive thing is how squat and wagon-like the SUV model looks. You expect the Sportback to have that look, but the design of the SUV makes it look much more compact than it is, especially when seen from the low three-quarter angle. Plus, all Q8 e-trons come standard with self-levelling air suspension that can also lower the vehicle. Indeed, the Q8 has always been the coupe-like alternative to the Q7 and that continues now, with the Sportback taking things even further.
No matter which you choose, you'll have access to an all-new wheel design. They range from 19-22 inches and there's no carryover here from past e-trons. Every wheel offered looks really, really good. There are two-tone options, spiral-spoke options and on and on, and all work well with the new front fascia.
Strong points
New grille and front fascia provide squatter stance
New aero wheel choices are home runs
Weak points
S-Line available only on Sportback
The interior
If you think the exterior looks good, then the interior will blow your socks off.
It starts with the materials used. Top-quality leather graces every appropriate surface, for instance the dash upper to reduce glare, the centre armrest for more comfort and the seats. Plus there are brushed aluminum inserts on some models, suede on others. Even the dash insert created from recycled water bottles found on the Launch Edition looks high-quality.
The Audi Virtual Cockpit is the centerpiece. It's made up of three digital displays (four if you include the HUD): one for your (modifiable) gauge cluster, one for your infotainment and one that acts both as your climate controls as well as in a supporting role for the main display. It's here, for example, that you enter a destination address or scroll through the seven drive modes.
Much of that, of course, can also be done via 'Hey, Audi' voice commands, but the screens and the haptic feedback they provide are responsive enough that they're fine to use. The 16-speaker Bang and Olufsen audio, meanwhile, is a treat for the ears, especially since this interior is a remarkably quiet interior. Audi has provided thicker front and side widows, self-adjusting grille shutters and all the noise cancellation tech they could muster.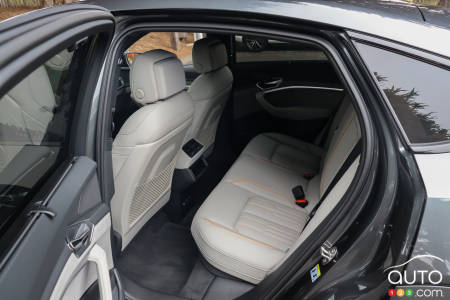 Space-wise, Audi has done well to deliver a roomy cabin that's not huge and ungainly, so you feel like you're driving something lower and more performance-oriented. Tilting the centre tack towards the driver has helped in this regard, as has the lower seating position. And take note, the rear seat passengers only lose about an inch of headroom with the switch from SUV to Sportback.
Cargo space takes a bigger hit in the latter, as volume behind the rear seats drops from 807 to 770 litres. Both editions do have underfloor storage (as well as a full-size spare) and a frunk. Get creative, and a weekend getaway for a family of four is perfectly doable in the Sportback.
A wishlist might include a little more in-cabin storage. The centre console features a small cube-shaped bin below the armrest – no room for much more than a tennis ball in there – and two cupholders. Those can be concerted to a flat surface, but why should I have to sacrifice two cupholders for storage? The deep bin mounted to the left of the steering column helps make up for that partially, but its depth means that if an item slides to the back, it can be tough to reach.
Strong points
Top-quality materials and fabrication
Haptic feedback displays work well
Weak points
Could use a few more storage options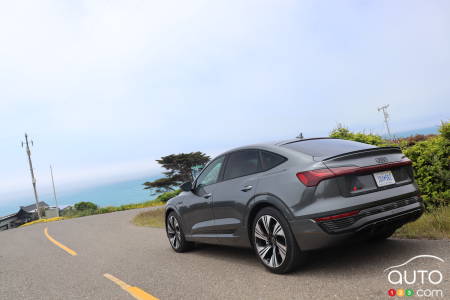 The drive
No matter which model you choose, power is rated at 402 hp and 496 lb-ft of torque, sent to all four wheel if the situation or drive mode dictates. Dynamic mode sends power to all four wheels while Efficiency keeps the front wheels out of it for as long as possible. This is to help drivers reach claimed range of about 475 km on vehicles equipped with the smaller wheels. Note there are three levels of driver-selectable regen levels, adjusted via wheel-mounted paddles.
Charge times range from 13 hours for 0-100 percent on a Level 2 charger (or 6.5 hours if you go for the faster on-board charger option) and 30 mins to get from 10-80 percent on a DC fast charger. Each Q8 e-tron sold includes two years' free charging with Electrify Canada.
While you feel the Q8 e-tron's near-5,800-lb curb weight -- a 114-kWh battery pack will do that -- as you set off from stop, once you get that mass moving torque takes over and you can really hustle this big SUV along. The amount of speed I was able to pile on – say moving from 80-100 km/h – in such short order was impressive in both Q8 models.
What really stuck, though, was just how fun it was to hustle through the bends, especially when on the 22-inch wheels that also come with stickier performance rubber. The Q8's steering response is 10-percent faster than previous and it gets 50-percent stiffer front bushings, making it a joy to hustle from apex to apex on serpentine northern California roads.
All the while, the standard air suspension is on hand to keep this heavy body as level as possible, both through turns and when braking or accelerating. It's especially handy on deceleration because by keeping the body as level as possible, it keeps the wright neutral and allows for more grip from the rear tires, and thus a more stable rear end.
If only the steering had a little more feel. I found myself correcting through longer sweepers just because it was tough to feel the forces being placed on the front tires.
Luckily, the brakes and their 15.7-inch/13.8-inch front/rear rotors were on hand, and while you do get that dead zone through the first bit of pedal travel, typical of EVs, they come on strong afterwards and stop you in short order.
Strong points
Dual-motor EV powertrain is fast
Standard air-ride suspension
Weak points
Steering could be more communicative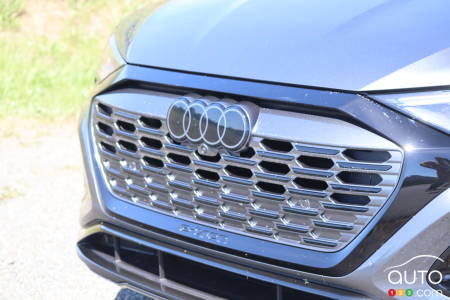 Here are a few of your questions about the 2024 Audi Q8 e-tron:
Will the gas-powered Q8 still be available?
Yes, there will be a gas-powered Q8 in 2024.
Is there a more high-performance version?
Yes. An SQ8 e-tron will also be joining the lineup, offering 496 hp and 717 lb-ft of torque.
Can you tow with the Q8 e-tron?
There is a tow package available, providing up to 1,814 kg of towing capacity in both the SUV and Sportback models.
The final word
As I traveled along the Californian coast's majestic roads, on canyon roads and through stands of giant redwood Sequoias so close to the road they were fitted with reflectors, I never had that familiar "oh I wish I was in a small sports car instead of an SUV" feeling. The Q8 e-tron – in both configurations – returned just the right amount of performance for the conditions. Couple that with a truly grand interior and some proper EV range, and you have an SUV that doubles as a grand tourer without hardly breaking a sweat.
The competition
BMW iX
Mercedes-Benz EQE SUV
Tesla Model X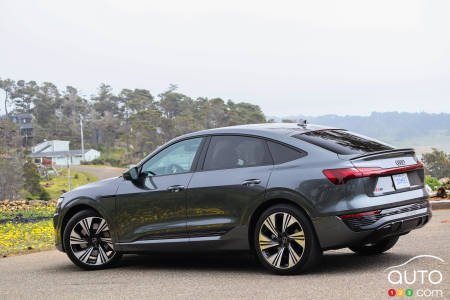 Road Tests and Reviews

Experts

Consumers