• The 2024 Porsche Cayenne Turbo E-Hybrid will offer 729 hp.
The new generation of the Porsche Cayenne has only just been unveiled, and already the company is unveiling two envelope-pushing variants: Here are the 2024 Turbo E-Hybrid and 2024 Turbo E-Hybrid Coupe.
The two models replace the outgoing Turbo variants, leaving the Turbo GT Coupe as the only non-hybrid performance option in the range for the time being (pending the GTS version).
Under the hood, the turbo hybrid versions get a 4.0L V8, good for 591 hp. With the addition of an electric motor offering 173 hp, total output is 729 hp and 700 lb-ft of torque. This is the most powerful Cayenne Porsche has ever produced. The previous Turbo S hybrid model offered 670 hp and 663 lb-ft of torque.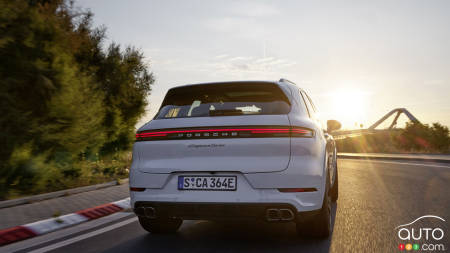 Two important changes are to be noted with the electric components. First, the size of the battery has increased from 17.9 kWh to 25.9 kWh, which should impact the electric range (the previous Turbo S hybrid offered just over 20 km). Second is the inclusion of a new integrated 11 kW charger, to help reduce recharging time to less than two and a half hours.
Air suspension comes as standard and uses a two-valve system that allows separate adjustment of compression and rebound, according to Porsche, promising greater differentiation between driving modes.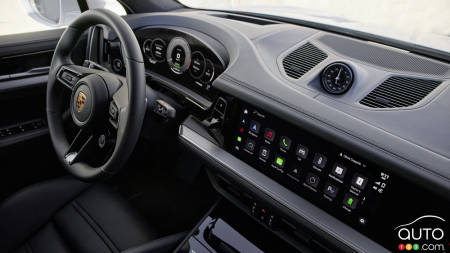 On board, the model inherits the advances seen with the regular version of the Cayenne, including the optional presence of a screen in front of the passenger. Leather sports seats with 18 settings are standard, but buyers can opt for more comfort-oriented seats with 14 settings.
You'll recognize the model by its Turbo-specific front bumper, larger air intakes, body-colour-matched wheel surrounds, brushed aluminum dual exhaust system and red brake calipers.
Canadian pricing is still to come. In the U.S., the two variants have been announced at around $148,000 and $153,000 respectively. The model is expected in the second half of 2024, but buyers can reserve it now.