• Auto123 gets in a first drive of the 2024 Range Rover Evoque.
Paris, France - The Range Rover Evoque – the "baby" of the family, if you will – has been redesigned for 2024 in a bid to further establish Range Rover as a brand – and it is now a brand unto itself, and no longer simply a Land Rover model line. Plus, it wants to be a brand that can appeal to a wider customer base, one that may be a little younger and adventurous than your typical Range Rover or Range Rover Sport buyer.
Specifications sheet of the 2024 Range Rover Evoque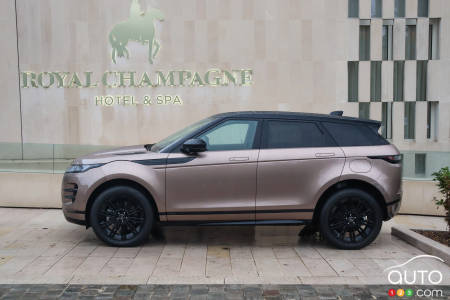 Design of the 2024 Range Rover Evoque – 8/10
One of the main ways Range Rover hopes to attract that elusive younger buyer is the Evoque's new styling touches and colours, which include Arroios Grey, Corinthian Bronze and Tribeca Blue. And there are certain combinations that allow for a contrast-colour roof. The car pictured here is finished in Tribeca Blue with a Corinthian Bronze roof, which is matched by certain exterior detailing elements.
Add the two tone 20-inch wheels on our tester and what you have is a classy styling package that adds an element of quality. The headlights are also new for 2024, while around back, there's a new underbody skid plate.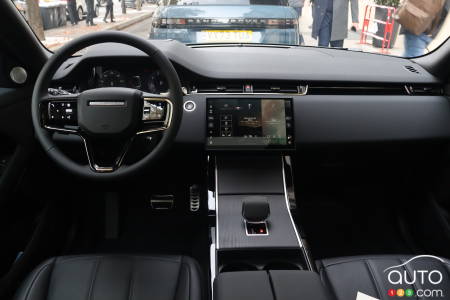 Interior of the 2024 Range Rover Evoque – 8/10
This is where the big changes occur. Range Rover set out to create a feeling of serenity and openness, so there's less clutter across the dash by making use of the steering wheel and adding the new Pivi infotainment system. The centre console now features an electronic shift lever and little else past a storage bin at the base of the centre stack, and a pair of covered cupholders.
In our tester, it all comes finished in a nice open-pore shadow grey ash veneer derived from bamboo, which is great to the touch and adds a sense of warmth to the interior. There are other finishes available, but this is the way I'd go. While my tester has real leather seating, more sustainable materials like Kvadrat wool blend and a wetsuit-like ultra fabric are also available.
In keeping with making life on board the new Evoque more comfortable, Range Rover has added more sophisticated cabin filtration for cleaner air, as well as controlling interior CO2 levels. Add a full-length moonroof, and the cabin is airy enough, considering its compact confines. At least, in the front row it is. The back row is snug so that a couple of kids can sit comfortably back there, but not much more. Which, I suppose, is in keeping with the Evoque's modus operandi as a vehicle tailored for active couples and small families.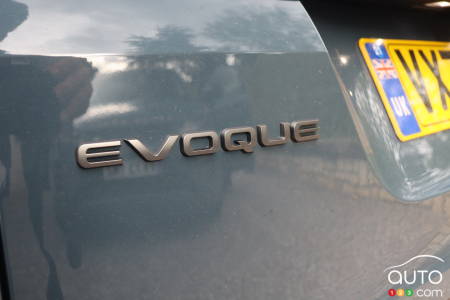 Tech in the 2024 Range Rover Evoque – 7.5/10
Looking at it, you'd think the Evoque would score higher in this category. After all, 2024 sees the arrival of Range Rover's latest Pivi (their take on Siri) infotainment interface, including the very slick 11.4-inch convex touch display, "Hey Range Rover" voice control, digital rear-view mirror and an ultra-crisp backup camera, as well as Amazon Alexa support and wireless Apple CarPlay and Android Auto.
It's all good but here's the thing: remember all that de-cluttering? Well, the controls that used to be there – climate, infotainment, etc. – had to go somewhere, and the steering wheel can only accommodate so much. Cue the touchscreen display, which has gotten an additional shortcut bar on either side. Good, right? Except you have to swipe to change drive modes, swipe to change climate controls and so on, and that can be tough while you're on the move, especially if you're bouncing around on the snowy road to the cabin. Which, since you're in a Range Rover, you're likely to do.
Driving the 2024 Range Rover Evoque – 8/10
Power comes from a single engine choice: a 2.0L 4-cylinder turbo good for 246 hp and 269 lb-ft of torque that comes paired with a 9-speed auto transmission with paddle shifters as standard. That's the kind of powertrain you expect from a vehicle in this segment, but that we're yet to see any form of a mild hybrid option in the Evoque is unfortunate. There is one in other markets so you have to think it will be coming here soon, but it is what it is for now.
Power comes on strong with little turbo lag thanks to the close-ratio transmission and the Evoque's fairly lean 1,787 kg. It feels almost hot hatchback-like in its execution and you can see why the brand thinks there's a young person or two that may dig it for that quality.
Handling-wise, the Evoque's short wheelbase means left-to-right transitions happen in a controlled manner with less body roll than I expected. A faster steering response would be welcome, however, as well as some more feel; and these issues are compounded by the large diameter steering wheel.
Also, while the short wheelbase makes for some nice handling and easier progress through tight trails, it does make for slightly bouncy travel on paved roads. Having said that, piloting it on winding roads, as we did betwixt the fields and valleys of France's Champagne region, is a hoot, especially in dynamic mode.
Being a Range Rover, the Evoque also has to be able to handle itself off the beaten track and it gets Terrain Response 2 off-road modes to help in that regard. It allows drivers to select from Dynamic, Eco, Comfort, Grass-Gravel-Snow, Mud-Ruts, Sand and Auto modes. Which is a lot to choose from, and the Range Rover Sport and Land Rover Defender are the more likely choices for off-roaders. Still, the Evoque can handle itself in these circumstances.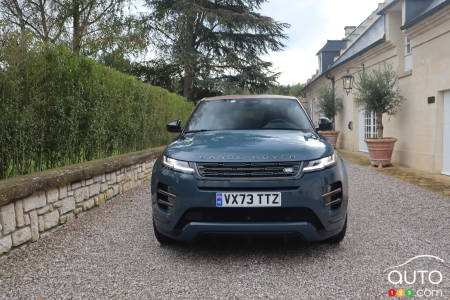 Some of your questions about the 2024 Range Rover Evoque
How many roof colours are available?
The two-tone colourway can have either a black roof or Corinthian Copper roof, but those can only be paired with certain colours.
What is the pricing of the 2024 Evoque?
The Evoque is available as a P250 model with three trims: S ($62,350), Dynamic SE ($65,600), and Dynamic HSE ($67,300).
The final word
I do like the Evoque. The styling is good, the interior is well-equipped if not without its ergonomic issues, and the powertrain is up to the task. I really would like to see how it would perform with just a little more kick, though – not a different engine or anything like that, but a mild hybrid system would do well to give it just a little more boost and up an extra rung on the ladder.
Strong points
Neat exterior styling
Cool new colours
Sustainable interior options
Pivi infotainment
Weak points
Too much done through infotainment display
Lack of powertrain choice
Snug back seat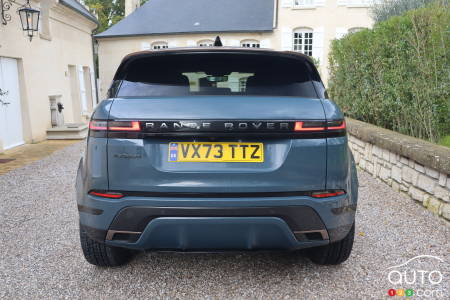 Competitors of the 2024 Range Rover Evoque
Audi Q3
BMW X1
Cadillac XT4
Land Rover Discovery Sport
Lexus NX
Mercedes-Benz GLA 250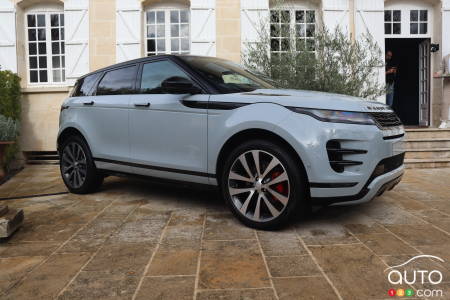 Road Tests and Reviews

Experts

Consumers
2024 Land Rover Range Rover Evoque