Remember that time, not so long ago, when over half of vehicles sold in certain parts of Canada, like Quebec, were either compact or subcompact cars? On top of that, analysts were predicting steady growth for these segments.
How wrong they all were. Today SUVs have overrun virtually every price bracket and market slice, and small cars have been squeezed out almost entirely. Fortunately, there are still some people looking for a small vehicle as a second car or for the teenager who's leaving for college. Here are two examples of interesting models.
2019 Chevrolet Spark
The Spark is officially the lowest priced car in Canada at $9,995. For 2019, it received some exterior touch-ups, but nothing more. Its familiar face still manages to attract a good number of buyers.
Betting on technology
The greatest strength of the Spark lies in the technology included for the asking price. GM understands that this car is for young drivers whose lives revolve around their smartphones. The Spark comes standard with a 7.0-in touchscreen incorporating Apple CarPlay and Android Auto platforms. In the 2019 version, Chevrolet added a pair of USB ports (replacing a single USB input and an auxiliary input).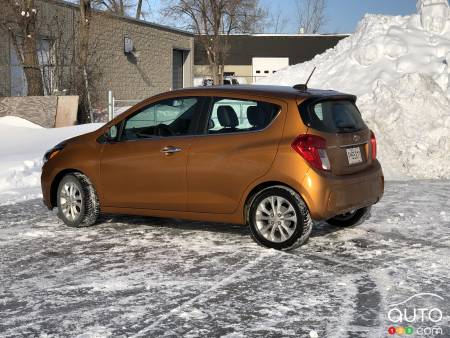 If you climb up a notch and opt for the LT version, you're entitled to an internet access point, climate control, height-adjustable driver's seat, cruise control and satellite radio.
The 2LT is equipped with a keyless entry system, sunroof, steering-wheel audio controls, power windows and rear parking assist. Note that the base $ 9,995 model comes with manual open/close windows and manual adjustment for the outside mirrors, plus you need a key to open the doors, and A/C is optional.
Under the hood
The small 1.4L engine is still there, developing 98 hp and 94 lb-ft of torque that can be routed via a standard 5-speed manual transmission or an optional Continuously Variable Transmission (CVT). To be honest, we find that in this case the CVT transmission is better suited and it offers better fuel economy. GM numbers are 8.0/6.0L/100 km (city/highway) with the manual transmission and 7.8/6.2 with the CVT.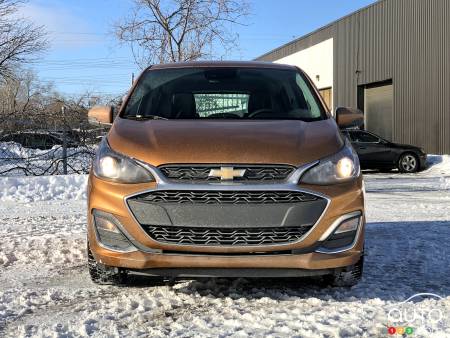 No-surprise drive
You should not have very high expectations behind the wheel. Ideal for city driving, the vehicle is quick at low speed, but is short of breath if you intend to do a passing manoeuvre at over 100 km/h. Long journeys will be a bit painful, but the car is efficient and quiet in the city. Its size and weight make it a maneuverable vehicle that deftly darts everywhere, the steering is direct and the turning radius is minimal.
However, driving quality deteriorates rapidly on rough roads where you quickly see the limits of the suspension. The firm brake pedal has a good response that adds to driving safety.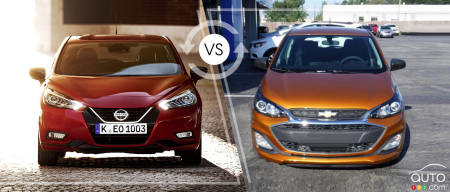 Photo: Nissan / Auto123.com
2019 Nissan Micra
The Micra sells for a couple of hundred dollars more then the Spark. But price isn't everything. You need to measure what you're getting for this price. This car, presented in a North American premiere at the 2015 Montreal Motor Show (it is not sold in the US), almost instantly ended the career of the Mitsubishi Mirage by offering a more aggressive price for car that was more modern and interesting.
Small modern car
Very popular in Europe, the Micra offers European flair that makes it a favourite with buyers particularly in Quebec, where the highest percentage of buyers in Canada are found. At the front, it features Nissan's characteristic V-shaped grille and eye-catching headlamps as well as a roof arch that gives it a unique look.
On the Micra SR, the visual appeal is enhanced by exterior mirrors and a body-coloured spoiler attached to the roof, a chrome exhaust tip, lower side rails and enveloping headlights. The 16-inch alloy wheels add to the sporting character of the SR.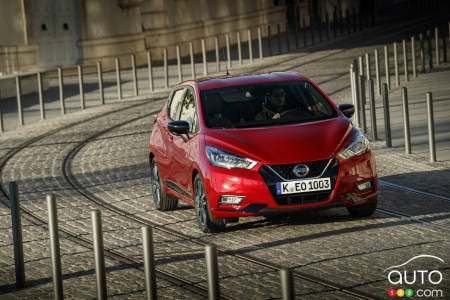 Fans of tuning will be delighted, since the Micra has a whole range of colorful outdoor features available, from hubcaps to lower door trim strips to tailgate trim, mirror cover and handle trim.
As naked as a Spark
The basic Micra S features 15-inch steel wheels with hubcaps, Bluetooth, an on-board computer, tilt steering, variable intermittent wipers, four-way front seat adjustments and a two-speaker (yes, two) sound system with a 7.0-inch touchscreen controls.
Like the Spark, the basic model comes with a pile of manual gear - windows, mirrors, door opening, etc. - and without air conditioning. You have to go for the SV version to benefit from heated and electrically adjustable side mirrors, body-colour door handles, climate control, power windows, keyless entry, cruise control, 6-way adjustable driver's seat, chrome interior door handles and a 4-speaker sound system with steering-wheel controls.
Finally, the SR offers 16-inch wheels, fog lamps, chrome exterior trim, sports trim and leather-trimmed steering wheel.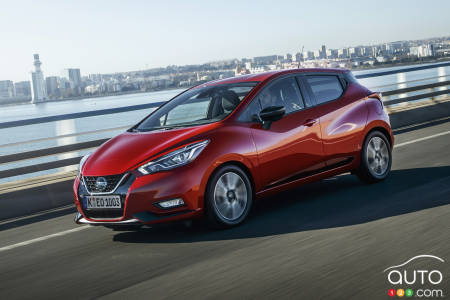 A little more get up and go
All models use a 1.6L, 4-cylinder engine producing 109 hp and 107 lb-ft of torque. For 2019, Nissan has reduced the availability for the 5-speed manual transmission. It can now be had only in the S and SR versions, leaving the SV equipped exclusively with an old 4-speed transmission. Fuel consumption estimates are 8.7/6.8L/100 km (city/highway) with manual transmission and 8.9L/6.8L with CVT.
More fun to drive
Like the Spark, the Nissan Micra is like a fish in water, when the water is the urban environment. Its small size, excellent visibility, a small turning radius, electronic power steering and an amazing power-to-weight ratio are all qualities that lend themselves to enjoyable city driving.
The back-up camera makes it even easier to manoeuvre the car, especially in small parking spaces.
There's really no contest: the driving experience is superior to that of the Spark. Driving, especially on the highway is simply a more positive experience. On the other hand, the automatic transmission is noisy and drains a lot of power. Driving with the manual gearbox is the better solution.

Photo: Nissan / Chevrolet
Advantage Chevrolet Spark
Undeniably, the Spark is the better car for technology. For a more-than-competitive price, you get a modern technological environment tailored to the needs of the targeted clientele. The interior presentation is of better quality and the seats more comfortable.
Advantage Nissan Micra
The Micra takes advantage of its powertrain's greater power and is more fun to drive, especially with the manual gearbox. The Micra is also more spacious and an adult can actually sit in a back seat.
Similarities
In terms of warranties, asking price and average fuel economy, the two vehicles are fairly even.
Verdict
We have to give a slight advantage to the Spark, which dominates where it counts most for the demographic targeted by its manufacturer, particularly when it comes to the embedded technology. Its slightly quieter cabin and more comfortable seats also help tip the scale.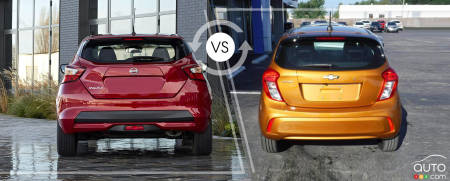 Photo: Nissan / Auto123.com
2019 Chevrolet Spark
We like
Nice design
Impressive tech content
At home in the big city
We like less
No telescopic steering wheel
Small cabin
Very small gas tank
2019 Nissan Micra
We like
Timeless look
Fun to drive
Powerful engine for the segment
We like less
Obsolete 4-speed automatic transmission
Denuded base model
Technology is a little behind

Photo: Chevrolet / Nissan
Specifications
| | | | |
| --- | --- | --- | --- |
| ... | | 2019 Chevrolet Spark | 2019 Nissan Micra |
| | Transmission | man 5 vit, CVT | man 5, auto 4 |
| | Drivetrain | FWD | FWD |
| | Fuel consumption (city) | 8.0L/100 km | 8.7L/100 km |
| | Fuel consumption (highway) | 6.2L/100 km | 6.8L/100 km |
| | | | |
| | Engine | | |
| | Type | Gasoline | Gasoline |
| | Output | 98 hp | 109 hp |
| | Torque | 94 lb-ft | 107 lb-ft |
| | Cylinders | 4 | 4 |
| | Displacement | 1.4L | 1.6L |
| | | | |
| | Capacities | | |
| | Cargo space | 313 L, 771 L | 407 L, 810 L |
| | Fuel tank | 35 litres | 41 litres |
| | | | |
| | Dimensions | | |
| | Length | 3636 mm | 3827 mm |
| | Width | 1595 mm | 1665 mm |
| | Height | 1483 mm | 1527 mm |
| | Wheelbase | 2385 mm | 2450 mm |
| | | | |
| | Warranty | 3 yrs/60,000 km | 3 yrs/60,000 km |
| | | | |
| | Pricing | $9,995 to $19,095 | $10,488 to $17,598 |
| | | | |
| | | | |
| | | | |
| | | | |
| | | | |
| | | | |