All right, all right, we know the results of a comparison test never make everybody happy. That's especially the case when the subject of such comparison is a group of highly-desirable, highly-entertaining cars like the 6 sports coupes we've recently pitted against each other.
Buying any of these machines is often a matter of passion or nostalgia. They remind us of our childhood days, excite our senses with their dream-like harmonics or captivate our souls in ways that no rational consumer would understand.
Choosing YOUR sports coupe is never an easy task, let alone assessing and comparing their respective intricacies, dynamics and performance levels. So, before going any further, let's make things perfectly clear: these sweet six overflow with qualities like driving fun and body appeal. They all have their strengths and weaknesses, and make no mistake: every single one of them fully asserts itself on the road.
Our six test-drivers rose to the challenge, taking turns behind the wheel of the
Mazda RX-8 R3
,
Nissan 370Z
,
Hyundai Genesis Coupe
,
Chevrolet Camaro RS
, Ford Mustang GT and
Dodge Challenger SRT8
. They offended their own sensibilities throughout a long, grueling day of testing and measuring.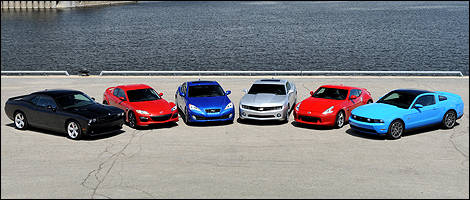 These sweet six overflow with qualities like driving fun and body appeal.
The first session took place on
Circuit ICAR in Mirabel, Quebec
. The drivers completed a few laps with each car not to push them to the limit but rather to get a full grasp of their driving dynamics. And from that standpoint, the ICAR track offered an ideal venue.
Then, we called on Bertrand Godin, our resident race car driver, to take care of performance tests, including takeoffs, on-the-fly accelerations and emergency stops on the quarter-mile stretch. We used electronic measuring devices and, although we didn't get record-breaking times due to relatively-cool weather, our calculations allowed us to establish a clear-cut hierarchy despite the obvious fact that no two cars were similarly-geared for the challenge.
Finally, we performed city and highway testing over hundreds of kilometres in order to evaluate the day-to-day performance and personality of these killer-looking coupes. After crunching all the numbers and debating the merits of each car at length, we now present you our final rankings which are not only based on objective data but also personal tastes.
| | | | | | | |
| --- | --- | --- | --- | --- | --- | --- |
|   | RX-8 | 370Z | Challenger | Camaro | Genesis | Mustang |
| Base Price ($) | 41,995 | 39,998 | 45,995 | 31,595 | 24,495 | 36,999 |
| Price as tested ($) | 41,995 | 43,998 | 49,145 | 36,570 | 27,495 | 43,279 |