Here we have possibly the news item of the (very young) 2019 year – so far! It might be only early January, but the story of 11 pristine 1994 BMW 5 Series (E34) cars being found sitting in a warehouse in Bulgaria could be hard to top in 2019.
The cars were never even registered, and for the most part they're in mint condition. Images of the cars show a few with some exterior imperfections, paint blemishes, etc., but overall, they look like they could be sitting at a dealership… of 25 years ago. The interiors are immaculate, and some of the seats are even still covered in plastic sheeting.
A majority of the vehicles are 520i models, which feature a 150-hp engine, but there are some 525is in the bunch; these come with a 192-hp engine. There's even a wagon in the lot. Evidently, all are equipped with manual transmissions.
The cars will soon be offered at auction, so if you had had dreams in the mid-90s of buying one of these Beemers but didn't have the budget, now's your chance. Of course, realistically we expect that bidding will be fierce and the selling prices quite high.
It is a rare event, after all, to find a 25-year-old brand-new car.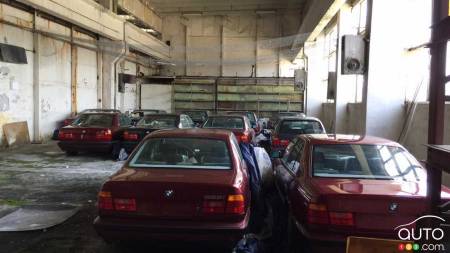 In case you're wondering what the 11 BMWs were doing in that Bulgarian warehouse, the information that's come to light up to now is sketchy. It appears that the models were bought by a car rental company, but for some unknown reason were never put to use.
When these rare pearls do appear at auction, we'll of course give you an update on the story behind them!