• A team drove an all-electric 1978 Land Cruiser 8 km... underwater.
The 2024 Toyota Land Cruiser was unveiled last night, and already there's a buzz around the model. The enthusiasm for this vehicle is not new, as demonstrated by a recent feat achieved by a 30-strong team in Australia.
Their feat? Driving an electric 1978 Land Cruiser across a bay over a distance of around 8 km... underwater.
Yes, you read that right.
Nicknamed Mudcrab, the vehicle crossed Darwin Bay at a depth of 30 metres, on the ocean floor.
A completely mad project. And dangerous! Indeed, since the beginning of the year, a hundred crocodiles have been caught in the bay, not to mention the sharks that are commonplace and not always friendly.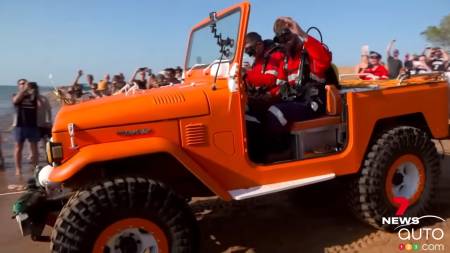 Photo: YouTube/7News Australia
And how does the vehicle work underwater? Firstly, because it doesn't have a combustion engine, but an all-electric mechanism, it doesn't need to "breathe" underwater. The team also took care to seal the electric motor.
Another major modification was necessary to enable the vehicle to travel on the seabed. Each tire was filled with 330 lb of water.
Incredibly, this was not the first attempt of its kind. In 1983, the trick had been tried with a conventional model, equipped with a sealed combustion engine, but the attempt was aborted about halfway through. Some of the seals protecting the engine had failed.
This time, the biggest issue was the Land Cruiser getting stuck occasionally on the muddy ocean floor. In those cases, the Land Cruiser had to be freed using buoys chained to it.
In all, the trip took around 12 hours, two of which were spent lifting the vehicle over an underwater gas pipe. The pressure of the deep water was so great that the team had to change drivers every 15 minutes.
On a ferry, the trip takes just a few minutes. Why make things simple, when you can make them a little (a lot) more complicated?