The new Toyota Land Cruiser 2024 has finally been unveiled. For older folks, the model has clear resonance, the Land Cruiser name enjoying near-mythical status. The first Land Cruiser first launched in North America back in 1958.
Of course, that resonance may be weaker with younger Canadians, since the model has been absent from Toyota Canada's lineup since 1996. It did continue to be offered in the United States until the end of 2021.
See also: An Electric 1978 Toyota Land Cruiser Drives 8 km…Underwater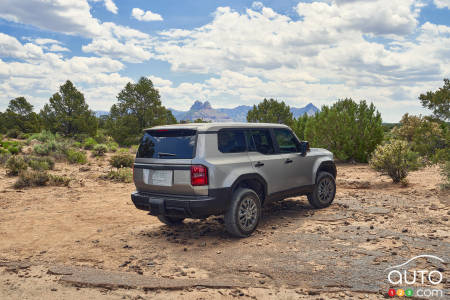 In any case, this reborn Land Cruiser is at once a completely redesigned product, and an SUV that adopts a unique look, imbued with retro touches.
The model will be built in two Japanese factories (Tahara and Hino) and is scheduled to debut in North America in the spring of 2024. Toyota's unveiling today involved the announcement of a host of details about the versions that will be offered here.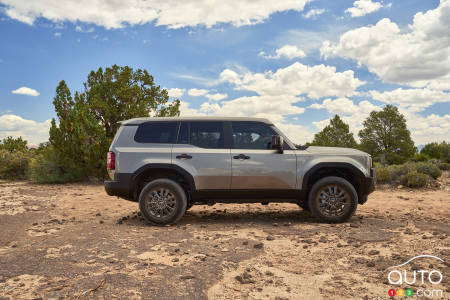 2024 Toyota Land Cruiser: Style and design
The Land Cruiser is designed using the TNGA-F platform, a ladder-like structure. No surprise, off-road capability is a priority. Toyota came up with a frame that's stiffer and stronger than the one fitted to the outgoing (2021) model. The automaker also confirmed the new Land Cruiser is getting a permanent 4x4 system, lockable centre differential, electronically controlled two-speed transfer case and a lockable rear differential with 50-50 power distribution, all in the service of improved off-road chops.
The Land Cruiser offers a 31-degree approach angle, while the crossing and exit angles are 25 and 22 degrees respectively. For those familiar with the last American model, it's worth pointing out that it will be 30 mm shorter and 112 mm narrower. Ground clearance is 221 mm, or 8.7 inches.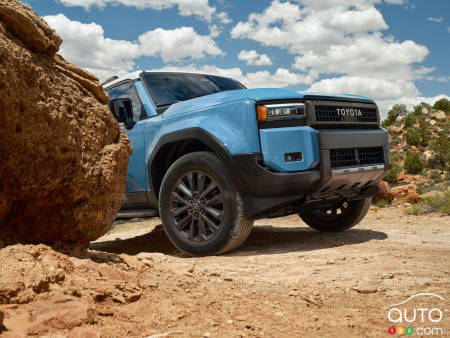 What hasn't changed is its rugged construction and nature. Toyota promises a monster in this respect. And off-road driving will be easier than ever, with features like low-speed cruise control and hill descent control.
The styling is in keeping with tradition, which is to say, it is very square. Toyota explains that it moved the A-pillar back to offer greater visibility when driving off-road. Interestingly, one of the model's versions, the Land Cruiser 1958, will feature unique design elements reminiscent of early editions, such as round headlights. We can't wait to see this variant in the flesh.
Two other variants are planned: the Land Cruiser and the Land Cruiser First Edition. Production of the latter model will be limited to 5,000 units in North America, and those will be assembled during the first two months of production. They will, of course, feature a number of distinctive elements, such as round LED headlamps, roof rack, protective side rails and an exclusive interior design.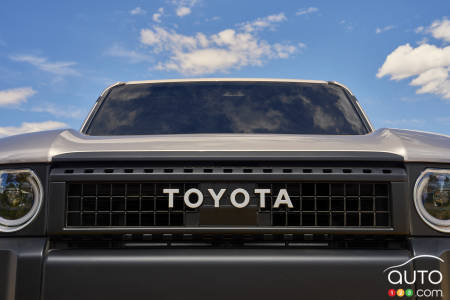 The 2024 Toyota Land Cruiser gets a single engine
Under the hood, a single hybrid engine will be available: the 2.4L I-Force Max turbocharged 4-cylinder. With 326 hp and 465 lb-ft of torque, it should make up for the absence of a V6 engine. An 8-speed automatic transmission is standard. Towing capacity, with the necessary options, is set at 6,000 lb.
All models run on 18-inch wheels, but the Land Cruiser variant can be had with optional 20-inch rubber.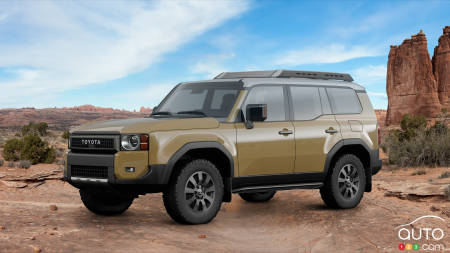 The 2024 Toyota Land Cruiser: The versions
As for equipment, the 1958 Land Cruiser regular version comes with an 8-inch screen for the multimedia system, 6-speaker audio, heated fabric seats (manual adjustment), heated steering wheel, fog lamps and a retro grille featuring T-O-Y-O-T-A lettering.
Upgrading to the Land Cruiser version brings a 12.3-inch screen for the multimedia system, 10-speaker audio, heated and ventilated front seats, and a few additional options/functions for off-road driving modes.
The Premiere Edition model benefits from much the same features, apart from a few unique touches that should make it a collector's item.
Finally, in terms of safety, the TSS 3.0 (Toyota Safety Sense) suite will be standard on all Land Cruisers. And for 2024, many of its functions have been improved/enhanced, for even greater safety.