The new
Buick Regal
is on sale now-- and it's doing almost exactly what the last Buick Regal did for years: attracting a new and theoretically more youthful shopper to the brand's showrooms. Regal's long been the sporty model in Buick's lineup, and the last-generation model packed much of the styling and hardware to back that up.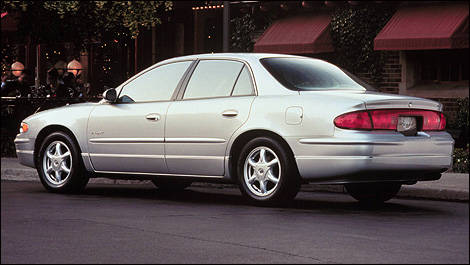 2000 Buick Regal (Photo: General Motors)
In fact, the last-gen Regal actually boasted some pretty respectable numbers in the used sporty-sedan marketplace. With standard power from GM's long-lived 3.8 litre V6 engine and an optional supercharged variant thereof, the Regal put 200 or 240 horsepower at its owners disposal. Best of all, though the '3800' series powerplant wasn't the most sophisticated piece of hardware to ever power a car, it was decent on fuel and virtually bulletproof. All Regal models were front-drive and came with an automatic transmission.
The Regal GS got the supercharged engine. This powerplant will provide plenty of grin-inducing full-throttle romps and easily blow away those pesky Camrys and Accords at traffic lights with a smile on its face. Higher entertainment value to be sure-- though the up-level mill will
consume more fuel
, cost more to insure and prove marginally more expensive to maintain. If you're after something a bit more modest, the naturally-aspirated Regal LS makes more sense.
Look for features like automatic climate control, heated seats, a sunroof, power accessories, tire pressure monitoring, a power driver's seat, and even a punchy "Monsoon" audio system.
Thanks to GM's extensive use of the 3800 series engine and its solid four-speed automatic, mechanics everywhere should be comfortable checking for and diagnosing the small list of issues the powerplant is known for. For instance, coolant may leak into the vehicle's intake system through a cracked manifold or bad gasket, causing problems or even engine failure.
Additionally, a poorly-running Regal that exhibits sporadic power delivery, uneven acceleration, hesitation, or clumsy shifting may be suffering from one of several potential wiring or sensor-related problems. These may include bad battery grounds, chafed or corroded sensor wiring, or even just badly-aged spark-plug wires. In the wide variety of instances, drivability issues with the 3800 V6 are electronic and not mechanical in nature. Have the machine you're considering 'scanned' for any check-engine lights or trouble codes, which could indicate a problem.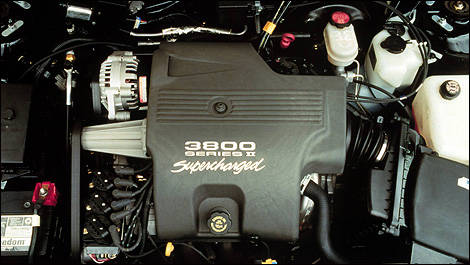 2000 Buick Regal (Photo: General Motors)