Few Canadians can debate the wholesome functionality, usefulness, and handiness of small-truck ownership.
Whether you're renovating, getting into a new adventure sport or planning on numerous yard-related projects in the upcoming year, the used truck marketplace has you covered with affordable models that offer relatively decent fuel consumption and top-notch levels of payload and capability to get the job done. Heck, chances are you'll find new uses for your new-to-you little pickup every week you own it.
If you haven't got a mobile home or numerous skids of roofing shingles to haul around at any given time, the following small-pickup models might be on your radar. Most can be had affordably, and most should offer solid reliability if they pass a few mandatory checks.
Here's a look at what owners like about their small trucks, and what they say you should be on the lookout for.
2005 to 2011 Dodge Dakota
The Draw:
Dakota's two-and-a-half decade run came to a halt in 2011 because of declining small-truck sales -- though the market is full of used examples for shoppers after performance and style. Owners of this-generation Dakota typically rate power, ride quality, a solid driving feel, capability, and cabin spaciousness highly. Models with the V8 engine are said to be plenty powerful and responsive in all situations.
Look for up to 310 horsepower from the 4.7L V8, with a 3.7L V6 as standard. If you're after a newer small truck with a V8, this is one of your only options. Look for a 2007 or older model if you're after a 6-speed stick, and shop a 2007 or newer model for more V8 power, a more refined cabin, and more features.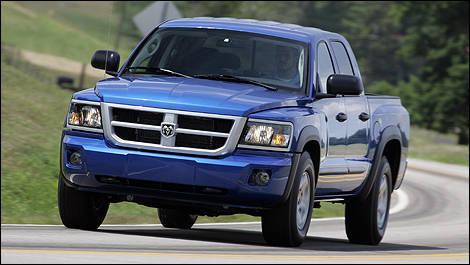 Dodge Dakota 2008 (Photo: Dodge)
The Checks:
Online, owners have complained about less-than-durable front-end construction, so have a good "listen" for signs of popping or clunking as you drive over rough roads and bumps, and "feel" the front-end for signs of slop. A mechanic should check the Dakota's suspension for maximum confidence, having a look at the transmission, transfer case and differential for signs of fluid leakage while it's in the air.
Ensure the transmission shifts smoothly, noting any hesitation, "slipping" or "banging" sensations while the transmission shifts at light, moderate, and full throttle. Drivers should also "feel" for a vibration at highway speeds, which could indicate a transmission problem. The transmission should shift cleanly and smoothly in all situations.
Note that hesitation or a rough idle from either engine could indicate a sensor or electronic problem with the engine control unit. Confirm that all stereo speakers are working properly, and be sure there is no sign of moisture in the Dakota's carpeting, which could be the result of a bad window or sunroof seal.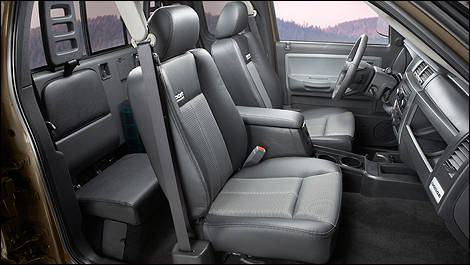 2010 Dodge Dakota (Photo: Dodge)