2003 Acura Concept TL - The Real Thing Won't Look Much Different
At major auto shows like New York's last month, automakers unveil out of this world concept cars as well as what seem like barely disguised future production models. Acura's Concept TL should be placed firmly in the latter category.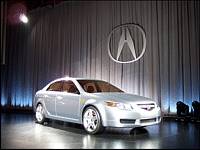 Acura's Concept TL being debuted during lunch at the New York Auto Show. (Photo: Trevor Hofmann, Canadian Auto Press)
Why can I be so sure? Just look at its conservative lines. Replace the outside rearview cameras with a pair of conventional mirrors, clean up a few custom trim pieces and viola, a larger TSX with its own distinct taillights. And if you don't believe me, how about Tom Elliott, Acura's Executive Vice President of Auto Operations? During the press event he stated, "The Concept TL's dynamic design is a pure expression of Acura and provides an advance preview of the all-new 2004 TL." There you have it.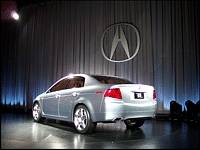 Ford approved and certified its Excursion platform for Qualified Vehicle Modifier limousine conversions. Its taillights are quite distinct, possibly preluding a new direction for Acura design overall. (Photo: Trevor Hofmann, Canadian Auto Press)
While radical concepts like last year's Dn-X stretch the imagination barriers, soft concepts like the TL are in some ways even more interesting. After all, once the initial stimulation brought on by the future shock space car wears off, we've all got to drive home from the show in something a little more down to earth. Cars like the Concept TL give a glimpse into a very real future, one we can actually choose to take part in.
The Concept TL is true to Acura's design lineage. No surprises here, just a new adaptation of the crisp, clean lines that have made the current midsize Acura sedan such a popular seller in the first place.