2003 Maserati Kubang GT Wagon Concept - Adding a New Dimension to a Legendary Marque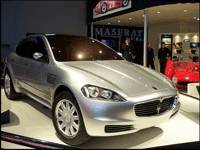 While exotic car manufacturer Lamborghini spearheaded the luxury sports utility market in the early '80s with its outrageous LM002, it wasn't until Porsche led the way by announcing its controversial Cayenne that other premium sports car marques decided to consider an SUV of their own. But Ferrari isn't Porsche. It couldn't get away with a 5-door wagon any easier than Detroit could sell a million dollar supercar, what to do?
Call on partner Maserati, already respected for building some of the world's most revered sedans. A sport utility vehicle wouldn't be that much of stretch for them. But of course for reputation purposes alone it wouldn't be right to have it look or behave like any ordinary SUV. It would have to be special.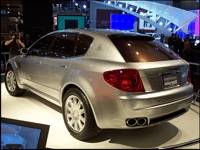 And the Kubang is. Who else but Giorgetto Giugiaro, one of the most talented automotive designers to ever grace the planet, could have been responsible for its long, low and lean shape?
"I decided that there was still something that could be done with the SUV concept," he said. Giugiaro continued, "To me, they tend to look more like off-roaders that have gradually been 'civilized' rather than real automobiles. They've got a lot going for them, but for some reason they never seem to offer the kind of sublime driving pleasure and all-round, all-weather condition safety that are two givens of other modern cars."
He's definitely got a point. Of course there are many who buy an SUV for precisely the reasons the master designer negates them, none of which would suit the Maserati trident to appear on its C-pillars - an often used trademark feature.