Shame, the new metallic chisel-beak. Though some love the styling of the new-for-
2009 Acura TL
, its controversial looks appear questionable at best in many circles.
It remains that some fans of this car will rush out to get a copy of the new one-possibly leaving their last-generation model behind at the dealership's used-car section for your consideration.
The former, third-generation
TL
was sold as a 2004 to 2008 model. It proved a handsome looker that came with plenty of variation, options and packages to fit a wide range of buyers.
Built from the same platform as the Honda Accord, it's a sure bet as far as reliability goes. TL featured a 3.2 litre V6 engine with 258 or 270 horsepower- depending on the year in question. Note that the drop from the initial higher figure was due to changes in the horsepower rating system, not the engine itself.
Shoppers will find either a five-speed automatic with sport-shift or a six-speed manual transmission twisting TL's front wheels. A factory-installed body kit and suspension package gave selected models an 'A-Spec' designation, and a 286 horsepower, factory-tuned '
Type S
' model was available later on in the model's life, too.
If your budget allows, most owners will tell you that the TL Type S is the best 'bang for the buck' in terms of both performance and luxury- though it can be a bit of a handful in the torque-steer department and some will find it's ride too rough.
Look for a Bluetooth phone system, navigation, voice command, satellite radio and high-end audio components o board, depending on the model you select. A sunroof, heated leather, automatic climate control and an intelligent-key system were all available or standard, too.
When polled online, owners almost unanimously rate the TL's performance, drivetrain, looks, handling and comfort the most highly. Slightly fewer points are given to its space and access.
Common owner complaints deal with blind-spots during shoulder checks and sub-par media connectivity for MP3 players. Additionally, many owners report the arrival of many annoying squeaks and rattles as the car ages.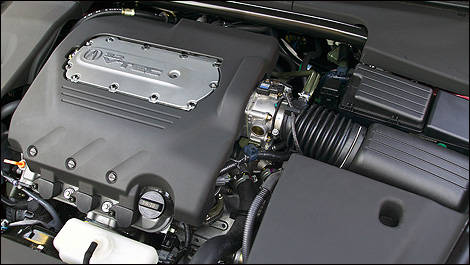 The 3.2-litre V6 engine.