Back from the Dead
Remarkable changes are taking place at Lotus. The automaker is currently preparing to enter the North American market with its second generation Elise later this year.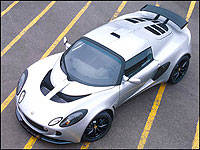 Lotus has revived the Exige to hold supercar fans over until they expand their product line. (Photo: Lotus Cars Canada)
While that may be good news for longtime fans, other news about the company itself is not so good. Only one standing model stays in the Lotus lineup seeing that the M250 midsize was canned and the long-running Esprit is officially dead.
To help tie the marque over until its next supercar comes around Lotus has revived the Exige that ran from 2000 to 2002. The new car maintains the same lightweight core values which the first generation featured.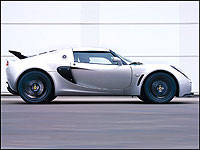 The Elise 111R has Toyota's new 192-hp 1.8-L 4-cylinder engine mounted over the rear axles, the same to be used in the Exige. (Photo: Lotus Cars Canada)
The most recent news concerning the Elise 111R revolves around the new Toyota 1.8-liter 4-cylinder engine with variable valve timing. Reasons for change include reliability, increased efficiency, and the fact that Toyota's inline four will pass worldwide emissions standards without challenge. It generates a very impressive 192 horsepower, backed by 134 lb-ft of torque. The engine's general characteristics should equal the high-revving K-Series British motor, so fans of the original Exige should not be disappointed.