Coming Out of Obscurity is a Surety
When was the last time you saw an Acura RL drive by? If your home town is anything like mine, I can't remember seeing one for some time. Or maybe it's not that there are just so few out there, but that none of us would notice if one did pass by.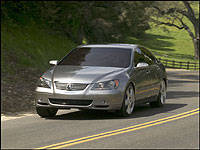 The old version of the Acura RL definitely flew under the radar in terms of looks, but Acura has big plans for this new version. (Photo: Acura Canada)
After all, Acura's stylists didn't exactly crack open a new box of crayons when they drew the Japanese brand's flagship sedan. It's one of those non-offensive cars, ideal for an executive on the rise who enjoys sitting in the lap of luxury but still needs to be careful not to upstage the boss.
I spent a couple of one week stints with Acura's flagship RL over the last five years or so, nice quiet weeks where life seemed to slip by in serene ambivalence, at least while driving. It's a really well made car, filled with the expected creature comforts of a top-tier executive shuttle and pretty good on fuel to boot. It's just, well, boring.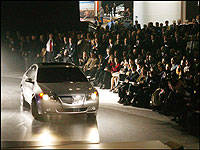 An all-new Acura RL made its world debut at the New York International Auto Show in Manhattan earlier this month. (Photo: Acura Canada)
As recently experienced, boring's not good enough for Honda's premier division. One drive in the radically improved 2004 TL would be enough to clarify anyone's outlook on the future of Acura. It took only two glorious weeks in both 6-speed manual and 5-speed automatic variations to convert me to the brand's new philosophy.
And it's not just about driving dynamics, which regarding the TL is about as good as front-wheel drive cars get. More so, the car's superb exterior panel fit and interior quality and workmanship is among the best in the industry, equal to brands such as Audi and BMW and superior to Infiniti and Mercedes-Benz.