Gorgeous Supercar Pays Homage to Classic "Birdcage" Racecar of 1950s
If you know much about classic European sports cars then Maserati's legendary Birdcage will be high on your list of cars to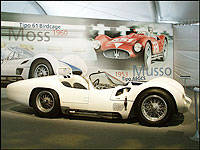 Maserati's legendary Birdcage is the epitome of classic European sports cars. (Photo: Maserati)
eventually see at a concours Italiano or some other classic car show, and if you happen to be extremely wealthy it might even be on your shortlist of cars to own. The Birdcage, named for the exposed steel tubing latticework that made up the car's frame, reminds all those who see that Maserati was once one of the most formidable racetrack contenders in the world, competing with the likes of Porsche and Ferrari every weekend on circuits throughout the world.
Now, after more foster parents than a orphaned child with a bad attitude, such as Citroen, Alessandro de Tomaso, Chrysler Group, and even its once arch nemesis Ferrari, Maserati finally seems to be settling in with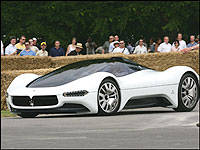 The new Birdcage 75th fittingly made its official driving debut at the Goodwood Festival of Speed. (Photo: Maserati)
the auto group it should have been with all along, Italy's Fiat. Fiat has aligned Maserati with another legendary marque under its formidable wings, Alfa Romeo, and working together in order to cut costs and produce a greater range of models than it ever could have with only Ferrari for sourcing architectures and componentry, the range will broaden to even include a sports wagon cum crossover.
Maserati's latest project has its roots squarely in the Ferrari camp, however, borrowing its chassis and drivetrain from the sensational MC12, a homologated race car based on Ferrari's outrageous Enzo.