Mitsubishi Throws a Brick at Tokyo Show
Go anywhere. Do anything. Do it whenever it pleases you. Just don't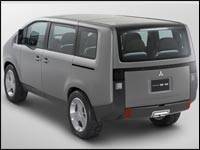 Mitsubishi is visiting an oft-neglected segment at the 2005 Tokyo Motor Show, with the wild-looking D:5 Concept. (Photo: Mitsubishi Motors North America)
forget to bring along the kids. And the luggage. And the cooler. And the fishing tackle too. And... the list goes on. In North America, the operative vehicle of choice to suit this lifestyle is a sport utility vehicle. Elsewhere around the world, adventurers solve the problem with a vehicle of a different form - the all terrain van.
For decades, areas of eastern influence, such as Asia, Eastern Europe, Africa and Australia relied on such vehicles to move people and stuff across some of the most inhospitable conditions. Mitsubishi is visiting the oft-neglected segment that caters to such off-beat adventurers at the 2005 Tokyo Motor Show, with the wild-looking D:5 Concept.
With the very brief exception of the original Toyota minivan (that weird-looking cab-forward van from the mid '80s internally code-named YR), monobox compact vans have remained relatively unpopular within North America, yet their sales thrive elsewhere in the world. Mitsubishi is an active participant in this segment with the Delcia minivan, having been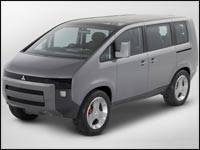 Monobox compact vans have remained relatively unpopular within North America, yet their sales thrive elsewhere in the world. (Photo: Mitsubishi Motors North America)
used for all sorts of purposes from all-terrain ambulances, tour guide vehicles, safari vehicles and recreational vehicles. While the words Mitsubishi and minivan don't exactly gel in most Canadians' minds, owners of such vehicles in other markets have kept coming back for their durability, ruggedness and ultimate practicality. The D:5 Concept takes the ideals of this segment, adds a futuristic twist, and dubs it "Super Mobility".
I don't know if I can put it any other way, but the D:5 Concept looks like a brick - a brick with a slightly tapered front end. Normally, these are critical words, but I feel they're a compliment for this machine, as its inherent lack of curves and corners was intentional. Mitsubishi wanted the D:5 to be as slab-sided and simple as possible, minimizing front and rear fascia detail. Its distinct lack of any grille, other than the supplementary intake below the bumper, and absence of trim on the side or at the back, brings attention to its masculine lines and taut, purposeful skin. Overhangs at front and rear are small, to maximize interior volume and improve all-terrain capabilities. Blackout headlights and tail lights, plus Lego-brick side view mirrors further its buff appearance.