Pimp my Camry
Serenity now! These were the words I uttered to myself 15 seconds after getting into and driving the car for the first time. This is a
Toyota Camry
and boy does it feel good. Keep in mind that I am under 30 years old and love my tuner cars very much and that I drive a 13 year old Volkswagen. I am not trying to sell you anything when I write these words.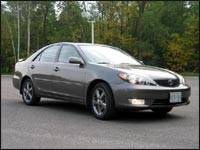 Originally introduced in 1983 and now in the middle of its fifth generation, the Camry continues to be the segment leader. Nearly half a million people in North America bought a Camry last year. This is quite understandable as the car is basically on a pedestal as far as dependability and reliability are concerned. As an industry leader, Toyota continues to give its customers what they ask for and this way they are almost guaranteeing that they will stay on top. The tester was an SE-V6 with a dealer installed Satellite Navigation system. It retails for 32 700$ to which is added 3 245$ for the option for a grand total of 35 945$.
Exterior styling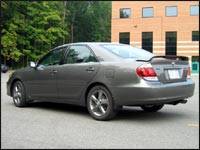 For the 2005 model, there are a few new exterior touches. New headlights (blacked-out on the SE) integrated in the redesigned front facia and redesigned taillights are some of the new additions. These changes add a little sparkle to an otherwise featureless and non-existent styling exercise that is the Camry. It is blandish maybe, but I do not think that Camry buyers want something that flashes. With the SE and SE-V6, Toyota has tried to capture a younger demographic of buyers with this athletic version of the family sedan. The SE-V6 comes standard with 17" gunmetal painted Camry Solara wheels, a trunk mounted spoiler and fog lights. These elements do give it away a little but it is in no way a Q-Ship. Panel fit and paint application are quite satisfactory.
Interior styling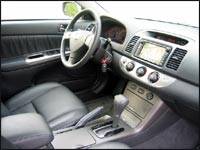 The cabin sports very nice dash materials; it is padded and is of much better quality than the previous generations. It is accented by tasteful faux aluminium touches on the center stack and door panels. The front seats offer little lateral support but are more comfortable than the ones on a Camry LE that I drove recently. This may have to do with the supple perforated leather on the seats. It is thick and of good quality.