Born to be wild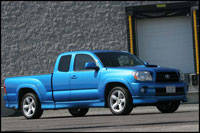 2006 Toyota Tacoma X-Runner (Photo: Philippe Champoux, Auto123.com)
Do you want to grab people's attention? Get this truck.
There is so much to like about this Tacoma, especially if you're the kind of person that likes to be interrogated by people you've never seen in your life before. This truck is fast, so you would normally never be late to wherever you're heading to, right? Wrong. You'll be stuck for minutes at a time spitting out the same answers over and over again. And since I'm a nice person once in a while, I don't brush these people off and talk to them. Here are some typical questions I've been asked:
"What kind of truck is that?"
"Where did you get that spoiler kit?"
"Is it powerful?"
"How much does it cost?"
"Can I tow a 28-foot trailer with it?"
"Can you do that smoky burnout again?"
"You're sure beating the hell out of it... is it yours?"
Styling
No need to explain here. This is the main attraction of the Tacoma X-Runner. Its hey-look-at-me-and-ask-questions styling is sure to turn heads. You'll get observed at every stoplight, and cars driving by you in the opposing lane start drifting in the shoulder. After a week's driving around in my hometown, I'm drawing more attention than Madonna and Britney Spears kissing each other on a stage.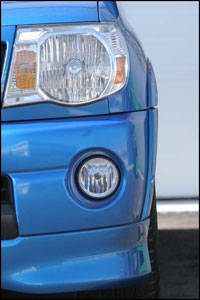 2006 Toyota Tacoma X-Runner (Photo: Philippe Champoux, Auto123.com)
What's nice about the X-Runner is that you don't have to go shopping for aftermarket parts; it comes out of the factory like this. This model is only available in three colours: Speedway Blue, Radiant Red and Black Sand Pearl.
The Tacoma, redesigned for 2005, is such a strikingly, tough-looking truck. The prominent grille, nostrils and giant round headlights make a strong visual statement from the front. The gorgeous flowing rear fender flares give the truck a speedy profile.
The X-Runner package adds lower-body cladding, a useless-but-cool hood scoop, 18-inch alloy wheels with P255/45R18 rubber, and a drop in ride height. There are also special tie-down cleats inside the bed, exclusive to this Tacoma model and useful for strapping in your other extroverted machine such as a sport bike or ATV. In this test truck, I also discovered the biggest rubber mat I've ever seen, which makes keeping the bed clean pretty easy. The only thing that bugs me about the X-Runner is that those low-profile tires look lost within those large wheel wells. Otherwise, this is one of the best-looking production pickup trucks around, practical or not.