Surprising sportiness for Ford's car-like crossover
It's never been more confusing to buy a family vehicle. Being assaulted with a list of contenders like minivans, wagons, sedans and SUV's wasn't enough- and now carmakers are throwing something called the 'crossover' into the mix.
Like a four-wheeled identity crisis, they combine selected attributes of the above vehicles into a single machine.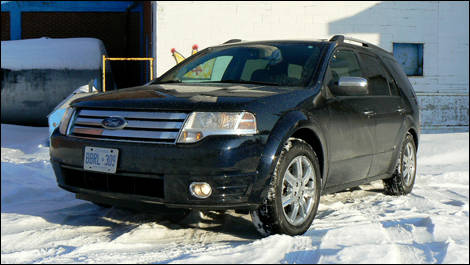 Taurus X is about 80 percent station wagon, 10 percent minivan and 10 percent SUV.


Ford's Approach
Some crossovers are more truck like- with transfer-case 4x4 systems and big V8 engines. Some are powered by little four cylinders with an All Wheel Drive (AWD) system. Some, like the
Ford Taurus X
, fit nicely in between.
Ford calls it a crossover, but you'd agree it probably just squeezed over the height-requirement line for admission to the club. Taurus X is only slightly larger and taller than a conventional wagon- and it's certainly not truck or SUV-like in most regards.
A Crossover Wagon?
You're not going to be taking this one on any major trails or through any serious terrain- as its belly and bumpers drag too close to the ground. The only major SUV attribute comes from an optional All Wheel Drive (AWD) system that adds additional traction automatically to any situation.
The AWD helps pull the Taurus X up steep snow-covered hills or through slippery intersections quickly- while lending itself to a more planted handling feel in any weather. If you have tougher trails to tackle, the
Edge
or
Escape
may be more appropriate.
The ultimate errand runner?
With six seats and a car-like stance, Taurus X is about 80 percent station wagon, 10 percent minivan and 10 percent SUV- adding up to satisfy a unique set of needs. All seats fold and flip to accommodate anything you might want to put on board- from 5 soccer players to lumber and hardware for that weekend project.
There's a recess in the floor behind the rear seats, which themselves fold flat in seconds with near-zero effort. The middle seats do many of the same tricks- even getting up and out of the way for rear passenger entry at the push of a button.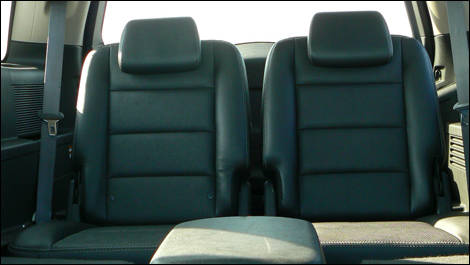 The Taurus X can seat up to 6 passengers.