The Townpod is meant to be a functional yet chic mode of transportation much like a nice clean tee-shirt covered by a jacket can be. The Townpod is designed to adapt to its owners needs be it for pleasure or business or a combination of both.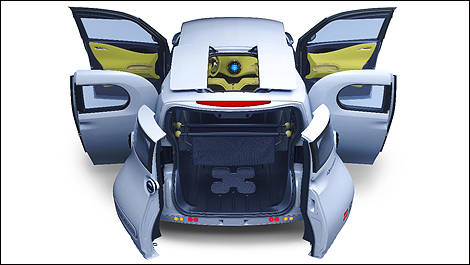 Photo: Nissan
How it does this is by providing a spacious cabin that can be configured to carry family and friends or equipment from any trade. The owner can spec out the cargo area with proprietary as well as third-party sourced accessories. Access to the rear is made easy by the rear hinged rear doors that can also split. Should you have over-tall objects, the Townpod has hatch-like sun roof, directly above the cargo area. If you need the entire cargo area for larger gear, the super-slim rear seats can fold and slide right up to the back of the front seats. The front doors are ultra-wide, perfect for making ones way to the back seat. Why these doors can be so wide is due to the absence of "B" pillars. Talk about versatility.
For the driver, the Townpod supplies information through two centrally mounted digital screens. Controls for climate settings and media playback are positioned on the lower screen. The top one displays all pertinent driving information such as speed, battery status and more.
The Townpod is furthermore a zero-emission vehicle, using LEAF-sourced technology. To recharge the vehicle, the front logo-sporting automatic retracting cover, which looks much like the nose on the face of the car, reveals the charging points.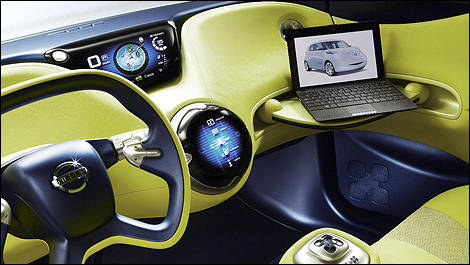 Photo: Nissan