In Canada, Mitsubishi is particularly famous for its rally-derived, high-performance Lancer Evolution. In Europe, however, a number of sport utility vehicles have won a number of rally/raid-type events, elevating Mitsubishi as a major player in this highly-competitive market segment.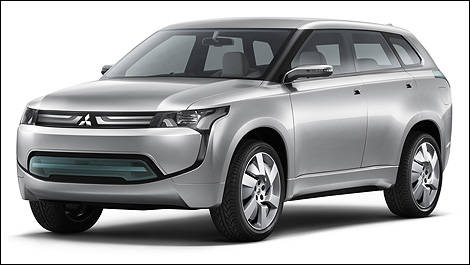 Photo: Mitsubishi
Therefore, it should come as no surprise that the small Japanese automaker is using SUVs to introduce new, greener technology. After debuting at the Tokyo Auto Show last fall, the
Mitsubishi PX-MiEV
is now in full display at the 2010 Canadian International AutoShow in Toronto.
Unlike other concepts boasting flashy designs, the PX-MiEV sports a rather clean, understated SUV outfit. In fact, if it were not for the pair of futuristically-styled headlights and slightly-surreal side-view mirrors, one would easily see it as the brand's latest production model.
Especially innovative, at least from a Mitsubishi standpoint, is what lies underneath the hood. The PX-MiEV is powered by a new plug-in hybrid system combining a 115-horsepower, 1.6-litre gasoline engine with two 60-kilowatt electric motors (one over each axle). It's neither an all-electric vehicle nor an extended-range variant but just a basic hybrid like the ones we already know.
Thus, power mainly comes from the gasoline engine, except in low-speed conditions where the front-mounted motor operates alone. The other electric motor kicks in to drive the rear wheels (making the PX-MiEV a 4WD vehicle) whenever grip conditions require so or when extra power is needed. The engine also serves as a generator to charge the batteries, much like Toyota with its Hybrid Synergy Drive system.
Innovation is also found in the host of onboard electronics. The most spectacular of them all is an advanced vehicle-to-vehicle communication system that allows you to locate other drivers and even pedestrians, and communicate with "intelligent roads" which are reportedly being developed in Japan.
Beyond this cool sci-fi stuff, the PX-MiEV likely paves the way for Mitsubishi's future hybrid technology, expected to become available on production models within a couple of years.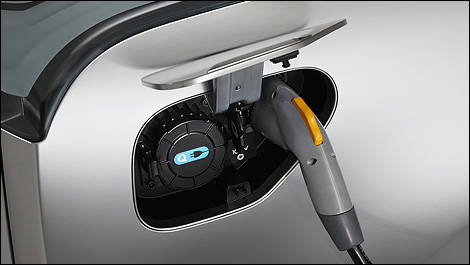 Photo: Mitsubishi