Mr Vernile was quite clear when he said that deep discounts were very unlikely. "We have no plans to discount our cars unless other manufacturers begin to do so." He went on to say that the company wants to enhance and protect the resale value of their products for their customers.
He did not say it but I mentioned that the brands existing momentum is more than sufficient to keep sales going with little or no involvement from marketing and finance. He did not seem to disagree with me.
We discussed the fact that value remains a strong "value" at Hyundai. Mr Vernile added "Value is a key motivator for purchasing our products but we also include lots of content. We will always offer value but now, we are making it very sexy".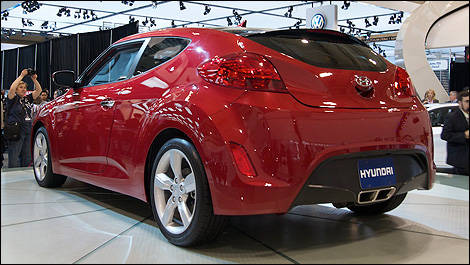 Photo: Michael Wong
I couldn't agree more. The fact is that Hyundai's sales in Canada have been increasing like no one's business. Get this: Between 2007 and 2010, deliveries went from 75,000 to over 118,500! And this, during one of those...recessions I think they are called. Sexy value is in! A sexy product packed with value is also in!
"Supply willing, we expect to sell 124,000 new cars in 2011" noted the VP. I had conservatively guessed 125,000. It is obvious to me that they could sell more, probably 10,000 extra units but as Mr Vernile said, production may not meet demand.
As he and I were standing alongside a Tsukuba Red Genesis Coupe, we looked around the booth at the
Veloster
, the Elantra, the
Sonata
, the
Tucson
and the new
Accent
, we both knew and know that Hyundai's future is bright indeed.