Having risen dramatically from the near-dead, one would expect Saab to be proclaiming its vitality from every rooftop.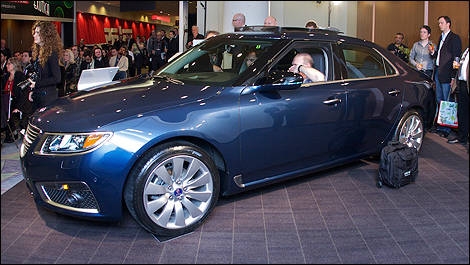 Photo: Michael Wong
Yet the newly resuscitated company's presence at the CIAS was low-key, tucked away in a tiny corridor behind the Concorso Exotica display. A last-minute decision to attend the Toronto Show left organizers struggling to find space – fortunately with only 3 cars in their portfolio, the Saab display fit snugly into the hallway.
Once inside, for those fortunate enough to find it, the atmosphere was like a tiny crowded club, the upbeat mood added to by the open bar and the bow-tied waiters bearing trays of succulent hors d'oeuvres.
After exhaustive on-again, off-again negotiations in 2009, tiny Dutch exotic manufacturer Spyker's $400 million-dollar, last-minute bid successfully wrested ownership of the Swedish brand from General Motors. Saab was one of four nameplates, including Pontiac, Hummer and Saturn, that GM had decided to axe as it struggled to emerge from bankruptcy.
Over the last year, Saab has managed to untangle all layers of operation from General Motors, and re-establish itself in Trollhattan. Aside from
Spyker's
white-knight investment, Saab operates as a completely independent company, although Spyker chairman Victor Mueller does have a seat on the Saab board.
While sales more than doubled during the final quarter of 2010, there were only 31,696 models sold globally.
But, the fact that BMW, after doing extensive research into the company, has agreed to supply powertrains for some of the upcoming models is a show of confidence in Saab's ability to recover. Add to that Time magazine's nomination of the
Saab 9-5
as "best for 2011", and it seems Saab is well off life-support and hitting the ground running.
Executive director of North American sales, John Anderson describes the last year as a "rollercoaster ride" but was happy to announce that on February 23, Saab celebrated its first birthday as an independent company.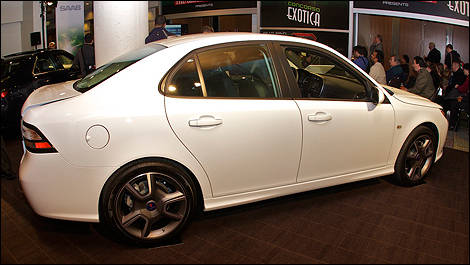 Photo: Michael Wong