On my recent tour of the completely redesigned
Michigan Assembly plant
for Ford, I had a chance to get a sneak preview of what the future will look like for this domestic car company.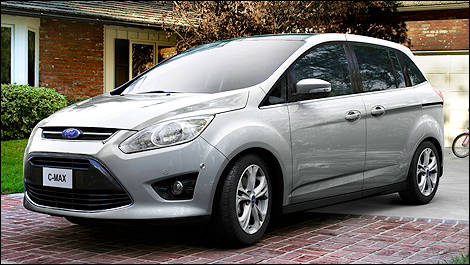 Photo: Ford
This assembly plant used to produce large SUVs. Now it will be producing the new global c-segment Ford Vehicles. This plant provides Ford with the flexibility to build multiple models quickly.
For more information on this new Assembly plant, read my previous article here.
Compact cars, like the new Focus, will be built on this global platform and will be sold in all regions worldwide. This new platform is expected to underpin at least ten different models or derivatives.
The new
2012 Ford C-MAX
  will be coming to North America in 2011. It has been a very popular people mover in Europe since 2005.
Think about a car crossed with a minivan and you'll most likely think of the
Mazda5
or Kia Rondo. A three-row, seven-passenger 2+3+2 seating configured vehicle with sliding side doors, yet it's built on a car platform so you have a smaller, more city friendly vehicle.
Frank Davis, executive director of Product Programs, introduces this young family as an alternative to a minivan. With a wheelbase of just 277 cm (109 inches) and a total of 452 cm (178 inches) in length, it is a perfect size for a small family just starting out.
With trapezoidal headlights, prominent two-tier grille, and muscular wheel arch bulges, the styling on the C-Max is unmistakably a Ford.
The Mazda5 was just updated in the aesthetics department and I think Mazda did a great job! This C-Max is a bit more angled and aggressive looking, however I still slightly prefer the smiley, happy face on the front of the Mazda.
I was only able to peak into the windows of the C-MAX but the cockpit looks pretty fantastic. It's more upscale and very modern and I think it will be a big hit. The interior design evolved out of the latest generation Ford Fiesta.
As with the other Multi-Activity Vehicles in this class, the drivers seating position is a bit higher for a great outward view of the road. C-MAX gives a raised 'command bridge' driving position with a high mounted gearshift and centre console.
I personally love this design because I sit higher up and don't feel like I am driving in a small vehicle. This high seat position gives a feeling of security, something that is important for parents driving their precious cargo. It is also very comfortable to spend time in this position on long drives.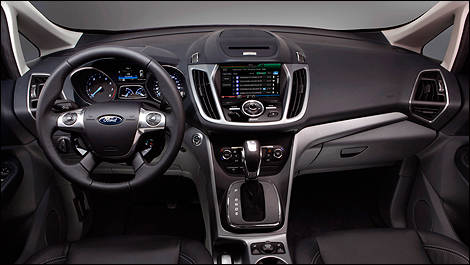 Photo: Ford