To sell a luxury hybrid, it's preferable to offer one that doesn't force the customer to make sacrifices. After all, that's why people buy luxury cars, right?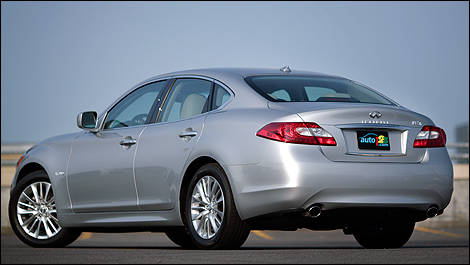 If you're really bent on getting an Infiniti M, though, this would be the one. (Photo: Sébastien D'Amour/Auto123.com)
It's safe to say that very few people buy luxury hybrids for their sheer greenness; in my humble opinion, they'll buy them if there's added performance, added features and less stops at the dirty gas station.
There still aren't many performance luxury hybrids to choose from. The
Lexus GS 450h
has been around for a while, and is a direct competitor to Infiniti's new 2012 M35 Hybrid. If you're a diesel fan, you could also consider the
Mercedes-Benz E 350 BlueTEC
.
High-performance powertrain
The M35 Hybrid is fast. Its 3.5L V6 develops 302 hp and 258 lb-ft of torque, and it's matched to a 67-hp electric motor; together, they produce 360 horses. While that isn't as much as in the 420-hp M56, the Hybrid feels quicker off the line thanks to the instant torque generated by the electric motor.
Blast off in the M35h, and you'll hit 100 km/h in 5.6 seconds -- not bad, and actually a blink of an eye quicker than the 339-hp Lexus GS 450h, which we clocked at six seconds flat. The Infiniti hits the quarter-mile mark in 14 seconds at 160 km/h.
And you still get the Nissan/Infiniti VQ engine's terrific growl at wide-open throttle. Spin the drive mode dial to Sport, and the M35 Hybrid displays its eagerness to please with rapid throttle response and snappy downshifts.
Fighting with the gas pedal
Turn the dial to Eco mode, on the other hand, and the car becomes less cooperative. You see, in order to maximize fuel economy, Infiniti installed a gas pedal that actually resists being pushed down. Although I understand the purpose of helping the driver avoid burning gas, I'm not too fond of this approach.
I used the Eco mode anyhow, just to see how the M35 Hybrid performs in regards to fuel consumption. Over the course of the week, the car recorded an average of 8.5L/100km, which is dead even with what we achieved behind the wheel of the Mercedes-Benz, and virtually identical to what we observed in the Lexus.
Another benefit of the M35h's powertrain and 7-speed automatic transmission is that at 100 km/h, the engine is spinning at only 1,600 rpm, so the cabin is very quiet.